Athene Galiciadis
Measuring The World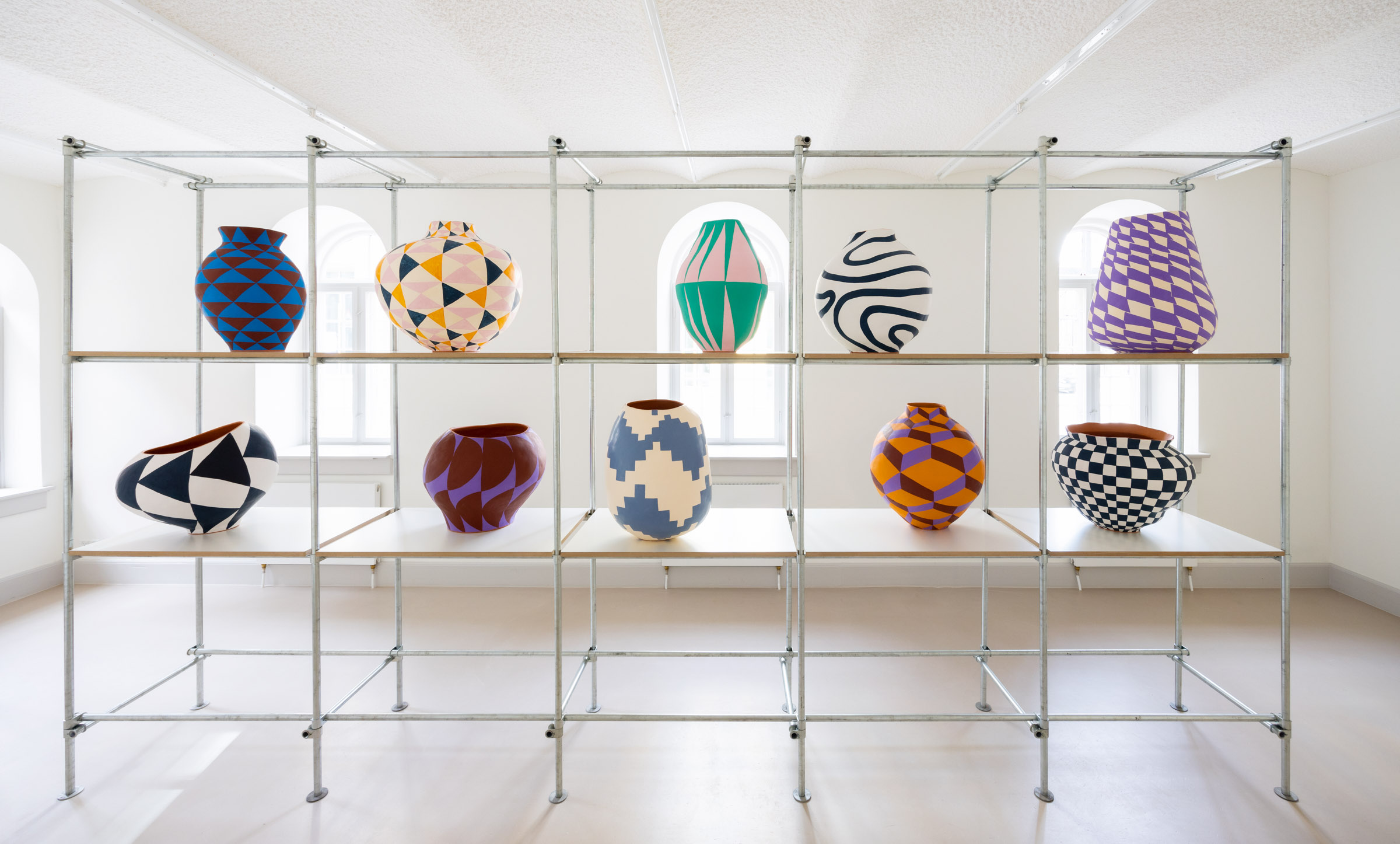 MAR 18 2023 – MAY 13 2023
Copenhagen
Measuring the World – The title of Athene Galiciadis' first exhibition at von Bartha Copenhagen is a reference to an intermediate space between the deliberate and the unintentional. It directly leads to the act of painting as a sensuous and bodily endeavor, rather than a theoretical and mathematical one. Galiciadis paints her works by hand and concerning the volume of each piece, compares the act of painting with the embrace of a body.
 The central works in the show are Galicadis' Empty Sculptures, acrylic painted ceramic sculptures that are forming an important part of her oeuvre since 2013. The sculptures are reminiscent of vases, but despite their form, are not related to the botanic bearing vessels. This becomes evident in their materiality; unlike the process behind the conventional production of ceramics, Galiciadis does not glaze her sculptures, nor does she burn them a second time. Instead, after having been burnt once, she paints the sculptures with acrylic paint and lets them air-dry, like painting a canvas.
The composition of the Empty Sculptures is based on a hand-drawn grid structure – a rhythm that repeats but changes slightly over time. Like the painted patterns that unfold organically over the curved surface of the sculptures, they are geometric in their repetitious construction. So, the Empty Sculptures are sharing similar characteristics in shape and geometrical patterning while maintaining their unique expression. Both the title and the idea of the Empty Sculptures evoke different stories and interpretations:
"It opens the imagination when you think of them as 'Empty Sculptures' because you can fill them up", the artist states.
By placing the sculptures in a specially designed shelving system on a grid structure in the center of the gallery space, Galiciadis emphasizes their seriality and thus contributes an installative element to the presentation.
On view will be a scene that transports the visitor into a studio space where the 'just-finished' works are being 'stored' and placed on an industrial-like shelf.
Looking again at the sculptures, they arguably do make clear references to objects of design or functionality and thereby, once again, place themselves in the in-between, offering new possibilities and meetings between the defined and the unexpected.
Opening: Friday, 17th of March from 5 until 7 pm
Error. No content found for Slider