Fábulas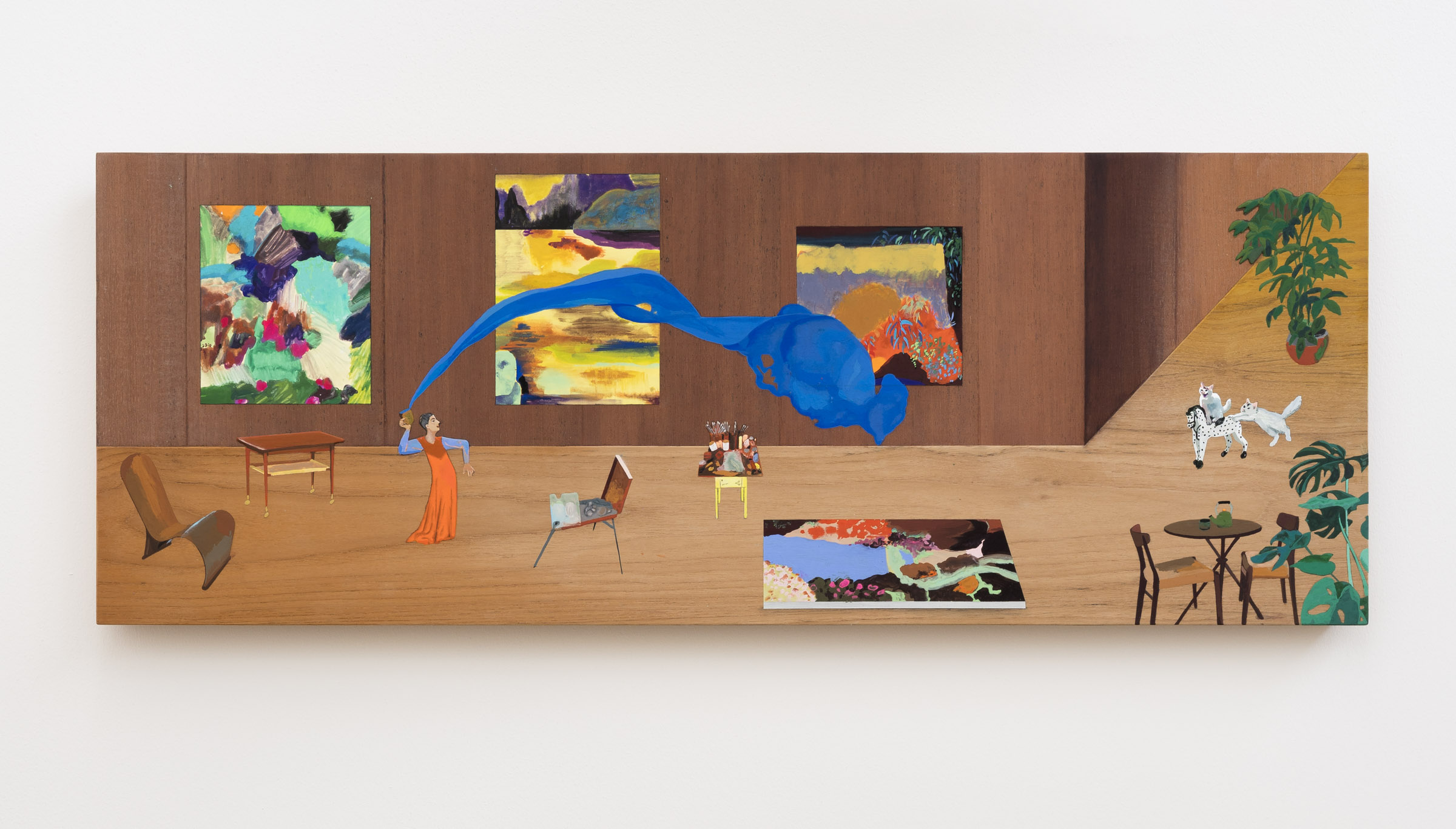 NOV 12 2022 – JAN 28 2023
Basel
von Bartha is pleased to present two solo exhibitions by internationally renowned artists Anna Dickinson and Hulda Guzmán in the gallery's Basel space, opening 12 November 2022 till 28 January 2023. In a significant departure for the artist, Anna Dickinson's new body of work invites viewers to interact with her glass and metal sculptures in new ways. For Hulda Guzmán's first solo exhibition in Switzerland, the artist will display a new series of paintings. In the gallery's North space, the first thematic 'Exploring the archive' exhibition will look at von Bartha's relationship to Surrealist artists over its 50 year history.
Known for her technicolour tropical paintings, Guzmán's work condures dreamlike realities influenced by surrealism, Mexican muralism and Caribbean folk traditions. Reflecting on her surroundings, Guzmán's paintings are charged with postcolonial and ecological discourse, featuring rainforests, animals, humans and sometime's herself. Her vibrant paintings pay homage to the naïve tropical landscapes of Henri Rousseau, and in application are inspired by a myriad of sources from ancient Chinese art to Japanese ukiyo.
Within the six new paintings made for the Basel exhibition, completed during recent ecological disasters in the Dominican Republic, both large and small-scale works feature scenes both exterior and interior of the artist's own studio. In 'Shelter from the Storm' (2022) the viewer is confronted with a dream-like scene of the animal kingdom in a human domestic setting – cows, cats and goats are among the creatures represented, drawn from those Guzmán is closest to in her life – seeking an apparent warmth and closeness against a dark and stormy exterior sky. Elsewhere an entirely abstract canvas 'Keep the sun in your heart' (2022), uses pointillism techniques to create a mystic otherworldly quality to the landscape.
Opening: Friday, 11 November, 6 – 8 pm
About Hulda Guzmán
1984 in Santo Domingo / Lives and works in Dominican Republic
Hulda Guzmán received a BA from Altos de Chavón School of Design in the Dominican Republic and went on to study photography and mural painting at the National School of Visual Arts, Mexico. Her work is included in the permanent collections of He Art Museum (HEM), Guangdong, CN; the Institute of Contemporary Art, Miami, FL; San Francisco Museum of Modern Art (SFMOMA); the Dallas Museum of Art, TX; the Los Angeles County Museum of Art (LACMA), CA; Pérez Art Museum, Miami, FL; Museu de Arte de São Paulo (MASP), São Paulo, Brazil; and Centro Leon Jimenes, Puerto Rico, among others. Guzmán has been featured in the Dominican Republic's pavilion at the 58th International Art Exhibition at the Venice Biennale. Guzmán has shown with Stephen Friedman Gallery, London, UK; Alexander Berggruen, NY; Anat Ebgi, Los Angeles, CA; Dio Horia Gallery, Mykonos; Arte BA, Buenos Aires; Galería Machete, Mexico City; Gallery Ariane Paffrath Dusseldorf; and at institutions such as Denver Art Museum, CO; Museo de Arte Moderno, Santo Domingo; the Pérez Art Museum Miami, FL; Museo de Arte de São Paulo, Brazil; Museo de Arte y Diseño Contemporáneo, Costa Rica; and Art Museum of the Americas, Washington, DC.
Error. No content found for Slider