Olaf Breuning
TWO LAKES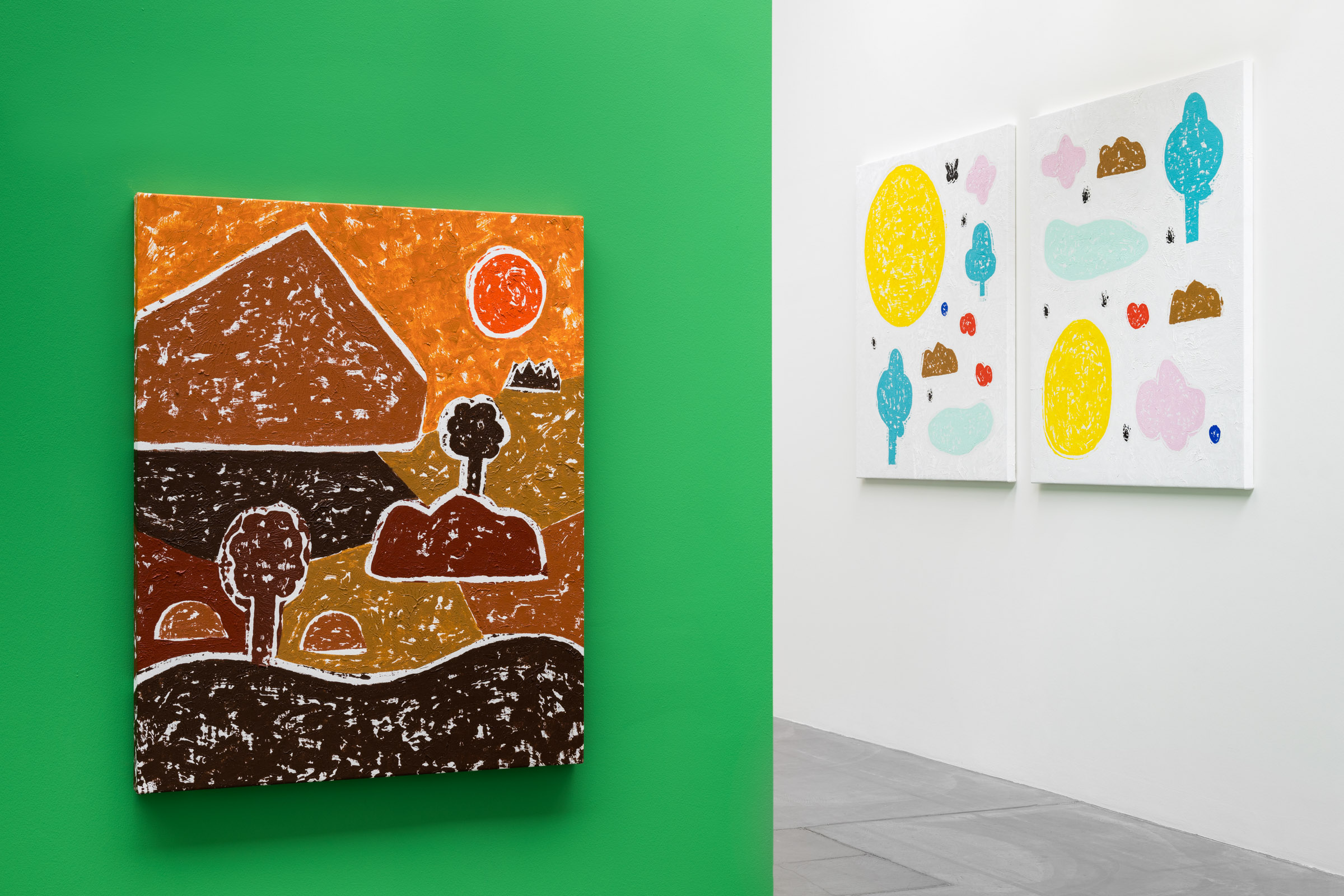 MAY 14 2022 – JUL 30 2022
Basel
Von Bartha is pleased to present two solo exhibitions, by New York based artists Sarah Oppenheimer and Olaf Breuning in the gallery's Basel space, opening 13 May to 30 July 2022 and coinciding with Art Basel in June. Invoking von Bartha's longstanding engagement with kinetic art, Sarah Oppenheimer's work introduces the human motor as an agent of phased movement. For Breuning's second solo exhibition at von Bartha, the artist will display a new series of paintings in dialogue with his sculptures in the gallery's north space.
Marking a return to Switzerland for Olaf Breuning, the artists' second solo exhibition titled Two Lakes at von Bartha, Basel, will present a new vibrant body of work comprising of several large, tactile paintings placed in dialogue with three stone sculptures. Known for his humorous approach, Breuning uses the world around us to question and initiate conversations about nature itself. For his latest exhibition, the artist will display a new series of paintings, in which he playfully addresses pressing subject matters such as global warming, and environmental disruption. The works on show, which convey Breuning's multi-layered oeuvre, including, large block woodcuts, paintings and sculptural installations, have been inspired by the artists' surroundings in upstate New York, encompassing trees, raindrops and flora and fauna. Using a technique, where he brusquely carves into the woodblocks, the landscape motifs are pressed against the picture plane with thick swashes of saturated acrylic paint using highly vibrant colour to bring nature to life and open up questions about how humans interact with the environment and the direct effect we have on it. Placed alongside these large-scale woodblocks on the colourfully painted gallery walls, will be three sculptural works of animals carved out of stone. The sculptures physical presence are sad and depressive, with frowning faces– a reminder that animals don't have a say in the role humans play in nature.
Opening: May 13, 2022, 6 – 8 pm. 
Error. No content found for Slider