Inspiration Beat Zoderer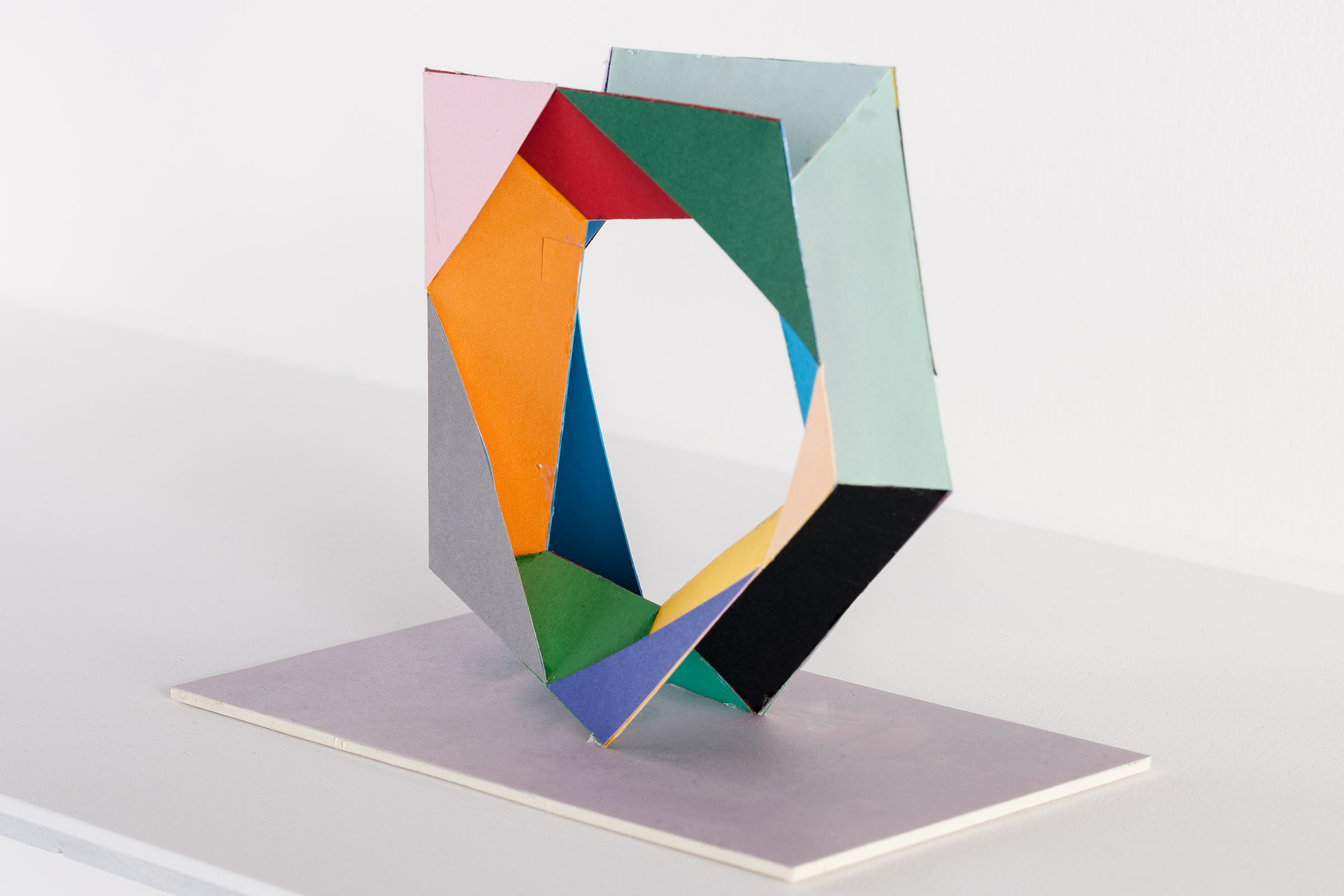 In a way, Beat Zoderer has always been here. That's how I see it, as a child of the 1980s. Even if I cannot remember anymore when I first encountered his œuvre, I do know that it became a school of seeing for me.
I spoke with some artists of my generation who had a similar experience.
Lukas Veraguth is brewing coffee when we meet in his studio in the former Loeb warehouse in the west of Bern. His involvement with Zoderer's practice began during his bachelor studies. At that time, Veraguth went to see the exhibition Das Ende der Ränder at Museum Chasa Jaura in Val Müstair. Made from present-day work material, Zoderer's pieces were placed among old articles of daily use in the historical museum space. Veraguth found this exciting. As a young artist in training who experimented with materials from the DIY market (Veraguth still likes to use industrially produced utility materials in his artistic practice), he came to see Zoderer as a significant reference. Finally there was somebody else who also used adhesive tape, and at times even the empty tape rolls, to assemble his compositions. With his nonchalant appreciation of materials, Zoderer (who calls this the 'democracy of materials') has impressed and influenced the artists of my generation.
The poetic potential of waste, which Zoderer has affirmed and demonstrated time and again, became important for Jon Merz early on: 'During my studies, I collected things on the streets, took them to my studio and looked at them, cut them up, painted them, left them alone and cut them up again for weeks.' This process resulted in reduced and condensed sculptures. Originally, Merz had studied industrial design. He sees a parallel between himself and Zoderer, who first completed an apprenticeship as an architectural draftsman. The practical orientation of such a training inevitably characterizes one's artistic thinking. How you articulate and give form to an idea becomes an attitude that shapes your practice.
Error. No content found for Slider
The combination of exact, geometrical and rampant forms, their repetition and the choice of material – these are some of the aspects of Zoderer's practice that Anja Braun finds fascinating. His œuvre is rooted in abstraction, the Basel-based artist explains. In her practice, Braun explores an extended concept of painting. She mentions the work A Globe in a Square Room which Zoderer presented at Art Unlimited 2009: A round patchwork pavilion which took up the whole room. Braun and Veraguth therefore view Zoderer as a position in painting. 'He is painting that breaks away from the canvas, painting that becomes spatial', Veraguth specifies.
Kathrin Affentranger, by contrast, detects a distinctly sculptural stance in Zoderer's œuvre. On a spring afternoon, we are standing in front of his sculpture Shelter No. 1/11 in Zurich-Albisrieden. Affentranger's studio is located right next to the building project Sunnige Hof, for which Zoderer 2011 contributed this art-and-architecture project. Affentranger herself is a sculptor. She feels that there is a kinship to Zoderer in the way they work with their material. It is important to her to alter the initial materials as little as possible. Instead, she lets the materials speak for themselves, creating delicate and precarious compositions from wood and generic building materials which are often held together merely by their self-weight.
During these conversations I notice that Zoderer's œuvre allows highly diverse approaches. You can discuss it as painting or drawing in space, give emphasis to the colour composition or reflect on the negative space of the sculptures ('With Zoderer you always have to consider the negative space, otherwise you miss out on half of it', Merz confirms). Zoderer's works have perhaps also become a school of seeing for young
Swiss artists because they are so present in Switzerland. They do not only exist online, but can be encountered in museums, galleries and every-day life: In 2012 Zoderer's 'Suprematistisches Tram' was on the move in Zurich. In addition, several people mention his 2008 solo exhibition new tools for old attitudes at Museum Haus Konstruktiv in Zurich.
And there is yet another facet which young artists find remarkable about Zoderer's practice: Its continuity and development over several decades. Over the course of forty years, Zoderer has created a remarkable œuvre that finds recognition at home and abroad. The artists I spoke with are still at the outset of their artistic careers. They have won their first prizes and have been awarded studio scholarships. Transforming a few years of artistic involvement into a life work, however, must be seen as an open-ended process.
At the close of our conversation, Merz says: 'From my point of view Zoderer is a figure of the centre.
His œuvre is open in all directions; it is not self-contained. As an artist, he gives you something for life.' So is Zoderer an artists' artist? An artist who is esteemed above all by those of his own profession? Veraguth shares an anecdote with me. As an art mediator he used to give tours to school classes at Kunsthaus Aarau. One picture with woven sheet metal strips never failed to impress the youngest school children. The colors, the composition, the material – something about it truly fascinated them. It was Nr. 3 (1995) by Beat Zoderer.
Rebecka Domig is an art historian. Sie works as an exhibition manager at Kunsthalle Zurich and lives in Bern.
Error. No content found for Slider