LET'S TALK ABOUT THE ORIGINS OF DANISH MODERN ART
"My intention is to introduce you to some notable periods of extraordinary creativity."


When mentioning the opening of an additional gallery space in Copenhagen for von Bartha, most people react surprised but delighted. Their cliché vision of Danish aesthetics is normally that of a linear Danish kitchen ("Noma") and furniture design (in teak wood), Jensen silver or blue-white porcelain.
But there is also a rich Danish tradition in modern art and collecting. I would like to put attention in this short piece. Please don't expect a scholarly history of Danish art from me – my intention is rather to introduce you to some notable periods of extraordinary creativity.
First of all, the so called "Golden Age" comes to my mind. In the first half of the 19th century, Denmark enjoyed a prosperous time in several artistic disciplines. Hans Christian Andersen wrote his famous fairy tales and the ballet reached incredible popularity at this time. Artists were influenced by German romanticism. Christoffer Wilhelm Eckersberg (1783-1853) was probably the most famous painter back then and had a great influence on his pupils in the Royal Danish Academy of Fine Arts. The sculptor Bertel Thorvaldsen (1770-1844) even received a museum building to keep his neo-classical sculptural legacy, which is still open to the public.
Error. No content found for Slider
Vilhelm Hammershöi (1864-1916) is the Danish painter whose reputation has grown without interruption to this day. His melancholic interiors and figures in warm and obscure hues are becoming increasingly popular. Especially since the 1990s, they are in great demand and reach very high prices on the art market. Hammershöi was certainly a very talented artist and his paintings convey a peaceful domesticity and comfort we are nowadays craving for.
A much brighter colour scheme came around the 1870's with the "Skagen" group. All of Scandinavian origin, these artists gathered in Summer to paint "en plain air" on the Skagen coast, taking benefit of the strong light so typical for Scandinavia. The local community of fishermen in dramatic seascapes as well as ladies in white fluttering dresses walking on the beach were frequent models. To name some of the most established members of the group, I would mention: Michael and Anna Ancher (1849-1927) resp. (1859-1935)  and Peder Severin Kröyer  (1851-1909).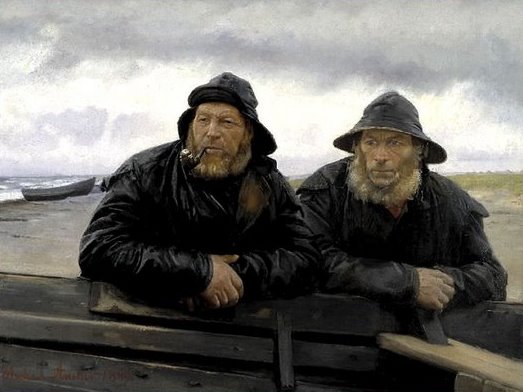 Denmark is also very rich in private collections, lots of which were bestowed to the nation. First and foremost the Louisiana (a gift from Knud W. Jensen in 1958) has to be mentioned not only for its outstanding collection but also for its stunning location in a vast park right by the sea.
When you visit, you can find yourself strolling among sculptures by Miro, Moore, Ernst and Calder and have a look at the coast of Sweden across the sea.  Not only is the collection superb, but it is constantly growing and a lively exhibition program is offered. Some of the most estimated artists of the 20th Century – such as Alberto Giacometti, Lucio Fontana, Andy Warhol, Roy Lichtenstein and Robert Rauschenberg – are well represented in its galleries. If you haven't seen Louisiana, you have to pay a visit!
Another significant public collection is the Hirchsprungske Samling, which was donated to the Danish nation in 1907 alongside the wonderful oasis that is the Ny Carlsberg Glyptotek (bestowed in 1888 by Carl Jacobsen who had inherited the now global Carlsberg brewery). A grand collection of antique sculptures are placed in an indoor park, and in addition to this, you will also find an impressive array of works by Bonnard, Degas, Courbet, Corot and Signac – just to name a few.
To conclude this short overview, I want to mention how fortunate the Danes are with their Royal family. As the members of Superflex have told us, the Crownprince and Crownprincess are strong supporters of the arts, the fact that Queen Margrethe herself is an artist is well known.