We're going to get through this with art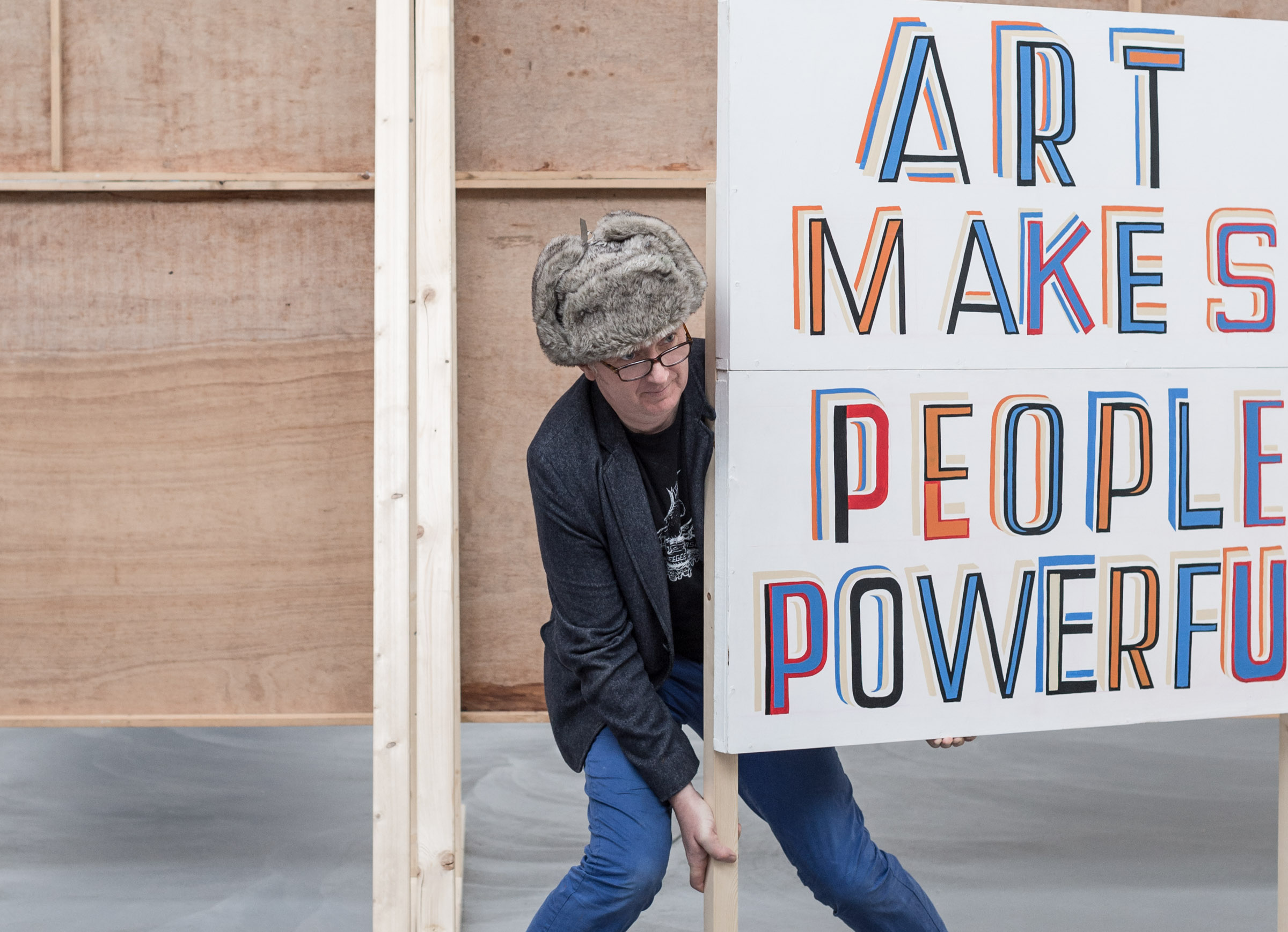 Stefan von Bartha spoke to the artist Bob & Roberta Smith, discussing art and music, the challenges of Instagram, and his new book – followed by a live performance of a song written in lockdown
As part of an ongoing series of Instagram Lives with artists from von Bartha's programme, Director Stefan von Bartha "met" with artist and activist Bob & Roberta Smith, who spoke to us live from his London home and studio.
An initial tour of Bob's home included a glimpse of the LCCA – the Leytonstone Centre of Contemporary Art – a space built by the artist in his garden in the early '90s, which he used to present group exhibitions.
The conversation also touched upon Bob's upcoming book, You are an artist, set for release on 14 August 2020. The publication reflects the artist's belief in the importance of drawing and making art, encouraging readers to engage in their own creativity and self-expression, with practical examples from his work as an art teacher and activist.
During the Coroanvirus outbreak, Bob has been using his Instagram channel as another platform to inspire artistic expression, presenting a series of #StayatHome art tasks for his followers to complete. The channel has also become a space to share music from The Apathy Band – an eclectic group, which has been jamming over WhatsApp and Zoom.A walk through Bob's home is an opportunity to look at new works created both pre and post lockdown. He introduces a project focused on the Thamesmead Housing estate in London, which draws inspiration from medieval illuminated texts, or codexes, as well as a portrait of George Orwell, created for his new book, and an abstract painting inspired by music.
Bob's tour culminates in his music studio, where he delivers a live performance of a song entitled We're going to get through this with art. 'Looking at your artistic work and some of the statements you release, you can see your music is very much connected to your painting,' Stefan says. 'Where do you see the connections between being a musician, a painter, in a classical way, and being involved in politics in the UK?' For Bob, the question is a good one: 'For a long time, it was something that puzzled me…in the end, it's tied together with the idea of art being about free speech. In a way, everything is attached to the idea of human rights and free expression – but these different forms do go their own way. I became interested in the relationship between visuals and music, in the same way that Kandinsky might have been. If you are an artist, you are lucky. It's like beeing a party planner. It's beeing somebody preparing the best of all things that will happen tomorrow. You are preparing things for the future.'
Watch the full performance by Bob & Stefan here:
Error. No content found for Slider