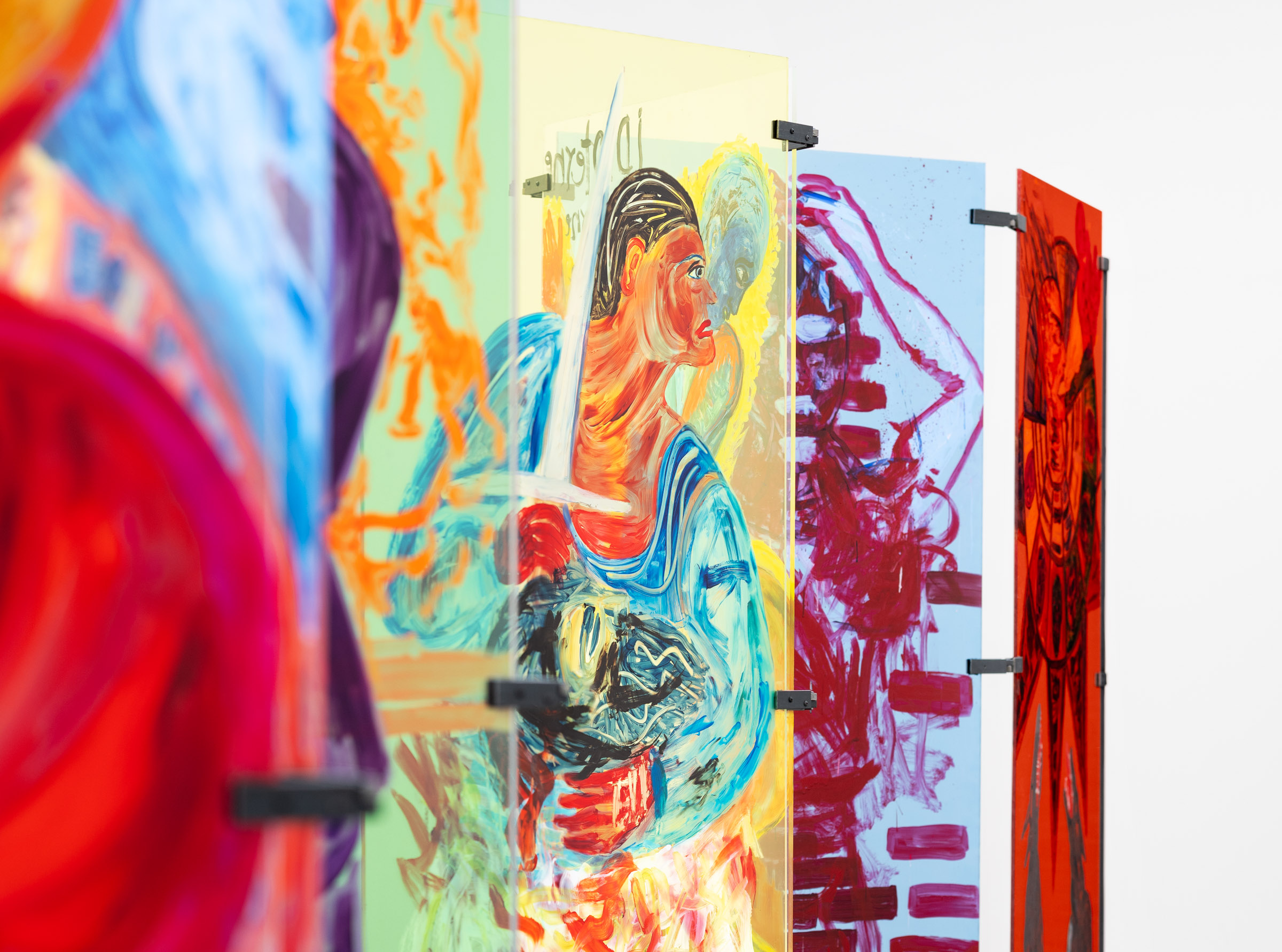 JUN 12 2023 – JUN 18 2023
Messe Basel, Hall 1
With Ursula Reuter Christiansen
For the first presentation of Ursula Reuter Christiansen's work at Art Basel, von Bartha is showing a seminal work from 2013 – 'Leporello' – a free standing piece, separating the space it inhabits like a paravent, each of the nine panels depicting a female figure. Strongly influenced by women's representation throughout history, Reuter Christiansen chose to portray women that over time have folded into her own self, characters that showed strength and dared to stand up against the patriarchy. 'Leporello' works in layers – it is confrontational, direct, it works as a mirror of the self, whilst being translucent enough to allow for hearing the story of the other.
Ursula Reuter Christiansen, born in Trier, DE, in 1943, is an artist whose work oscillates between symbolism and mythology, desire and hatred, beauty and abysses. As a young girl, with men away at war, Reuter Christiansen was raised and surrounded by strong women. This upbringing awoke within her a natural sense of feminism, and without being overtly political or radical, her oeuvre is a clear ode to the strength of the woman.
"Everything I do is transforming, women's stories, mostly, into art. Women I identify with. That is my incentive for my artistic production. I identify, and I transform." This transformation takes place in the stories she tells, using various different media. She connects fragments of different characters at different moments in time whilst always giving a sense of a biographical recount. When studying Reuter Christiansen's oeuvre over time, one realizes how one work leads to another, they are all interconnected, one continuous story with chapters set in different tones.
'Leporello' is a compacted story spanning over many eras, depicting a multitude of characteristics whilst retaining a strong sense of intimacy. It is revealing, laying bare the combined wisdom of numerous generations, with each panel telling the story of courage, survival and power. Underlining the strength of these characters, are the brushstrokes and colours Reuter Christiansen energetically applied to the acrylic panels. Both theme and execution are sensory displays of the artists inner being. The idea that 'Leporello' can be folded together, each character embracing the other, to be displaced and then unfolded to display its full potential, relates to the mind of the artist – these woman are always present within her, in embrace, until they are allowed to unfold and speak to the viewer through her art.
"With her glass-painted, freestanding wall piece 'Leporello' (2013), Ursula contributes to Gentileschi's depiction of Susanna and the Elders to honour the courage that act of revenge must have required. This piece, the accordion-folded Leporello, illustrates a typical trait of Ursula's work and method: jumping in and out of different historical periods, building on and stringing together historically dispersed but emotionally aligned narratives. Accordingly, the Gentileschi piece is linked to a brutal image of Ulrike Meinhof, to an adventurous female flutist and other woman that inspire Ursula. In other words, thematic concentrations enable Ursula to leap across different moments in time, and in and out of fiction and reality, to join together disparate elements. In the case of 'Leporello', emotional resonance and respect forge connections across time and space. Considering the construction of these works on female sources of inspiration, one could argue that the way in which the works fold in and out of each other mimics Ursula's understanding and way of dealing with the world. In fact, it shows that, in Ursula's case, art is not only, as she would describe it, a surface to attack but also a projection screen, not for a specific kind of reality but for disappearing and reappearing." – (Mai Dengsøe: The painted life of Ursula Reuter Christiansen, in: Ursula Reuter Christiansen – Poppies mutate into bats, Sabsay, 2021, p. 17)
Header image: Ursula Reuter Christiansen, Leporello, 2013
Acrylic and oil on acrylic panels
1100 × 200 × 120 cm