Barbara Stauffacher Solomon
GROP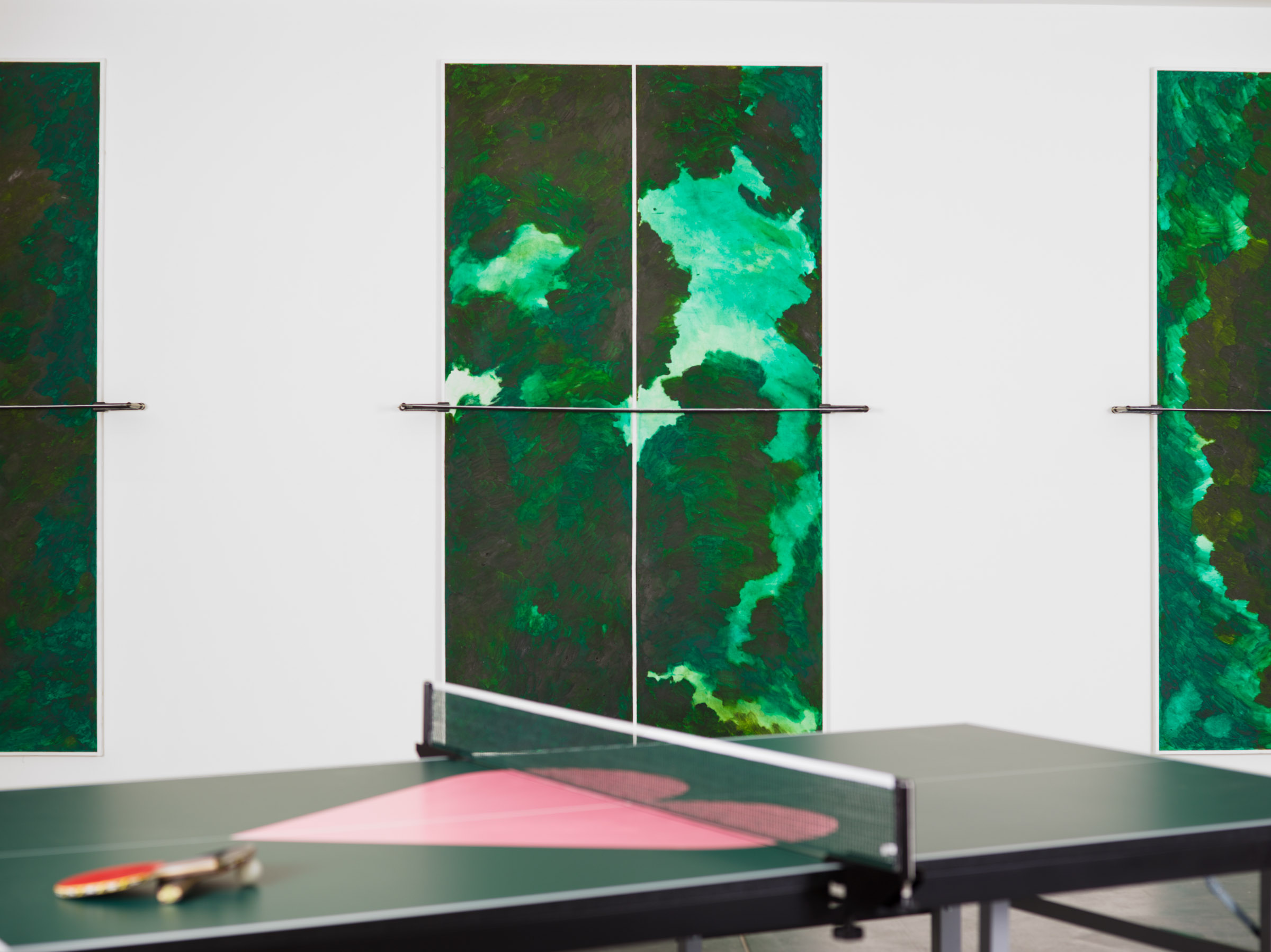 MAR 06 2021 – MAY 08 2021
von Bartha, Basel
Von Bartha is pleased to present two solo exhibitions by Landon Metz and Barbara Stauffacher Solomon in the gallery's Basel space, 6 March – 8 May 2021. EUPHORIA will feature a series of 12 new paintings by New York-based artist Landon Metz in the gallery's hall space. Running concurrently with Metz's exhibition, GROP will showcase drawings and paintings by nonagenarian artist and graphic designer Barbara Stauffacher Solomon, from the early 1980s to the present day in the front space of the gallery.
Barbara Stauffacher Solomon (b.1928, San Francisco, USA) is a seminal artist, graphic designer and landscape architect whose career spans eight decades. Curated by Matylda Krzykowski, GROP will showcase over 40 drawings and paintings by the artist from the 1980s to 2021, and demonstrate the progression of her practice over this period. The title of the exhibition GROP is an acronym for Green Rectangle of Paradise (c.1980s), both a key work in the show and a reoccuring motif in the artist's work. Green Rectangle of Paradise explores Solomon's preoccupation with utopia and making the invisible visible, a theme which continues throughout the exhibition. In 1956, Solomon moved from San Francisco to Basel in search of her own utopia, with the ambition of earning a living as a graphic designer. In Basel, she attended the Kunstgewerbeschule studying under the famous graphic designer Armin Hofmann, whose design principles continue to influence her practice today. Von Bartha founders, Margareta and Miklos von Bartha, also studied under Hofmann.
Choosing to always work within a grid, Solomon works predominantly in 8.5"x 11" US Letter format (A4), favouring its accessibility, value for money and tempo to produce. Her drawings and paintings are often humorous and playful, using word play and visual puns, intending to be provocative and visionary. GROP will include works on paper from the recent series Alas, Her Pink Ass Asked for Cash which will be on view for the first time, as well as a specially commissioned new Ping Pong table design Alas, Her Pink Ass Asked for Grass, 2021. The artist will also design a new supergraphics painting of the letters GROP. Solomon is best known as a pioneer of the large-scale architectural 'supergraphics' movement, in particular her work at Sea Ranch, a private estate with a utopian vision in Sonoma County, California.
Stefan von Bartha, Director, commented: "There are many ways to discover an artist, but discovering Barbara Stauffacher Solomon was one of my all-time highlights! Her work, her spirit, and her connection to Basel and Armin Hofmann are beyond unique."
Starting 6 March, open from Tuesday – Friday, from 2-6 pm and Saturdays, 11 am – 4 pm
von Bartha follows the recommendations of the Federal Office of Public Health and implements sanitary measures to protect our team and visitors from Covid-19 and from its spread.
Error. No content found for Slider