Landon Metz
Euphoria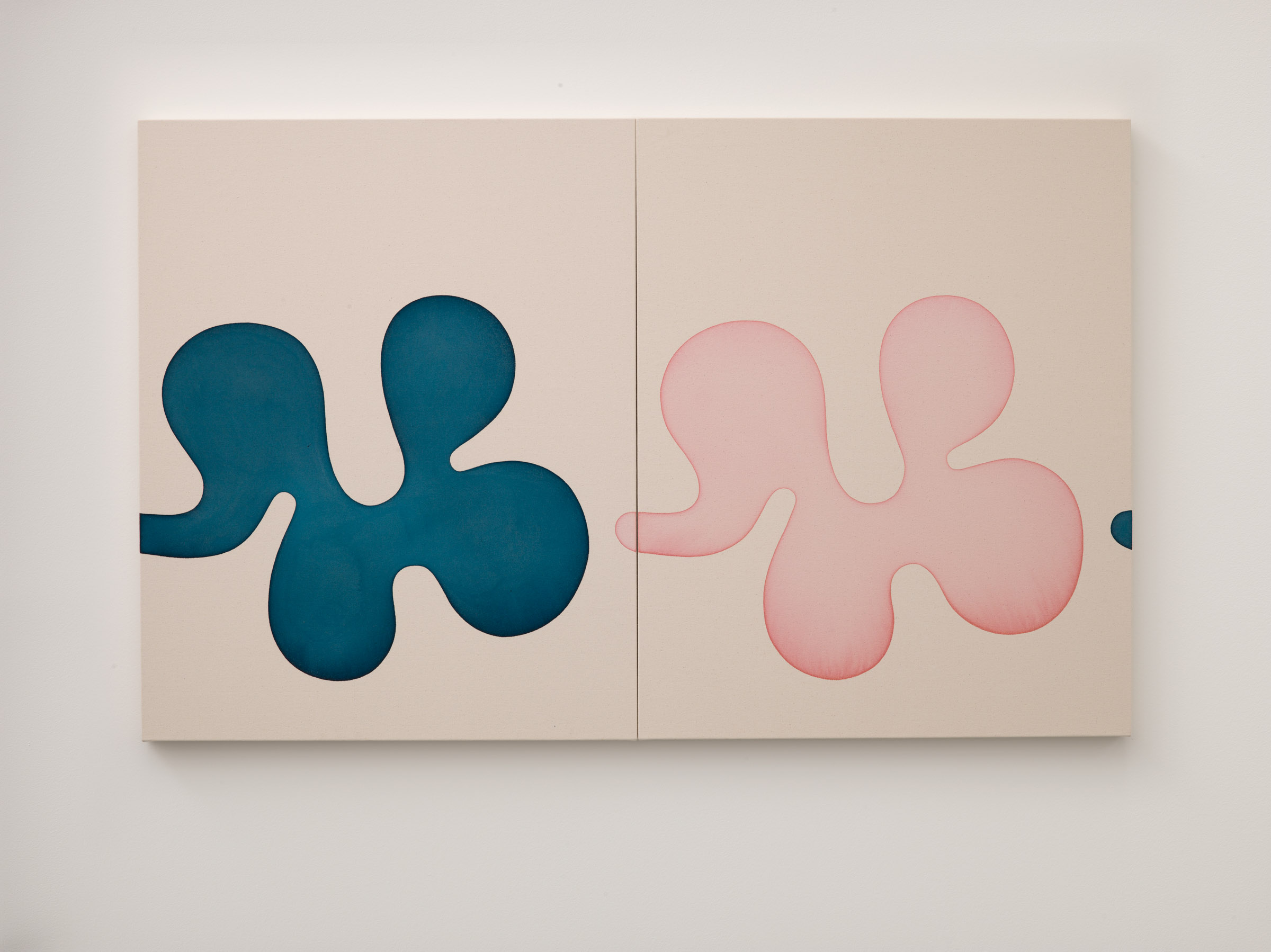 MAR 06 2021 – MAY 08 2021
von Bartha, Basel
von Bartha is pleased to present two solo exhibitions by Landon Metz and Barbara Stauffacher Solomon in the gallery's Basel space, 6 March – 8 May 2021. EUPHORIA will feature a series of 12 new paintings by New York-based artist Landon Metz in the gallery's hall space. Running concurrently with Metz's exhibition, GROP will showcase drawings and paintings by nonagenarian artist and graphic designer Barbara Stauffacher Solomon, from the early 1980s to the present day in the front space of the gallery.
New York-based artist Landon Metz (b.1985, Phoenix, USA) is known for his subtle, evocative paintings composed of sparse, richly-hued biomorphic shapes on raw canvas. By spreading thin washes of dye on raw canvas, the artist achieves varying degrees of coloristic saturations. EUPHORIA will feature 12 new diptych paintings (40" x 64" each) created over the last year, which will be presented in a continuous line throughout the hall space of the gallery. EUPHORIA will continue Metz's ongoing investigation into the interrelated nature of our existence via the metaphor of elemental painting. By means of repetition and system, the aesthetic vehicle of these new works, specifically shape and colour, intentionally directs towards the experience itself rather than a singular static object.
Metz's practice revolves around the activity of painting, yet also incorporates the vocabulary of sculpture, installation as well as performance. In his practice, the artist continually investigates the infinite potential of colour, line and shape. His motifs are organic, softly shaped and constantly curving, giving the impression of dynamic and rhythmic movement.
Stefan von Bartha, Director, commented: "Every time that Landon Metz curates an exhibition for the gallery, he expands on the way in which we look at his art, his practice, and the space where his works are placed."
Starting 6 March, open from Tuesday – Friday, from 2-6 pm and Saturdays, 11 am – 4 pm
von Bartha follows the recommendations of the Federal Office of Public Health and implements sanitary measures to protect our team and visitors from Covid-19 and from its spread.
Error. No content found for Slider