A glimpse behind The Imaginary Collection with Diandra and Andreas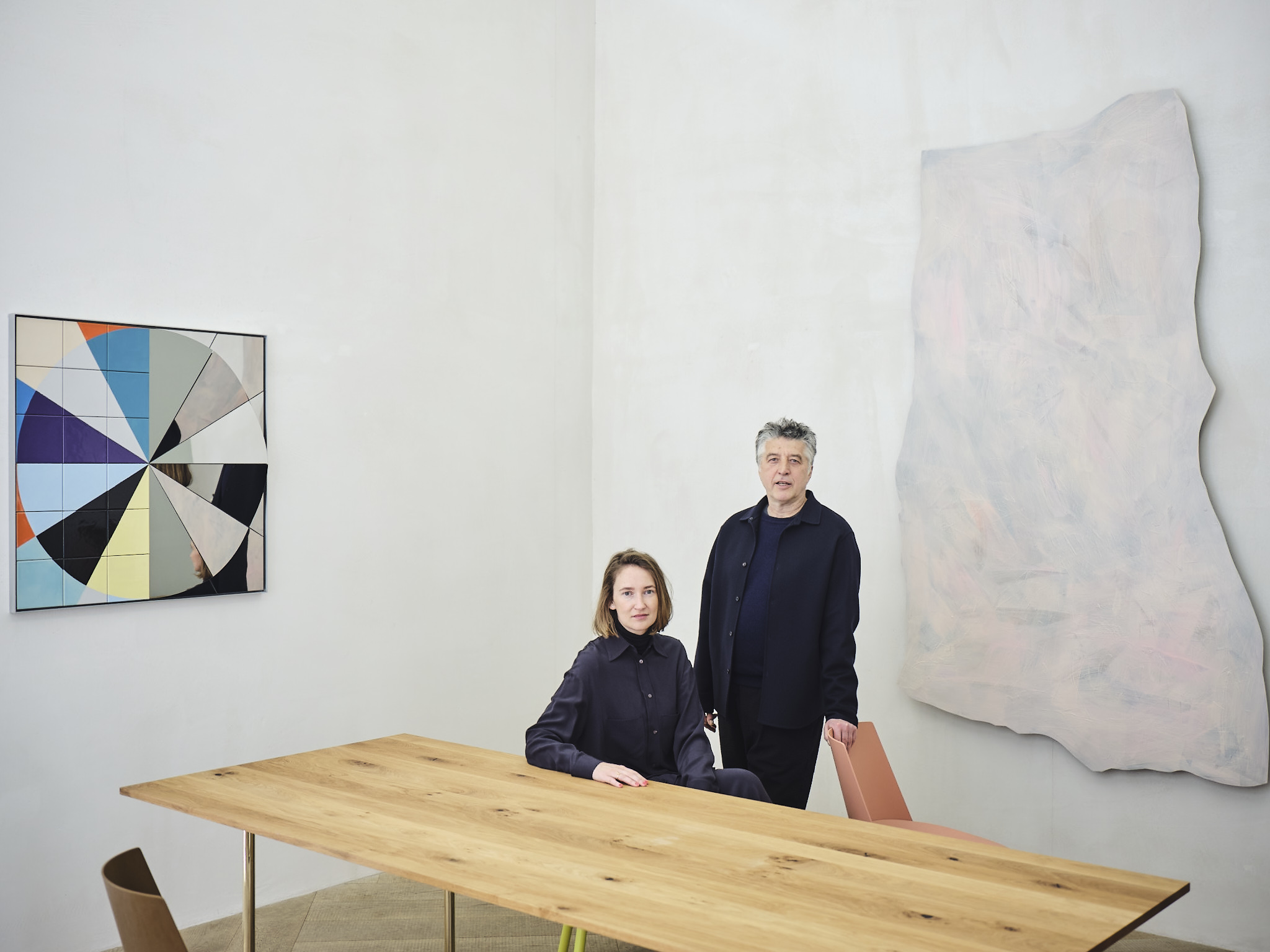 Curators of 'The Imaginary Collection' in Berlin, Diandra Donecker & Andreas Murkudis, talk about must-see shows during Gallery Weekend Berlin and which artworks they fell in love with
Private collections represent a person's taste, style, and interest and allow for speculations on the owner's character. With "The Imaginary Collection," an ongoing series of temporary exhibitions curated by collectors and art enthusiasts within their domestic spaces, the fantastical aspect of the made-up curation gets added to that idea. For the fifth edition of this series, art historian and Managing Partner of Grisebach, Diandra Donecker, together with Andreas Murkudis, collector, designer, and dealer of beautiful things, went through the gallery's inventory and put together a very personal exhibition, installed amongst some of their favorite design pieces, provided by e15. On this occasion, we took the chance to speak about their relationship with art and get some expertise on Berlin's fascinating art scene.
Diandra and Andreas, you choose a roster of eleven artists from our archive and program to imagine the ideal collection for your spaces at Potsdamer Str. 98. Dream on and keep one for your private collection. Which one would it be?
Diandra: Honestly, it's very hard to choose just one, as we fell in love with many of the works you gave us to choose from. We are both very fond of the late Swiss artist Camille Graeser and have considered buying a piece of his several times. Concrete art is a super interesting movement that has never lost its meaning and power. Graeser was an interior architect and product designer before he fled to Zurich. With the colors and geometries he invented, influenced by de Stijl and Russian Constructivism, he wanted to create a sound of music. His works, like the ones we chose to show in "The Imaginary Collection," are of wonderful simplicity and great radiance at the same time.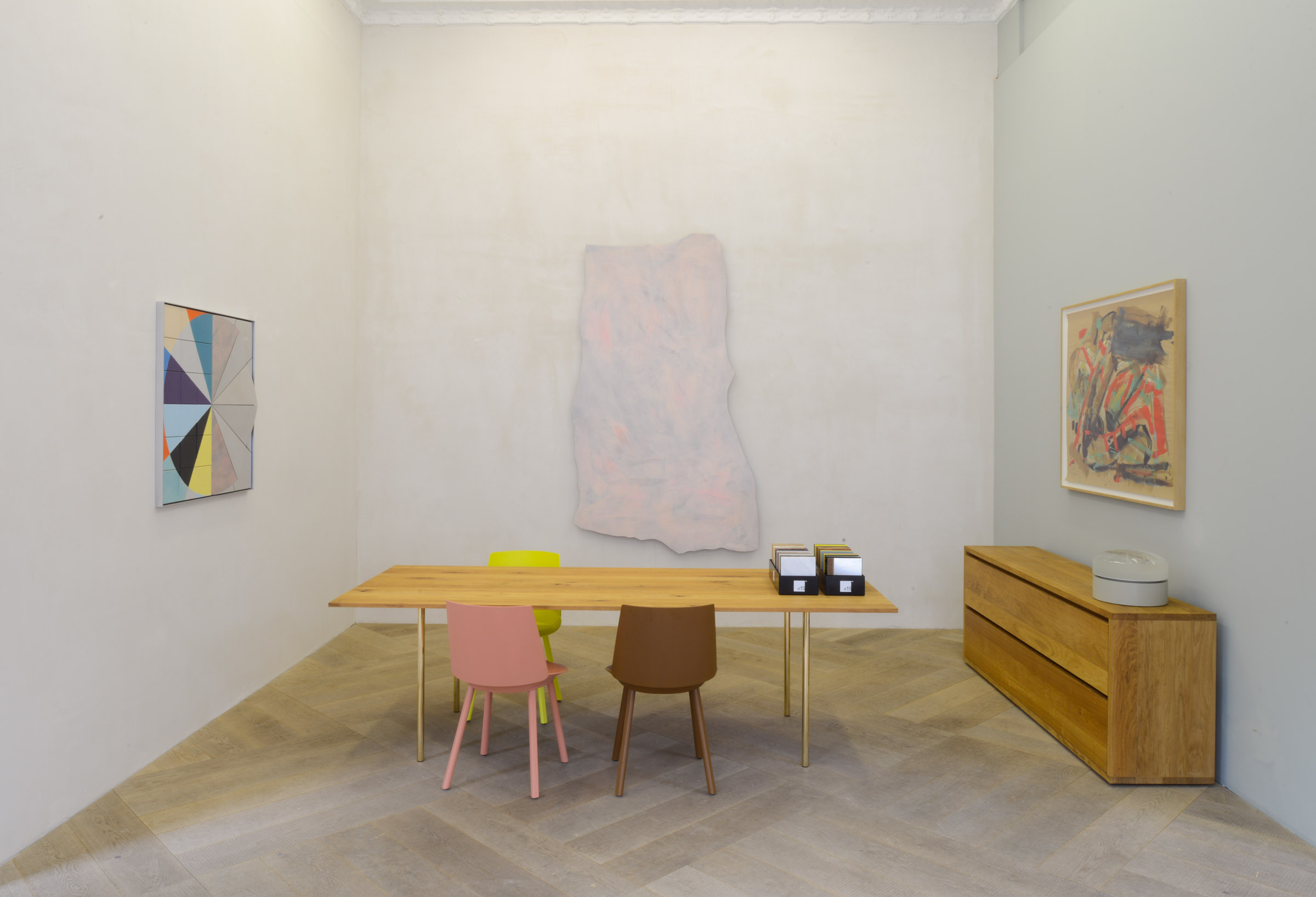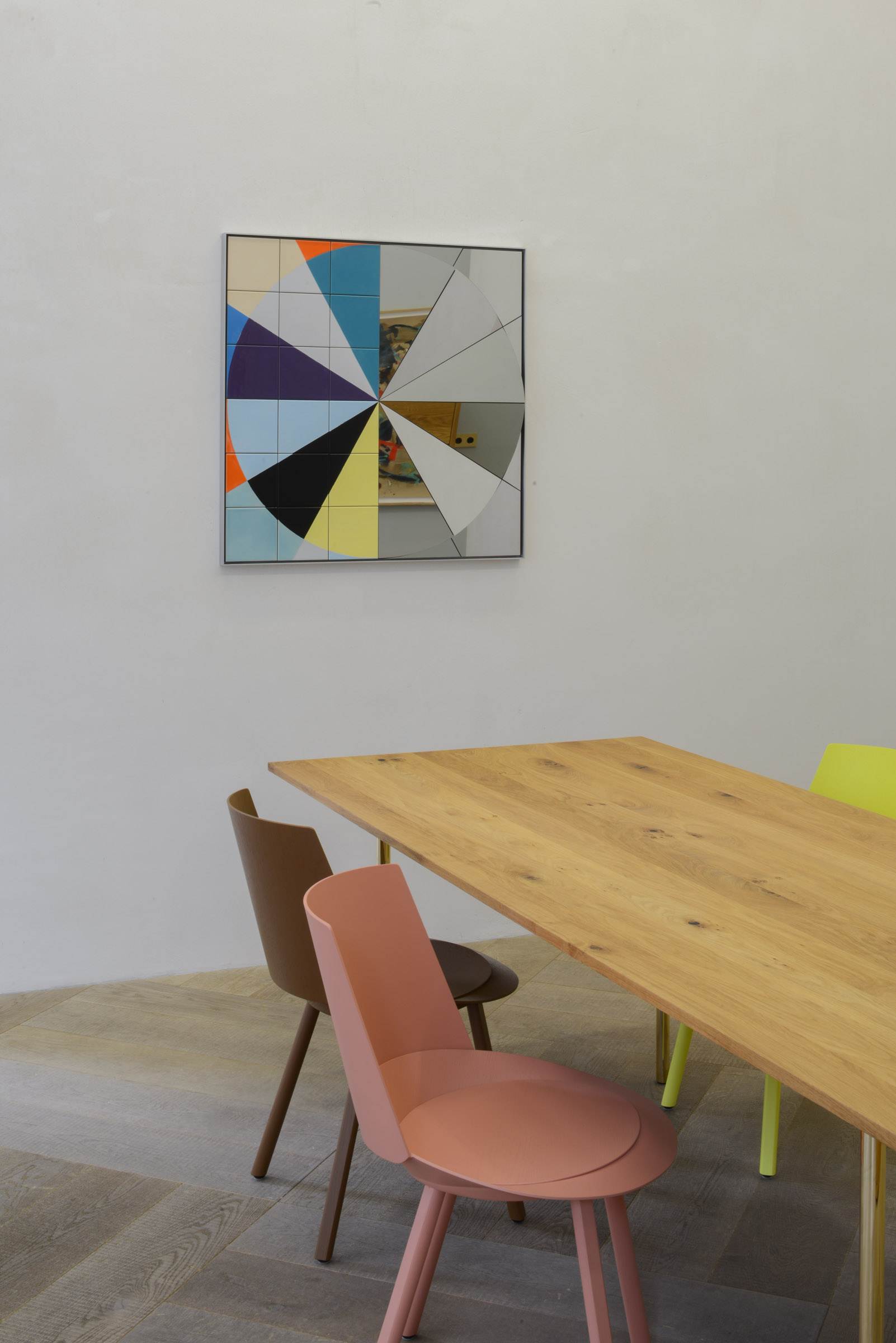 Do you have a place for it in mind?
Diandra: If we owned a work by Graeser, we'd put it in our library- and living room, where the spines of books happen to be the most colorful elements, because his works are both playful and thought-provoking – and, like books, they open up spaces in the mind. And it would go well with some of Andreas' works on paper by the German artist and painter Tomma Abts.
Our collective project opens during Gallery Weekend Berlin, a special and intense moment for Berlin's art scene. How would you describe the energy in the city on that weekend in comparison to the rest of the year?
Diandra: Gallery Weekend Berlin feels like another season. It's a real buzz. At the end of April, the weather usually shows its good side. People are out and about, on their feet and bikes, not just art-loving people, but really everyone, students, pensioners, you name it – some of whom did not dare enter a gallery previously, because it seemed too daunting. The Gallery Weekend is very international, with collectors traveling to Berlin from all over Europe and some even from further abroad. Where else is there such a thing: a whole city shakes off the cold days and comes alive through the experience of art? Several exhibitions are free, and there are exclusive events, and cocktail- and dinner parties, but somehow everything is welcoming and accessible. Berlin is of course a metropolis, and you really need to take your time to explore all the galleries. Nevertheless, one can roam from one neighborhood to another and go on a discovery tour.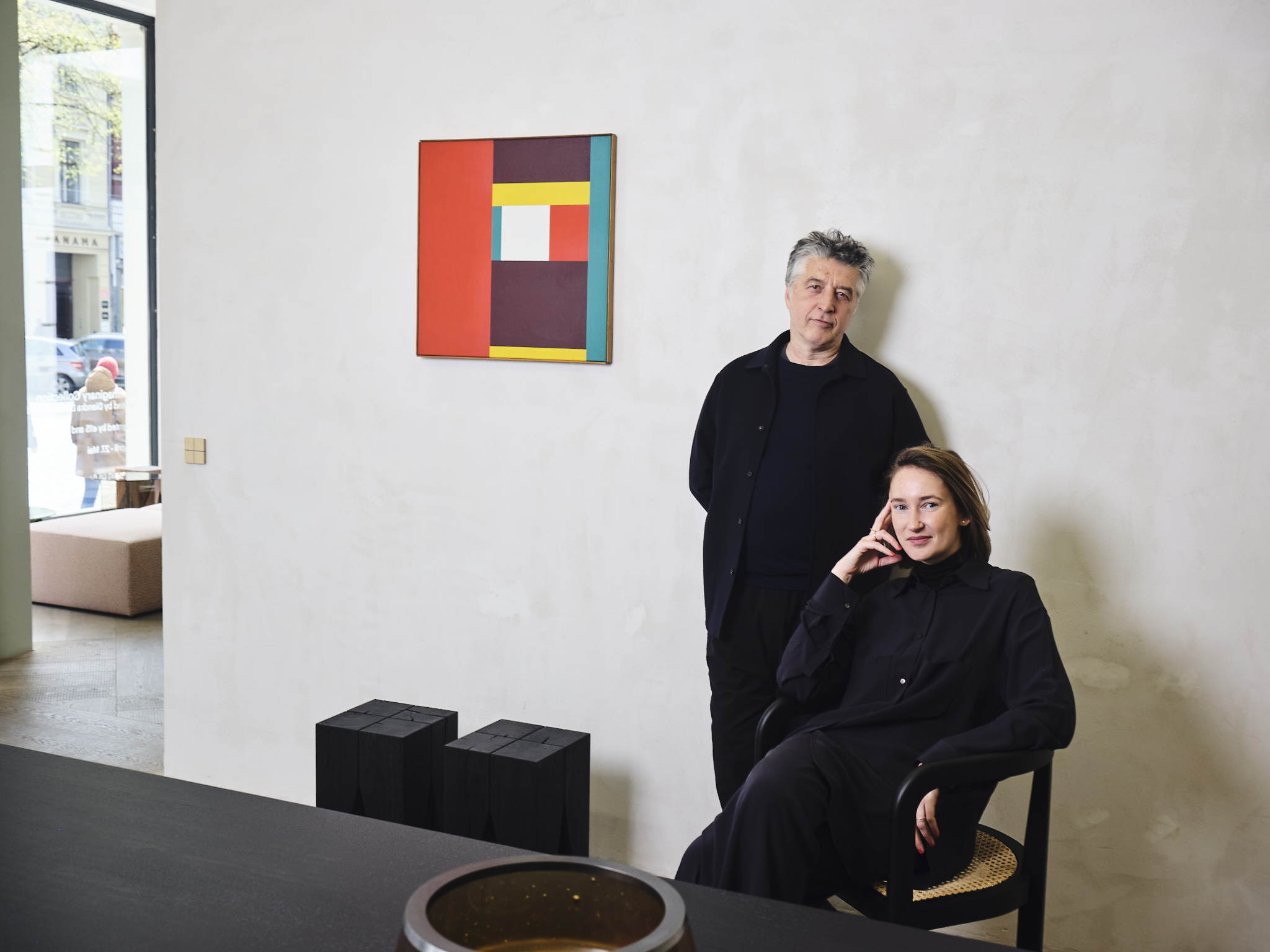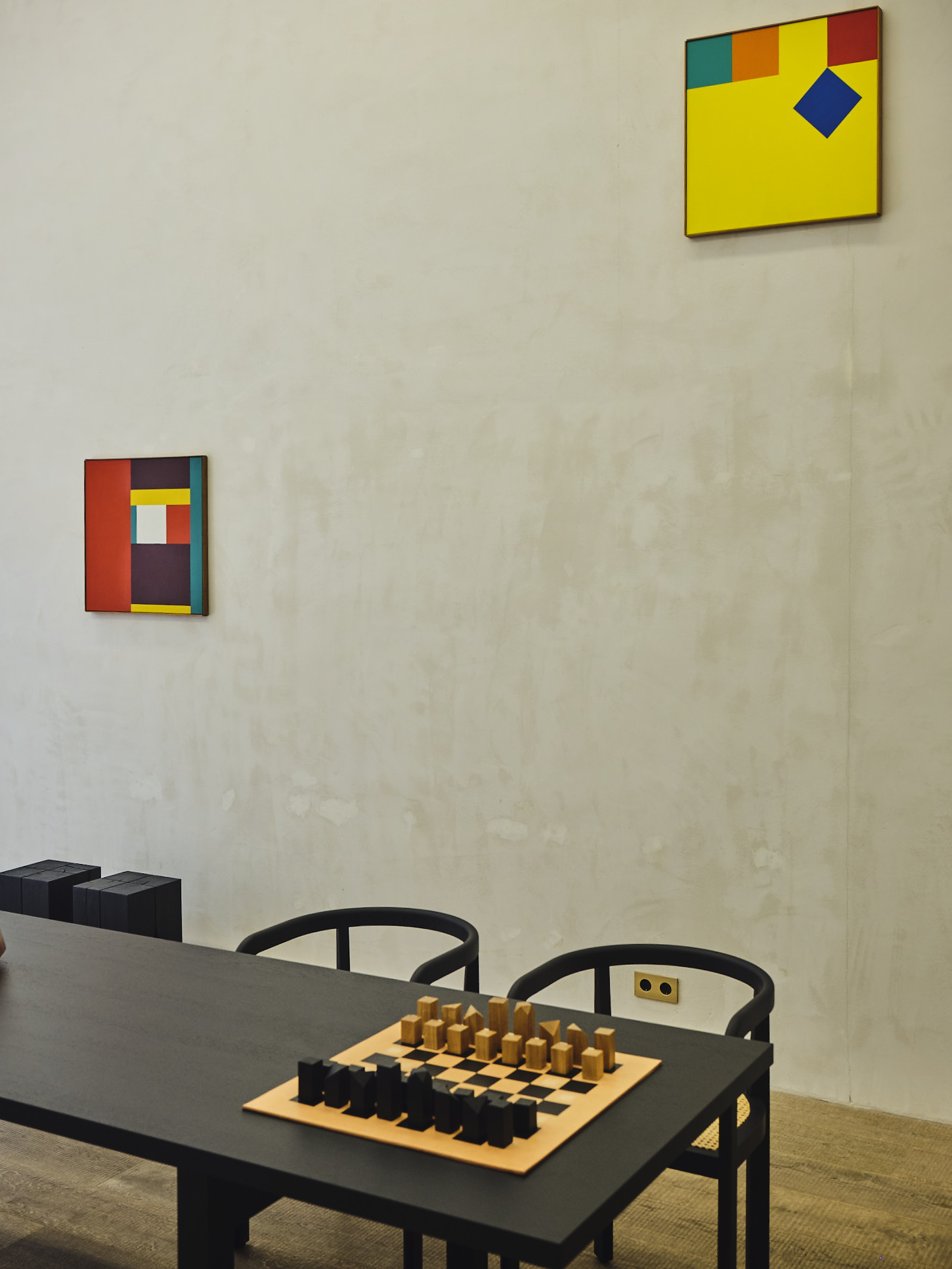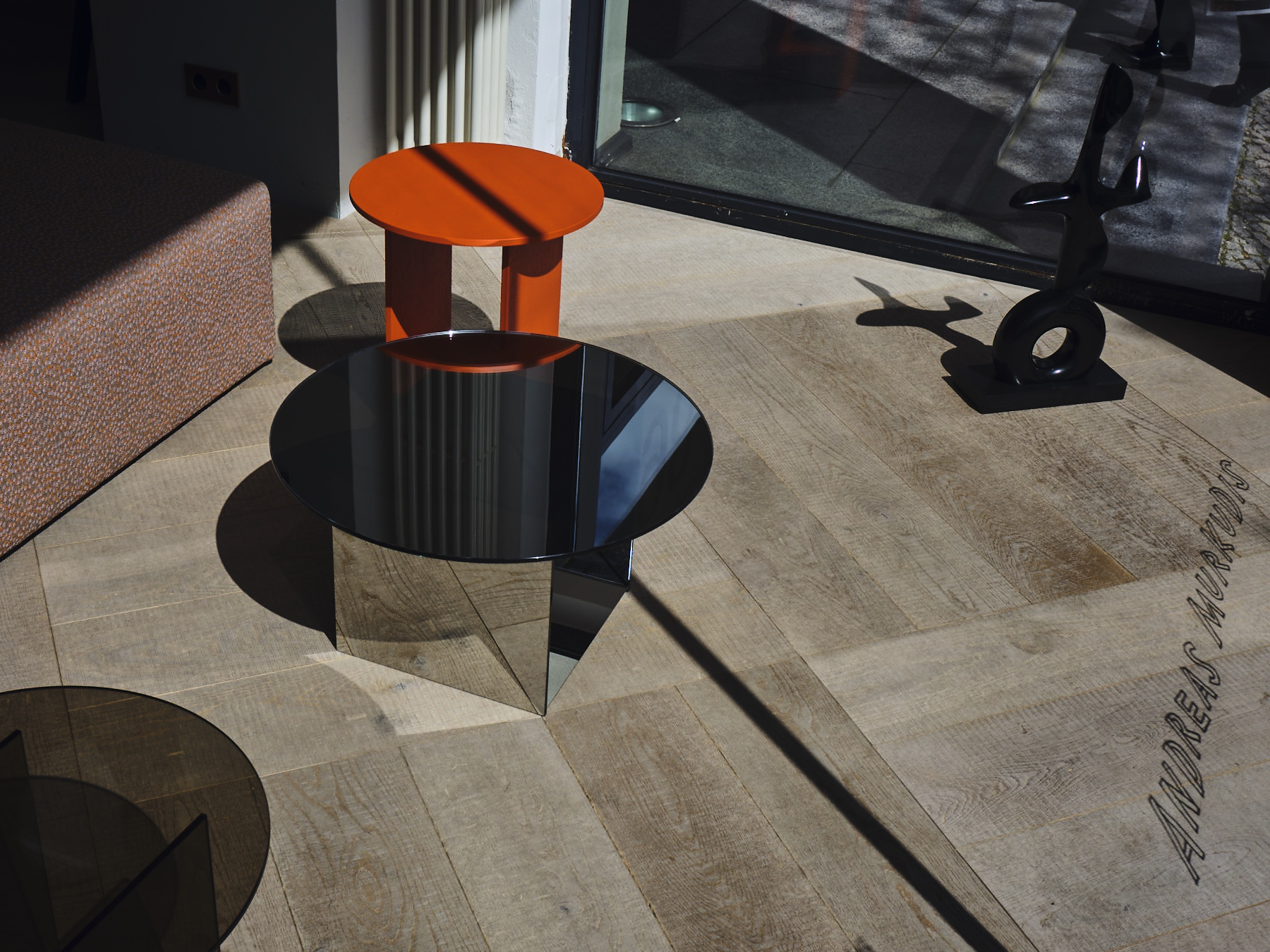 Are there particular shows you suggest we visit this year?
Diandra: We are especially looking forward to Paloma Varga Weisz at Konrad Fischer Galerie and, of course, to the grandmaster Cy Twombly at Bastian. Alexandra Birken will have a solo exhibition at BQ. And always nice: the wonderful Wolfgang Werner with works by Olle Bærtling, Gerhard von Graevenitz, and Richard Mortensen. Last but not least: A show pointedly called "Journey" at Alexander Levy with works by Max Neumann. We appreciate his work. It's an exciting painterly position that the general art trade tends to overlook.
Andreas, in an interview with Süddeutsche Zeitung, you once compared the visit to your store with that of a museum. As you try to create a certain atmosphere, what can art do for that aspect, in commercial and private spaces?
Andreas: For me personally, art is part and parcel of interior spaces – no matter if these spaces are private or commercial. Just as the objects and pieces inside my store are a direct reflection of my taste – after all, I do the buying myself – so too, I want the space itself to feel like a reflection of my personality. Art has been an intrinsic part of my entire life: starting in my teenage years, during my art history studies at university, throughout my time as a museum director up until now, as a retailer and collector. I want the store to feel exemplary – ideally, the customers can easily picture the furniture pieces that are on display in their very own homes. And so, it is important to contextualize them… with artworks. After all, who wants to live amidst plain, white walls?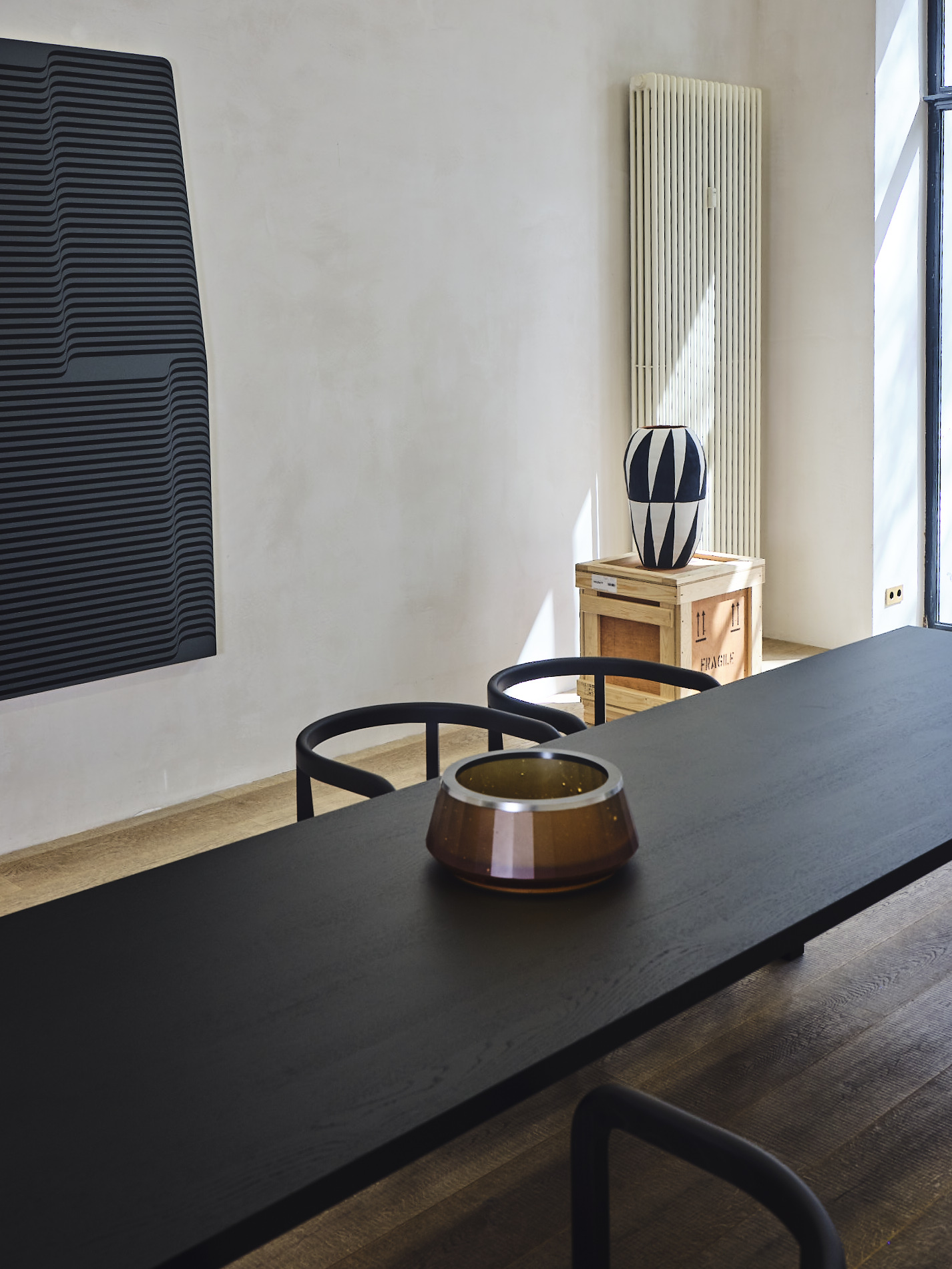 Diandra, "The Imaginary Collection" features an ANTON table by Philipp Mainzer, the same as you have in your office, here surrounded by works of Imi Knoebel and Lajos Kassák. Which artists inhabit your actual Berlin office and inspire your work every day?
Diandra: Working in an auction house means, of course, that the works hanging in the rooms change every season, or rather every week. I share a lovely office with my partner and CEO at Grisebach, Daniel von Schacky, where we currently work in the company of a sculpture by Franz West and a painting by Jiri Georg Dokoupil. But that could change in the blink of an eye and we would get new roommates. I know we are very privileged to be surrounded by such fantastic works – but don't you dare to fall in love – we can't keep them 😉
Diandra and Andreas, both of you live and work with art. Do you remember the first artwork you acquired, and do you still own it?
Andreas: I purchased my first artwork way back in the 80s. A drawing by Max Neumann at a gallery in Berlin – I remember the excitement I felt. And yes, I still own it. I'm looking forward to his solo exhibition, which Diandra mentioned earlier, at Alexander Levy.
Diandra: The first work I bought was, of course, at an auction. Actually, it's a bit romantic, because I gave this purchase to Andreas as a gift. Shortly after we met, I purchased this drawing by Gary Kuehn. His work is minimal and geometric, but at the same time, sensual and fluid. We still have the work, and I would be really upset if Andreas gave it away.
Oh, we can imagine! Thank you for your time!
Running from April 27 to May 27, 2023, the latest edition of "The Imaginary Collection" at ANDREAS MURKUDIS, Potsdamer Str. 98 in Berlin, presented in collaboration with e15, features works by Etienne Béothy, Anna Dickinson, Athene Galiciadis, Camille Graeser, Terry Haggerty, Auguste Herbin, Lajos Kassák, Imi Knoebel, Karim Noureldin, Gerhard von Graevenitz, and Claudia Wieser. The Imaginary Collection appears in a setting of iconic design pieces by David Chipperfield, Richard Herre, Stefan Diez, Farah Ebrahimi, Philipp Mainzer, and more, provided by e15.
Header image by Markus Jans
Error. No content found for Slider