Weaving hope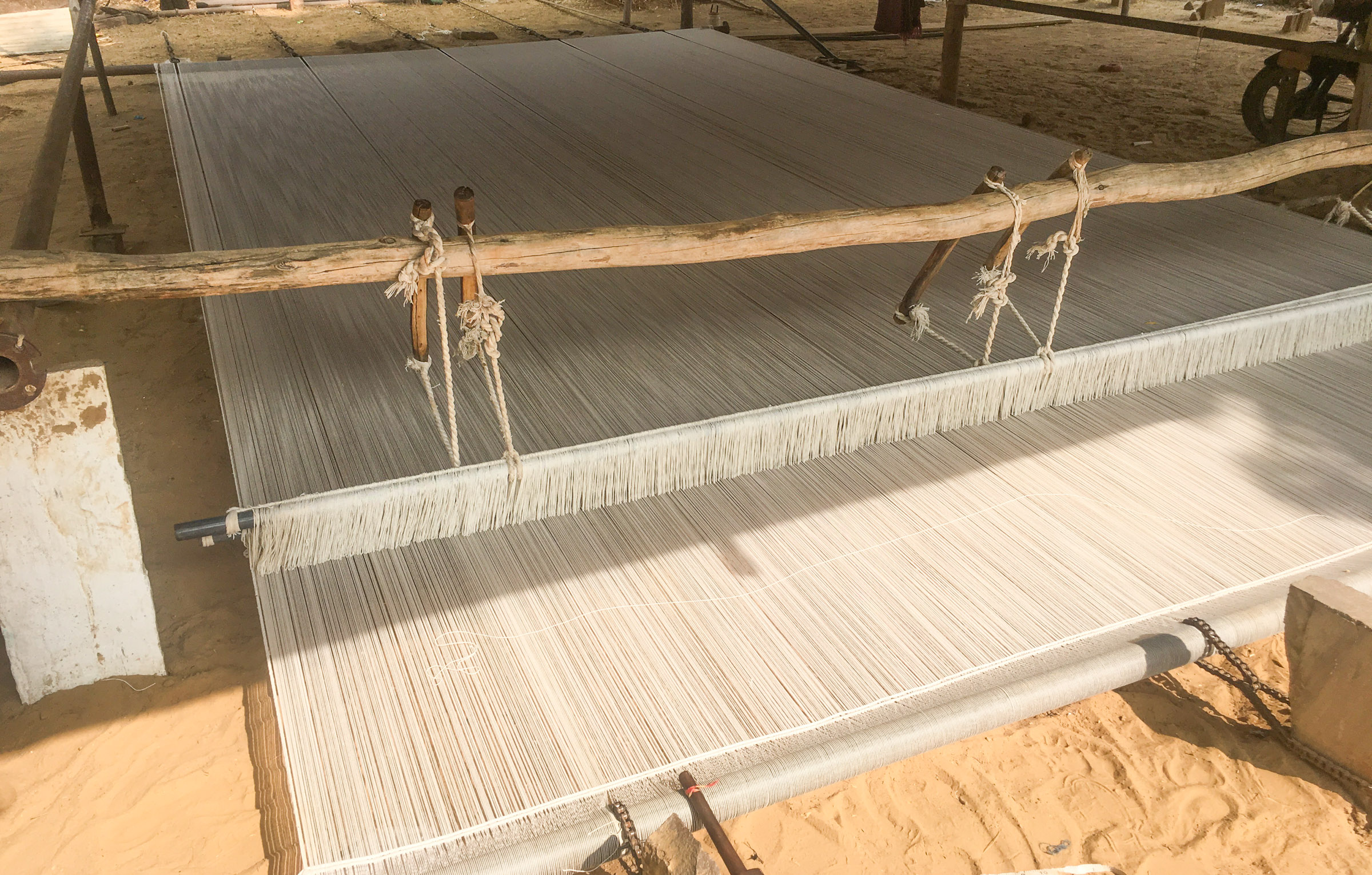 A new, limited-edition series by artist Karim Noureldin responds directly to the Covid-19 crisis, supporting skilled textile workers in Jaipur, India
'This project came about for one reason: the Covid-19 crisis in India and across the world', explains Karim Noureldin. 'After speaking with my professional contacts and friends in India, as an artist, I felt I had to act'. The Swiss artist has been working with Indian textile makers for more than five years, creating bespoke artworks which are hand-woven by experienced textile workers. In response to the current crisis, he has launched a handmade artist rug Des (2020), available as a limited edition for purchase through von Bartha. 100% of the profits from each sale will go to Devendra Singh as distributor, as well as the Indian weavers who produced the edition.
Noureldin first chose to work with Singh's company after extensive research: 'I knew that Indian textile production could offer me what I was looking for in terms of design and workmanship. I searched for a company that offered very specific manufacturing techniques, as my textile objects are quite sophisticated and produced in small numbers – often as just one, unique piece'. When he discovered Singh's company, it marked the start of a long-lasting collaboration: 'I met with Devendra four years ago in late November in Jaipur, and we connected immediately. We have been working together ever since, and are both business partners and dear friends'.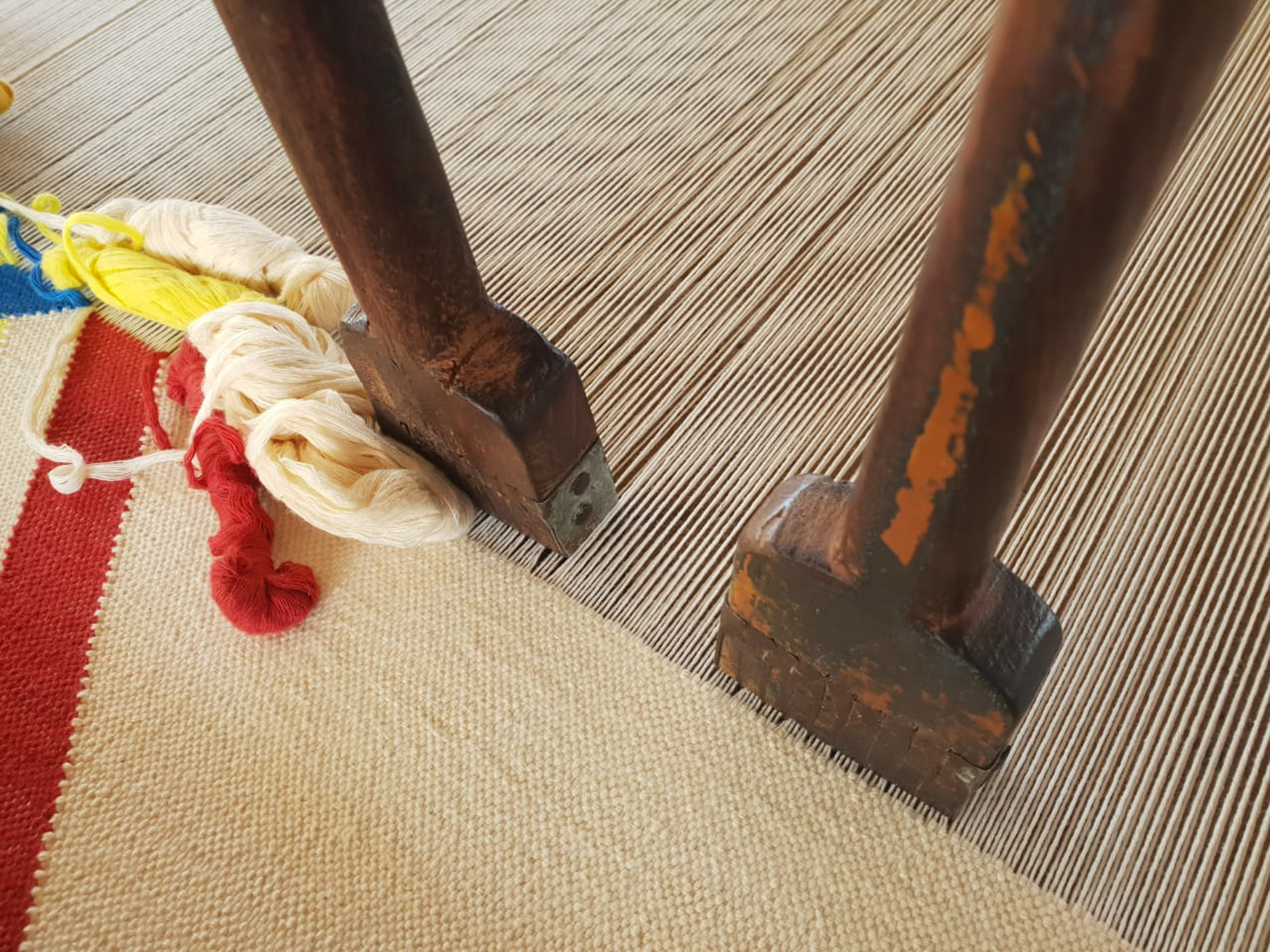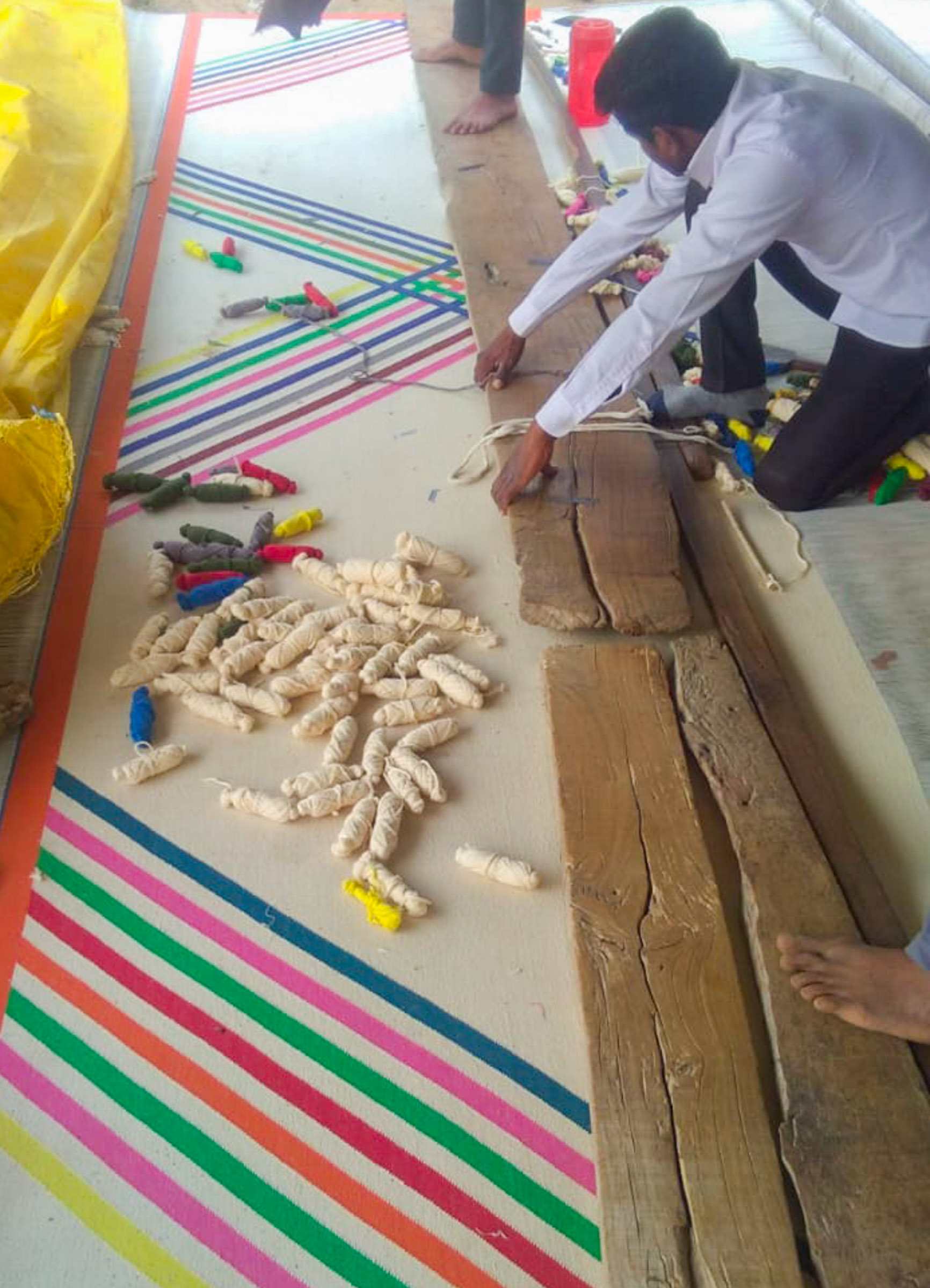 'We [Devendra and I] work mainly with one village, Jatwara, which lies just outside Jaipur in a semi-arid but fertile area, used predominantly for farming and agriculture', Noureldin continues. 'The village has been a centre for textile-making for generations, and today almost every citizen works in textile production, alongside their farming activities'. To create large commissions, the village's 'entire population' of adult men and women work together. The artist visits each year to ensure working conditions are ethical and pays a 'superior price' for production, ensuring fees for both workers and distribution are fair. Working with Singh, he has also co-founded and financed an annual social responsibility project for the village and its sister town: in 2018, it provided materials for the local schools; in 2019, a new water filtrate system.
'These ancient techniques and knowledge are passed from generation to generation and, without economic support during the current crisis, they will be quickly abandoned and forgotten'
The textile objects produced in Jatwara employ a traditional, labour-intensive technique known as 'Panza'. 'Rugs woven in the 'Panza' technique are increasingly disappearing in India, replaced by textiles created using the more common 'Dhurrie' technique which is simpler and can be made on a loom,' Noureldin explains. ''Panza' is made entirely by hand, with little technical equipment apart from a tool called a 'Panza', which is a comb-shaped wooden element for aligning the threads. Weavers sit on the floor and weave horizontally, moving progressively across the textile they are sitting on as it is woven. The technique produces a fine and very dense weaving and allows for highly detailed and elaborate designs'.
Noureldin's limited-edition Des (2020) rugs reflect a desire to preserve and support the Indian makers and techniques that have become a central component of both his personal and working life. 'It's a very personal project', he acknowledges. 'In the five years that I've been working with Jatwara, I have developed friendships with both manufacturers and weavers and know that they rely heavily on orders created for export. These ancient techniques and knowledge are passed from generation to generation and, without economic support during the current crisis, they will be quickly abandoned and forgotten. While Covid-19 prompted a lot of companies or clients to stop orders immediately, I felt it was my duty to step up and not forget about the people who help me with production. All profits from Des (2020) will go to workers and distributors. I will personally sign and number each piece, but I won't take any profits, nor will von Bartha'.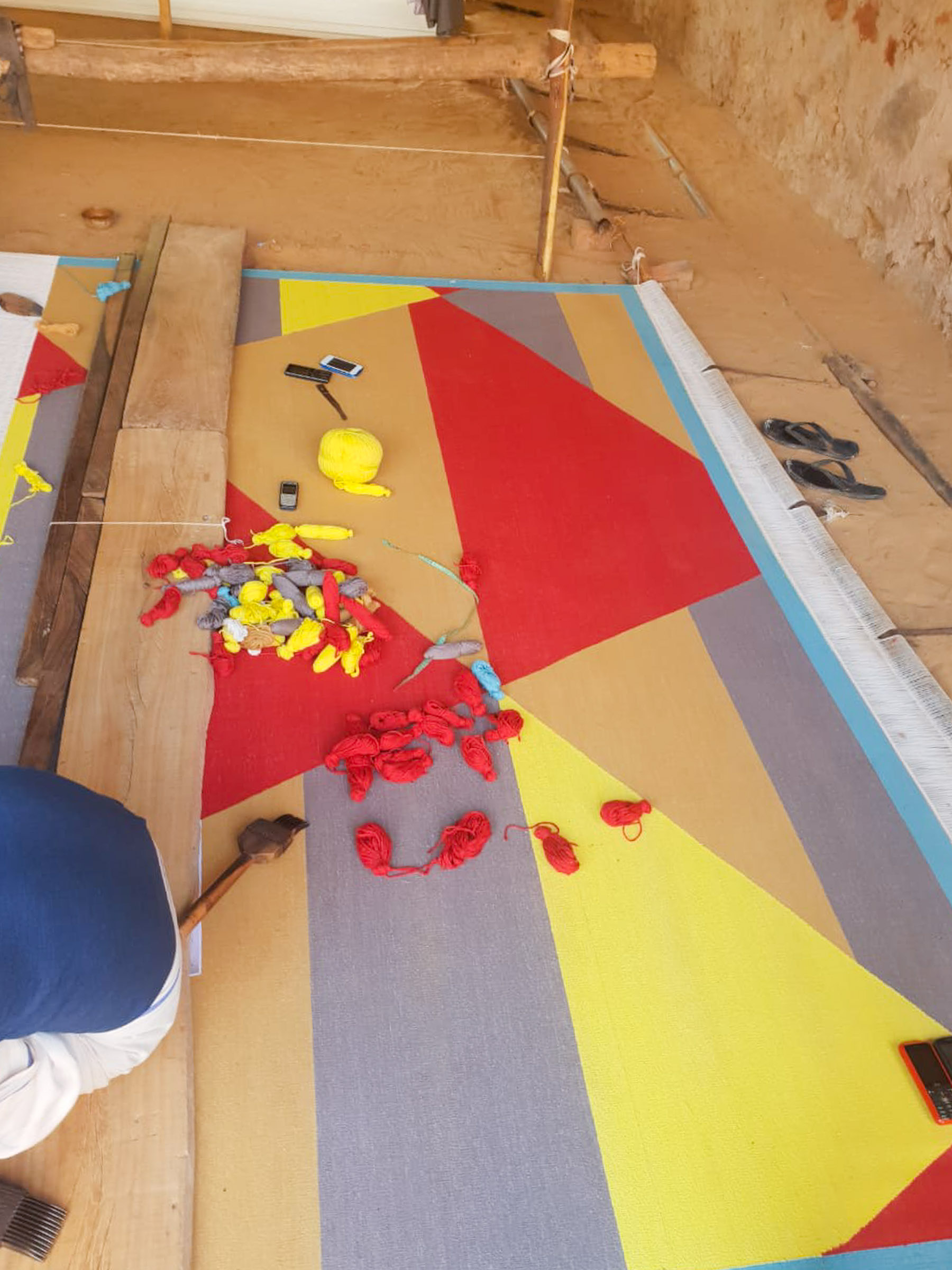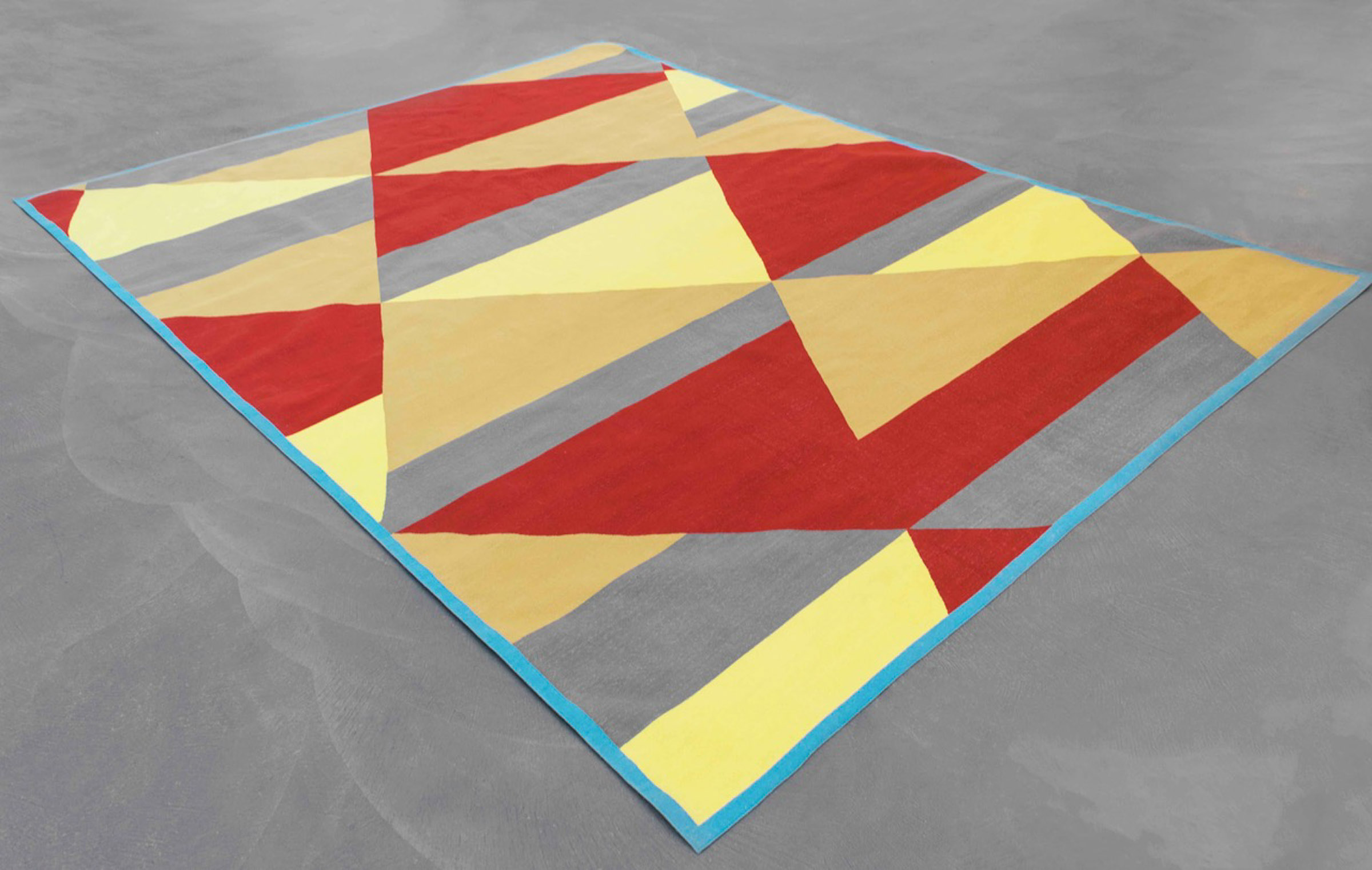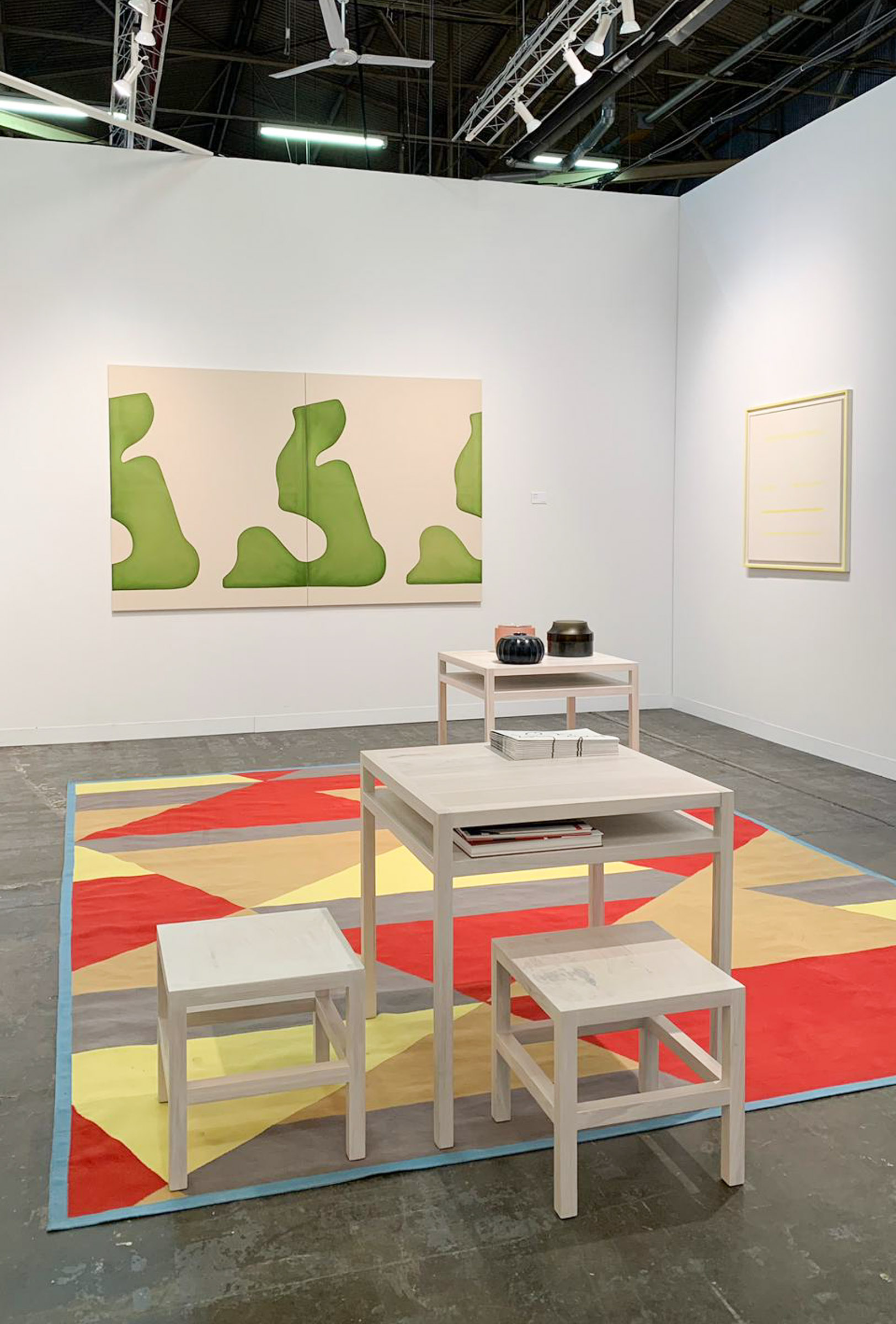 To create Des, Noureldin drew inspiration from Jatwara itself: 'I wanted to work with a beige background, similar to the colour of the earth in the village. A dark green geometric pattern contrasts with this. Maybe it's vegetation? Triangular forms connect to each of the work's borders, like music playing or elements floating and bouncing through space'. This edition, the artist explains, continues a long-held interest: 'Textiles have always fascinated me. I love their appearance, the quality of the materials, and their abstract nature – they both inspire and challenge me to further develop my own work. The process by which they are produced – by hand, using fine materials – also closely resembles my own art making, particularly my approach to creating works on paper'.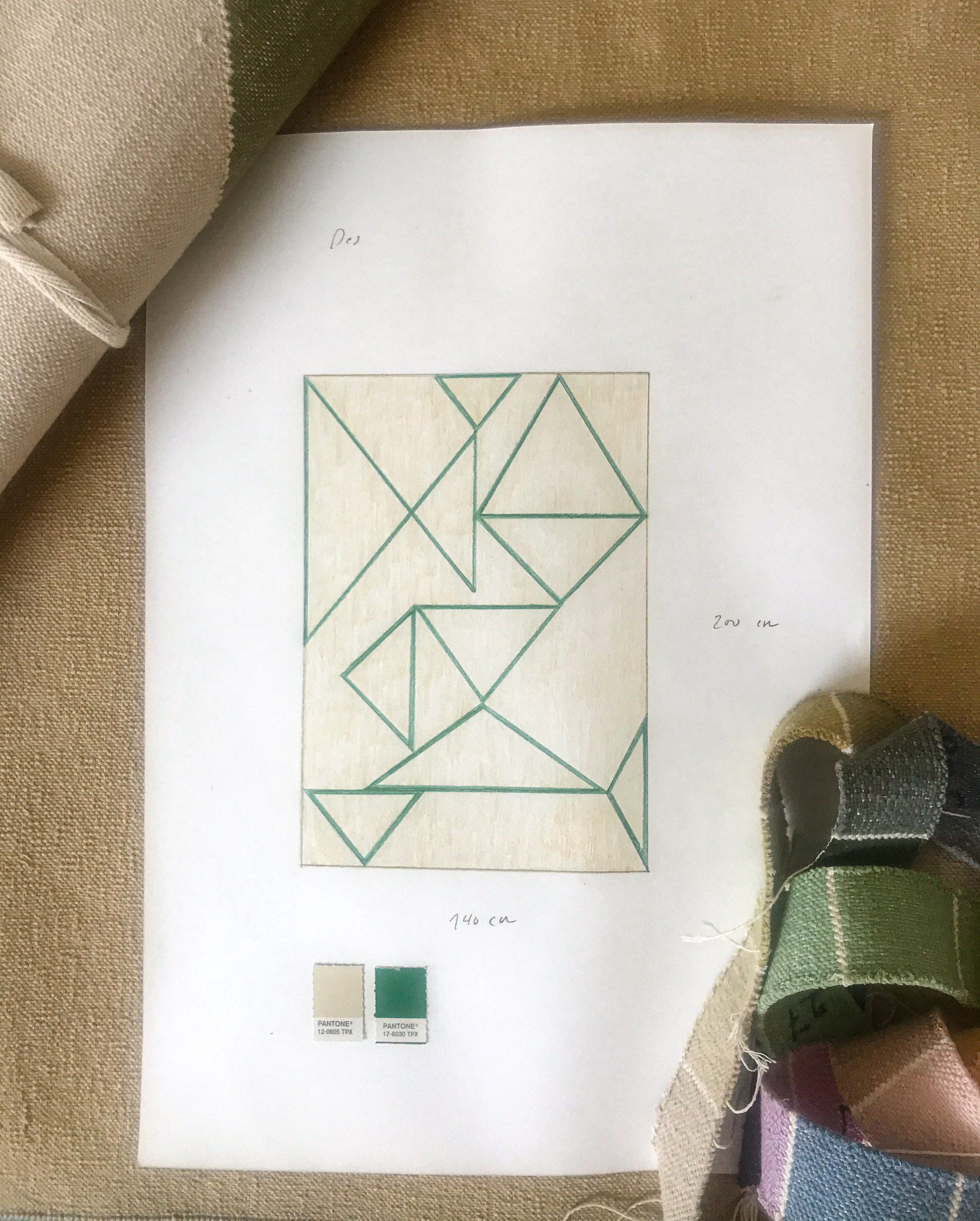 This project is both an homage to Noureldin's love of textiles, and to the community that has helped him to expand his practice to include fine textiles. 'Over the past five years, I have created more than a dozen pieces, most of which have been unique. This edition is the first to feature several objects in a similar design, because I felt that now is the time to help. It's about giving back to people who have helped me to create in the past'.
Des, 2020 (200 x 140cm) is a handwoven cotton carpet by Karim Noureldin, produced in a limited edition of 25 with four artist proofs. Each carpet costs CHF 850 incl. VAT and 100% of profits go to support the workers of Jatwara and Devendra Singh in Jaipur, India, as their work is impacted by Covid-19. Orders are being taken until the end of May.
To make an enquiry, or find out more about the project, please contact von Bartha.