Felipe Mujica
All Tomorrow's Parties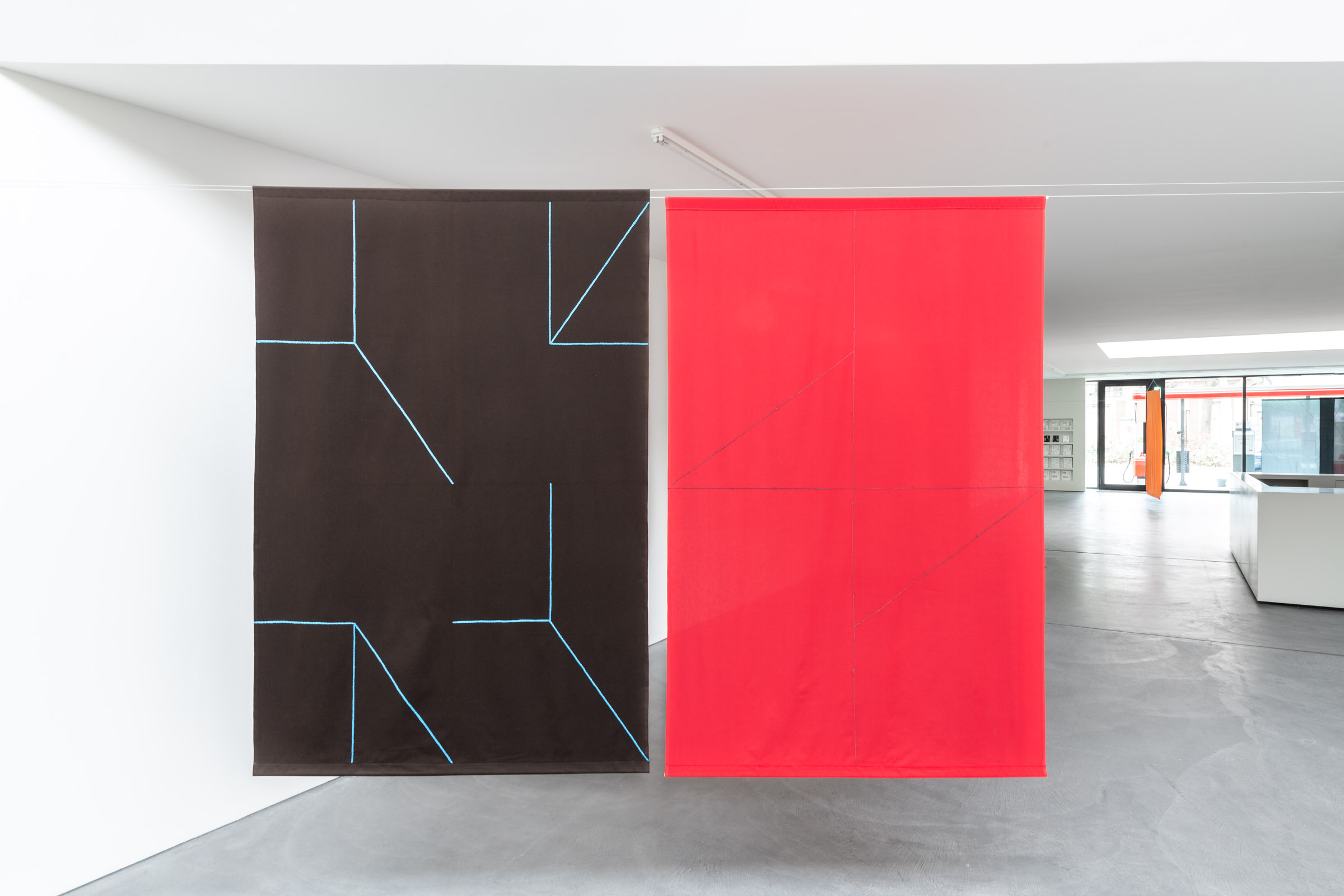 JAN 25 2019 – MAR 09 2019
von Bartha, Basel
Von Bartha, Basel announces an exhibition of new works from the Chilean artist Felipe Mujica, running from January 25 to March 9, 2019. Appropriating its title from a 1967 Velvet Underground song, the exhibition presents three projects which intertwine and complement each other, conceptually, spatially and historically: a selection of recently commissioned curtain-works, a collection of studies made by the artist since 1995, and an artist-book in the form of homage to the Argentinean concrete artist Claudio Girola. The show marks the artist's second exhibition with the gallery.
There Are No More Exotic Countries in Latin America (2018), unites a series of 20 curtains made collectively by a group of volunteers for the exhibition Shout Fire!, curated by Mariangela Mendez-Prenke at Röda Sten Konsthall in Gothenburg, Sweden last Summer. Created as part of an open workshop where individuals of different ages and levels of embroidery expertise (mostly women) worked side by side with the artist, the proccess became a horizontal and collective learning experience. Over the course of two weeks, textile knowledge and personal histories were exchanged between Mujica and the embroderes, at moments interrupted by Fika – the traditional Swedish coffee break – whereby the artist witnessed the curtains gently adapt to the context of their production.
The collection of Mujica's studies on display at von Bartha represent a selection from a larger body of work by the artist, comprised of drawings, collages, computer drawings/printouts and documentation in the form of colour photographs, slides, and video. Preparatory work for Mujica's final installations, they reveal a process of evolution from mostly 2-D mural pieces towards more objectual, spatial and architectural works – encompassing time spent by the artist working across Santiago and more recently, New York.
The final work, an artist-book titled Un Argentino perdido en Chile [An Argentinean Lost in Chile] (2018), pays homage to the Argentinean artist Claudio Girola, who moved to Chile in the early 1950s and became a teacher at the school of architecture and design within the Pontificia Universidad Católica de Valparaiso. Divided into three chapters, the book presents the lesser-known aspects of Girola's sculptural experiments. The text and visual essay serve as a very personal, semi-factual, semi-fictional interpretation of Girola's history and motivations.
Error. No content found for Slider