9 Facts about Hulda Guzmán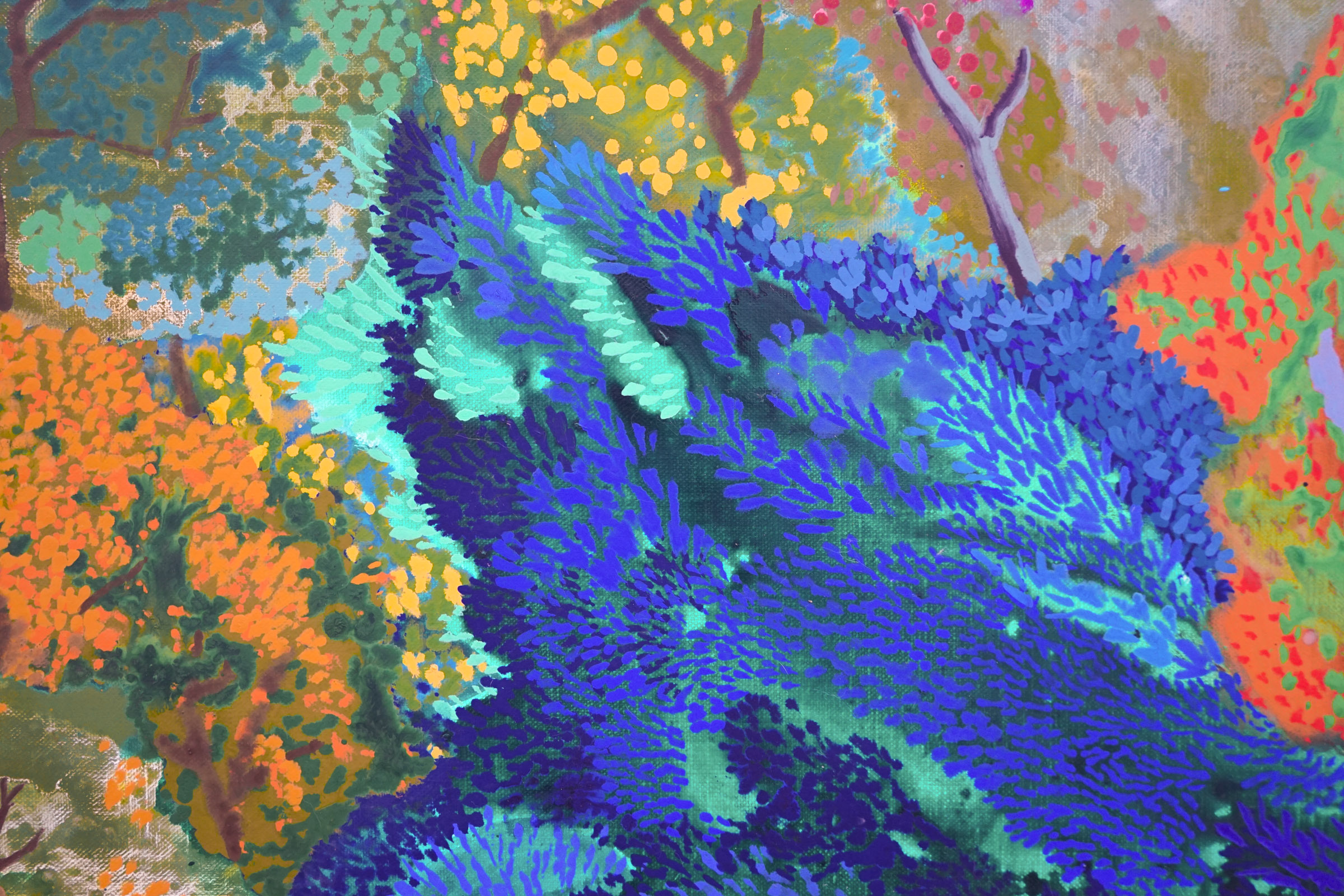 On our co-existence with nature, modernist furniture and a world that is made of mystical creatures and laughing animals
She works surrounded by forest and sea
Hulda Guzmán (born 1984) lives and works in the Dominican Republic, between Santo Domingo and Lanza del Norte, "in the middle of nowhere"(1), within a forest and close to the country's northeast coast. The flora and fauna surrounding her studio directly influence the settings in her work, especially in her outdoor paintings.
Living in a dream
Looking at her paintings, it is as if, through a window, we get a glimpse of how the artist (and maybe ourselves too) imagines a perfect world. A place where we make friends with our inner demons, where there is magic around us, where animals are given the opportunity to laugh and celebrate like we do, and where we move freely and unselfconsciously. A place in which nature and home are no longer two separate entities, but become one.
Nature is one of her main protagonists
Nature in its fragile current state, and the celebration thereof, is as much a protagonist in her works as the human figures dancing through the canvas, running errands, and playing. We also see mythical creatures, numerous animals (which often have nothing to do with the typical jungle wilderness surrounding her studio – a Husky in the jungle?), and fantastic interiors, which all come together as part of her ongoing examination of postcolonial and ecological issues.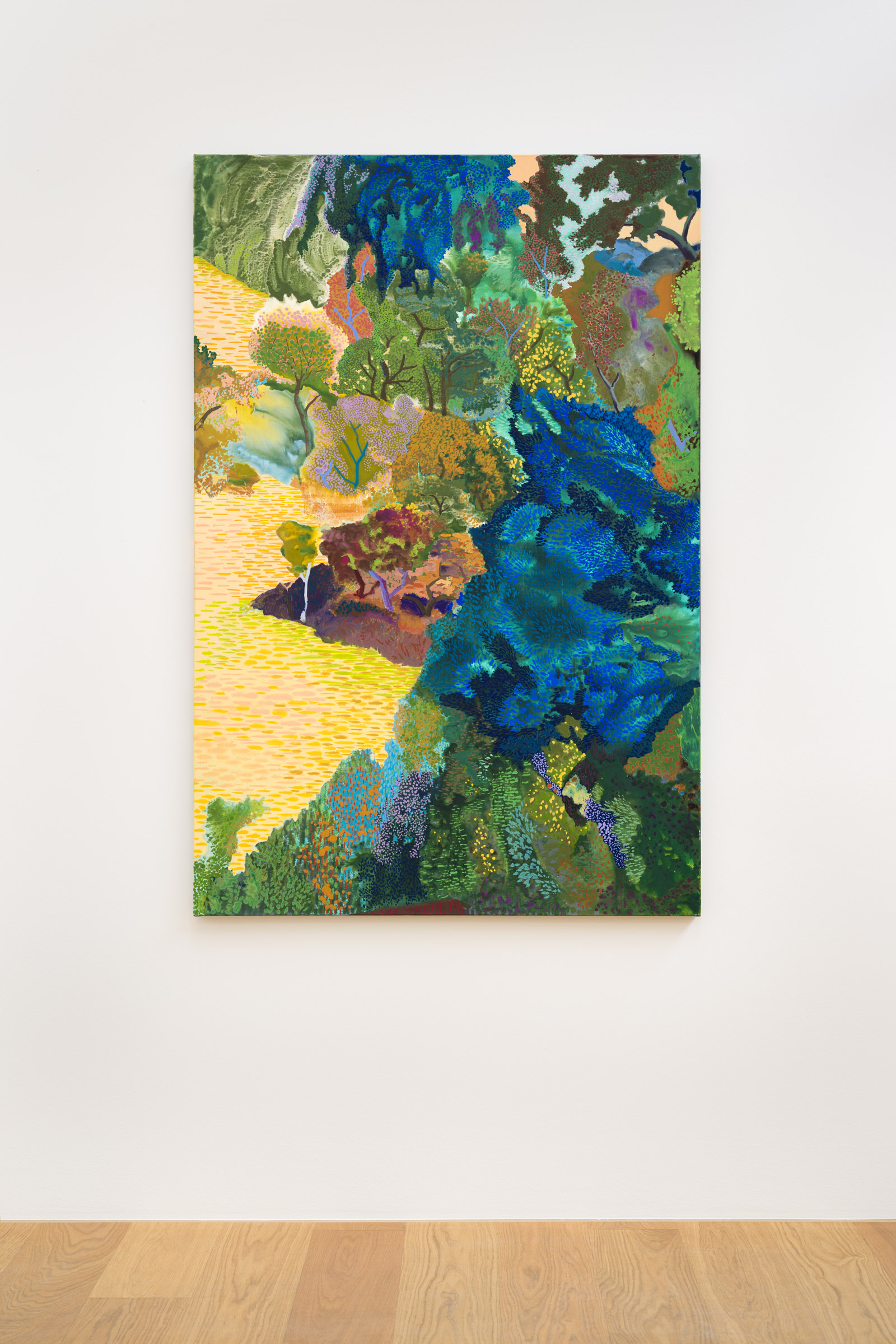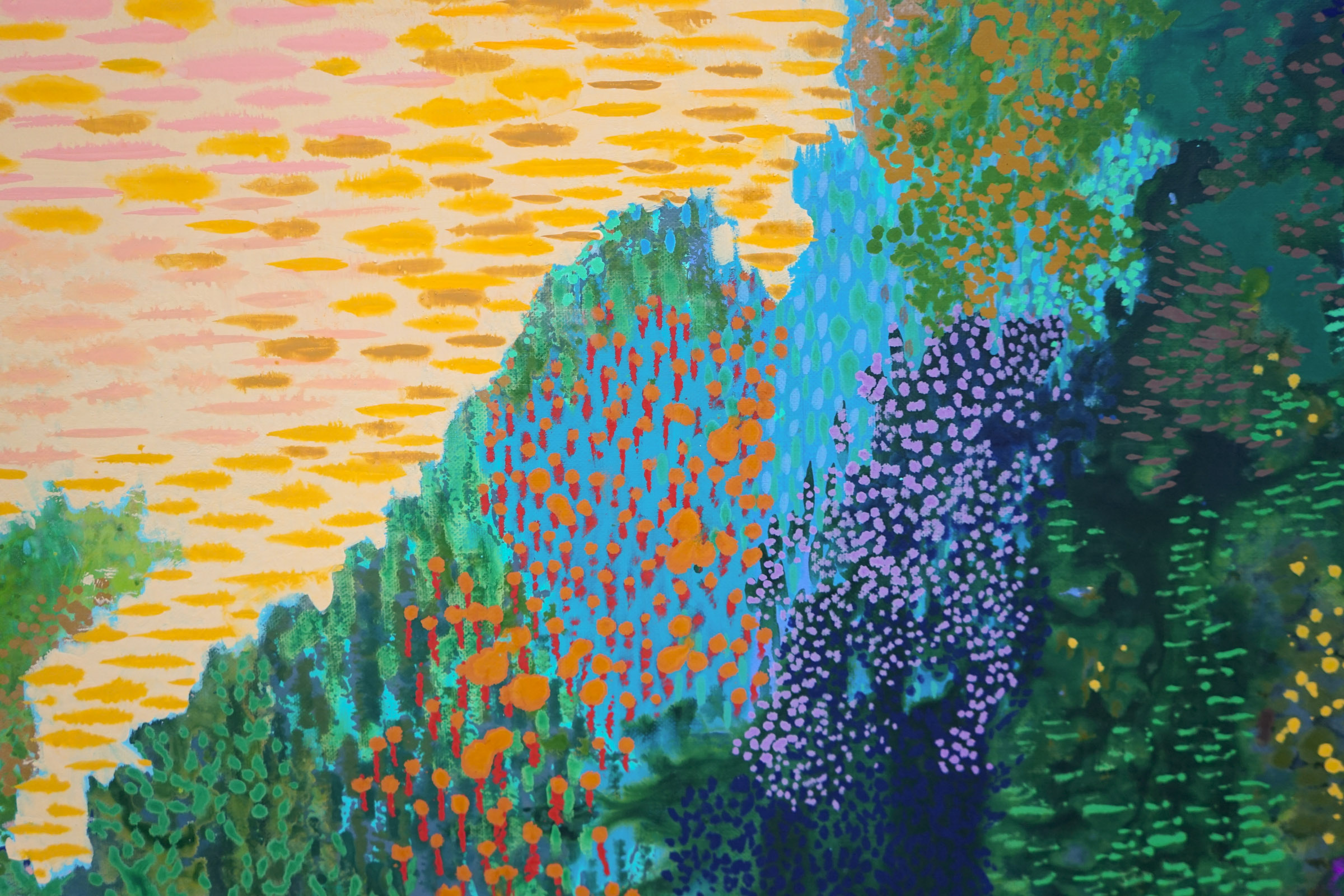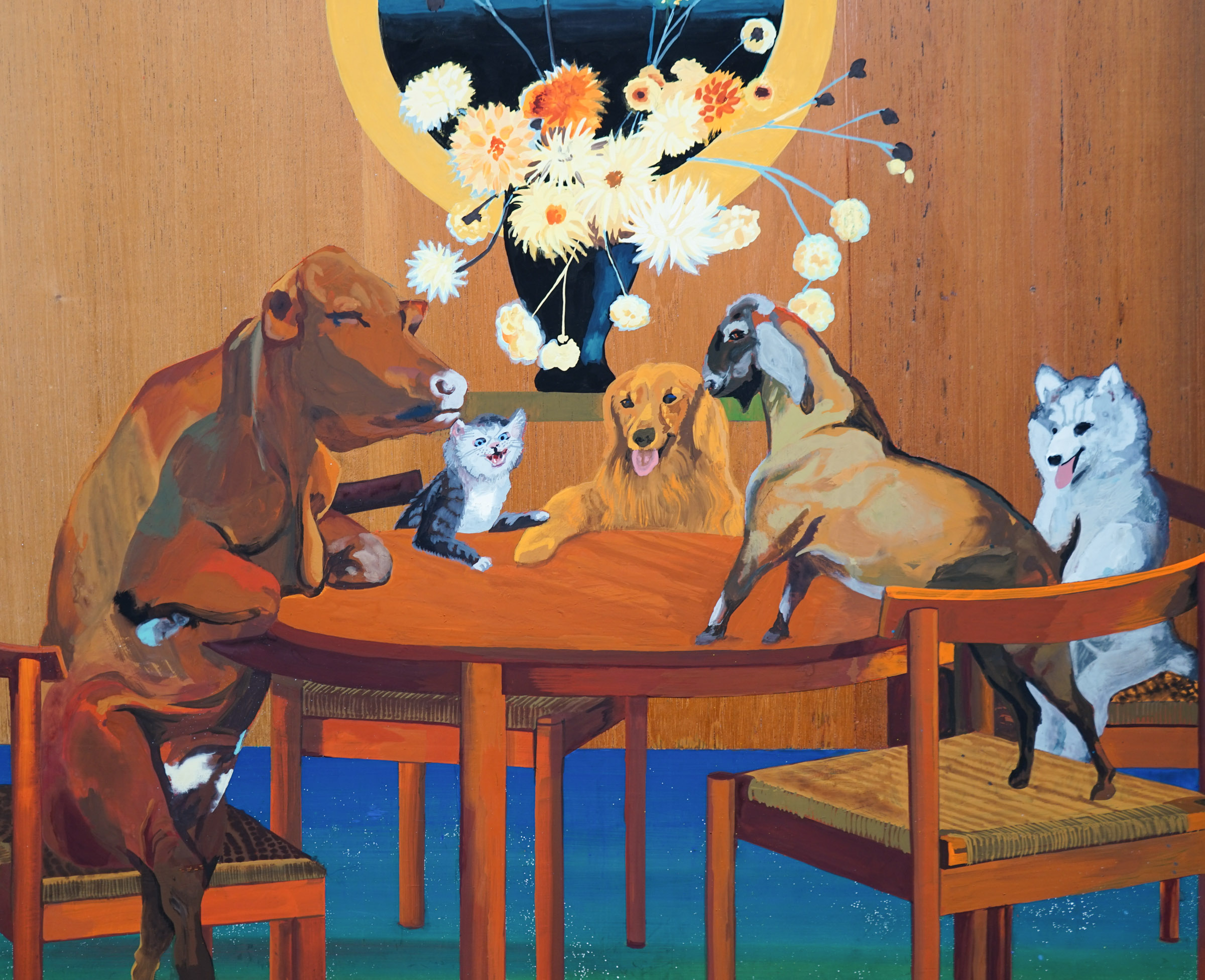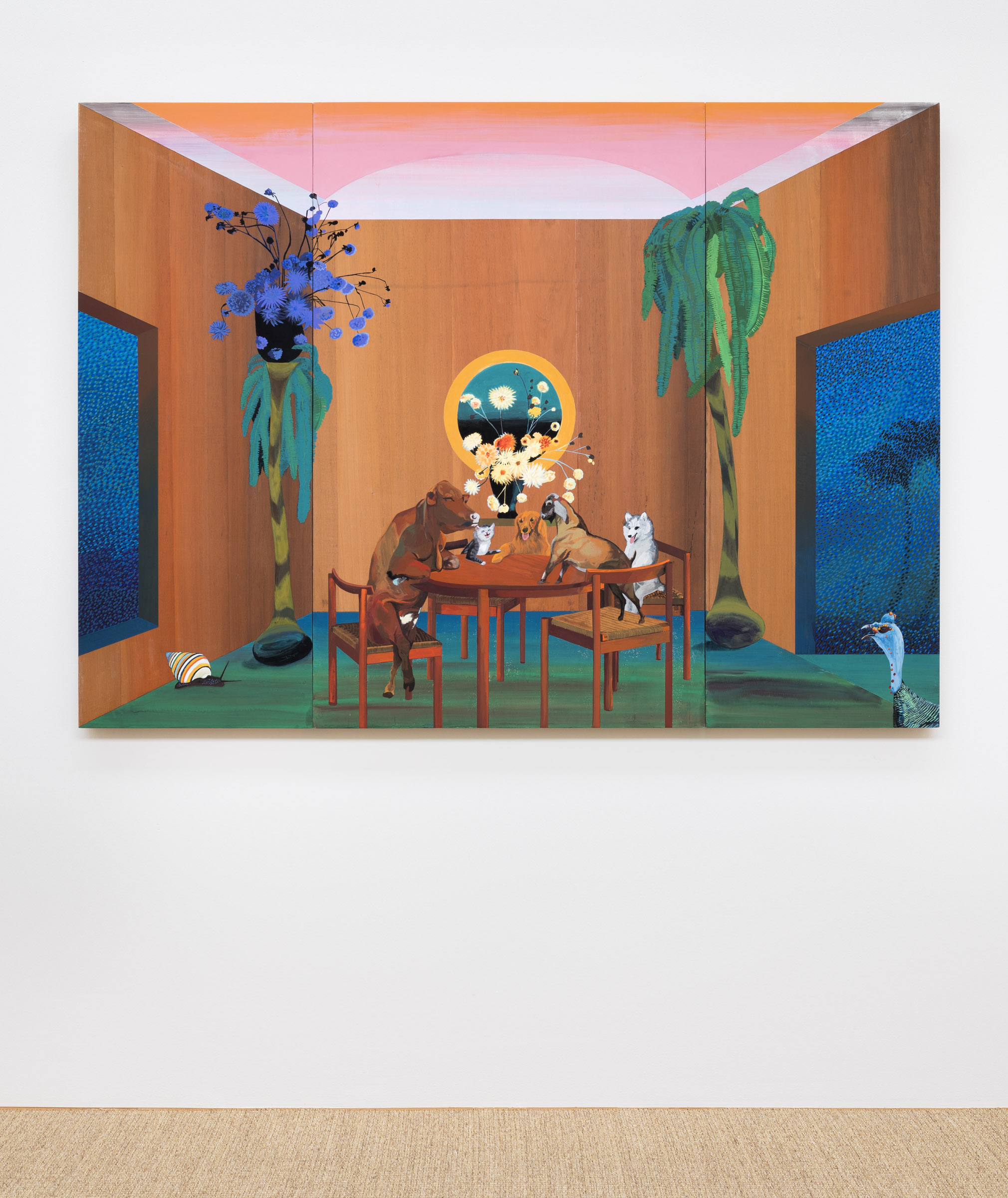 A positive state of mind is mandatory for the act of painting
Humour plays an essential part in Hulda's work, depicted in the most joyful, dreamlike scenes. When the artist does not feel well, she doesn't work, so no negativity is transferred to the canvas. Discussing her show at von Bartha, she says "I see this group of paintings as an expression of a desire to generate, nurture and potentiate feelings of wellbeing, fulfillment and inspiration, in myself and hopefully in others too".
Furniture plays an important part
The modernist furniture in her paintings plays an essential role, drawing from the models of her favorite modern designers and artists, for example Isamu Noguchi. "They are a sign of class status but also a metaphor for an artificially constructed human order, a reflection of the commercial exchange of goods around the globe, a most insidious form of colonization."(2) With their strong lines and perfectly executed forms, they often stand in contrast to their uncontrolled surroundings such as the wild jungle calling from the outside or a surreal interior scene.
Her compositions are often constructed on the screen
"I usually start my paintings with the scenario, with the background, whether it's a landscape or an interior scene. Then I take a picture of the painting at that stage in the process, and I put it into the computer and start to crop out all my characters. I find references everywhere and I start playing around, setting them up the way I like them. Then I transpose that into the painting."(3)
Error. No content found for Slider
Using wood veneer as canvas
Something that distinguishes her from many of her peers in the classical painting genre, is the use of wood veneer as the surface for some of her works. This adds another layer to her spatial paintings, allowing her rooms to become more tangible. The depiction of wood is not only indicative of the obvious – an architectural wall made of wood, but also a representation of nature in its fibrous and curved vibrancy.
Hulda draws inspiration from numerous movements, including Japanese Ukiyo-e
Hulda is inspired by a wide range of mediums including music, architecture, dance, sculpture and poetry. She draws inspiration from several artists including Henri Rousseau, Paul Gauguin, and Louise Bourgeois, and art movements such as Japanese Ukiyo-e.
"summoning Rousseau on LSD"
Our favorite quote about the artist is by Cathryn Drake who saw an exhibition of her work in 2019. "(…) The Arch II (chibirica) and The Arch III (nairi), both 2013, which beckoned through the glass facade (of the gallery) like portals into a psychedelic jungle, summoning Henri Rousseau on LSD", Drake says.