Artworks we love: Karim Noureldin's Sirius and Terry Haggerty's Memory Fold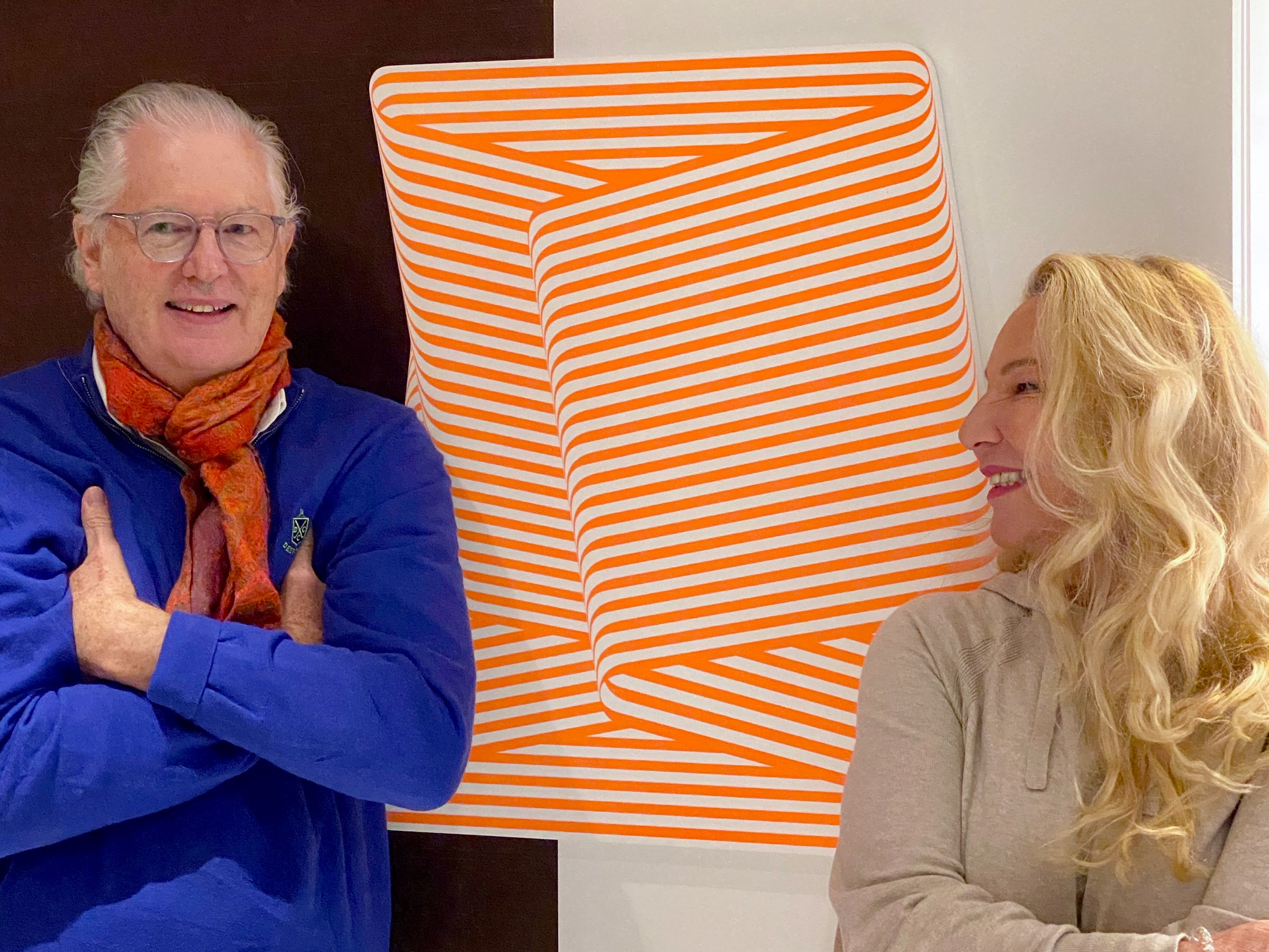 Collectors Fabienne and Charles Abrecht discuss a very special site-specific commission, and a work they'll 'never get bored of looking at'
A Swiss and a Brit – both artists are perfectionists and work in an acerbic manner. We fell in love with their art for different reasons.
When we decided to renovate our Jugendstil home in Basel, we used it as a once-in-a-lifetime opportunity to commission Karim Noureldin for an on-site art work. We had met Karim in New York in the '90s, where he exhibited at the Swiss Institute. He was able to manage large surfaces with ease, creating compositions with lots of small pencil sketches, each drawn with a different, complex pattern. It seemed he would never run out of different lines and shapes.
Fascinated by his minutely executed pencil drawings and mural work we provided Karim a floor plan and offered the entire surface of the ground floor. However, Karim smartly chose only one room. It was the heart of the ground floor – an oval-shaped room – perfect for him to explore and break out of. In co-operation with our architect Luc Voellmy, the on-site work was precisely planned and executed. The work is titled Sirius and is a star-like shape made of thick copper plates, recessed into the floor. The work is beyond the room's scope. Its rays stretch out into the surrounding rooms, deliberately reminding us every day of its glamourous and spatial existence. Sirius harmonizes perfectly with our Jugendstil house, yet fulfils our strong desire for excitement, tension and modernity.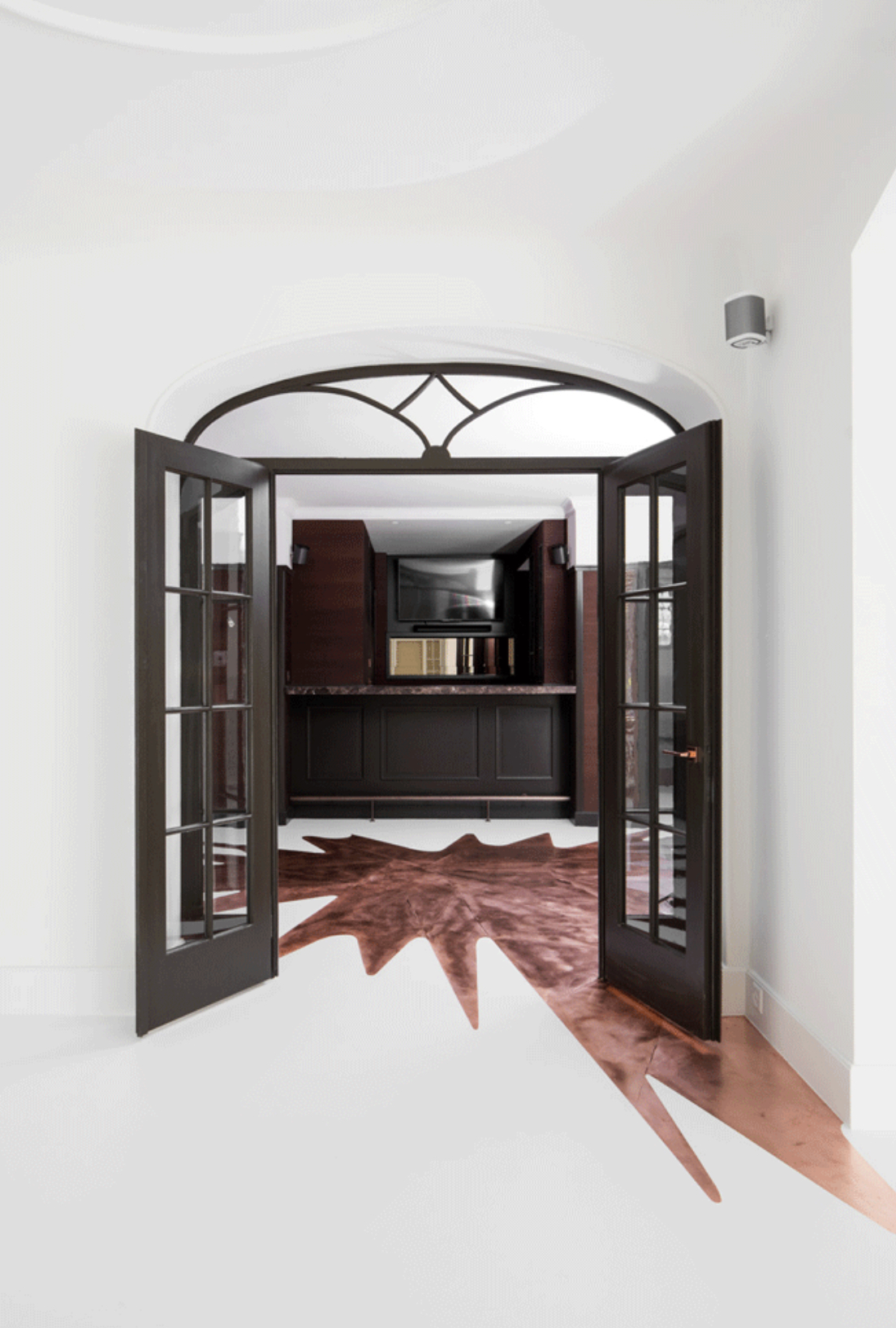 Only a short time later, while  we were still renovating, we discovered the work of Terry Haggerty at an opening at von Bartha Gallery. His work was "juicy": complex, tactile, and simply irresistible – addictive like a lollipop. One piece that caught our attention was Memory Fold, a smaller work, which we feel lucky to own. It exudes perfection, kind of like a jewel, and is "cozy" in size. You find yourself constantly studying its shape and lines, trying to figure out the artist's process. It starts almost talking to you, trying to express an exclamation mark or perhaps it's just a "woosh". Its lines want to free themselves; move out of the frame, disappear, and resurface. The neon-coloured lines are wrestling in a controlled manner – quite contradictory. You never get bored of looking at it.
Today, we could not imagine living without Karim Noureldin's Sirius (2016) and Terry Haggerty's Memory Fold (2012). Having lived on two continents (in Basel and New York), we like to push our boundaries. Both of these artworks accomplish our desire for spatial illusions, transporting us in and out of different dimensions and realities.
We're like Yin and Yang – to put it mildly! As a "seasoned" couple we are quite grounded and mostly agree on our selection of art works. Collecting contemporary art is a fantastic journey, and a piece of our personal story.
La fin – The End