More than 40 years of von Bartha at Art Basel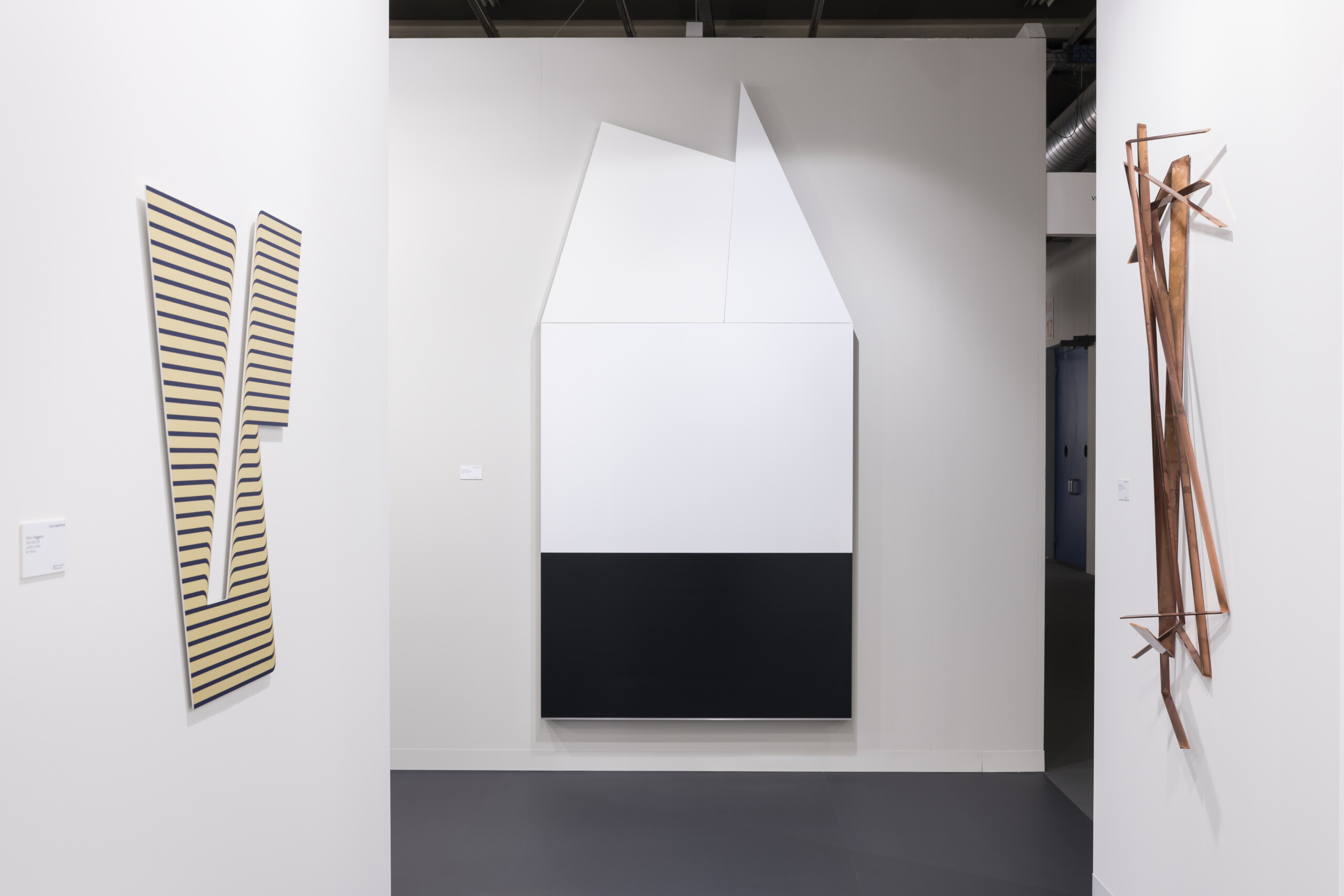 We take a look at our highlights since 1970
Art Basel is back! Let's celebrate with some insights into von Bartha at the world's most important art fair, and a selection of some of our favourite artworks.
While rummaging through the fair catalogues and our own archives, some treasures came to light – including a five line application letter from Miklos and Margareta von Bartha for their first booth at Art Basel in 1978, and polaroids showing a teenage Stefan sitting in front of some exceptional artwork which you can now find in museums worldwide.
Decades of preparing, selecting, curating, and presenting our program to friends and visitors from the international art scene during the most important week of our year – Art Basel – are assembled here for you to enjoy.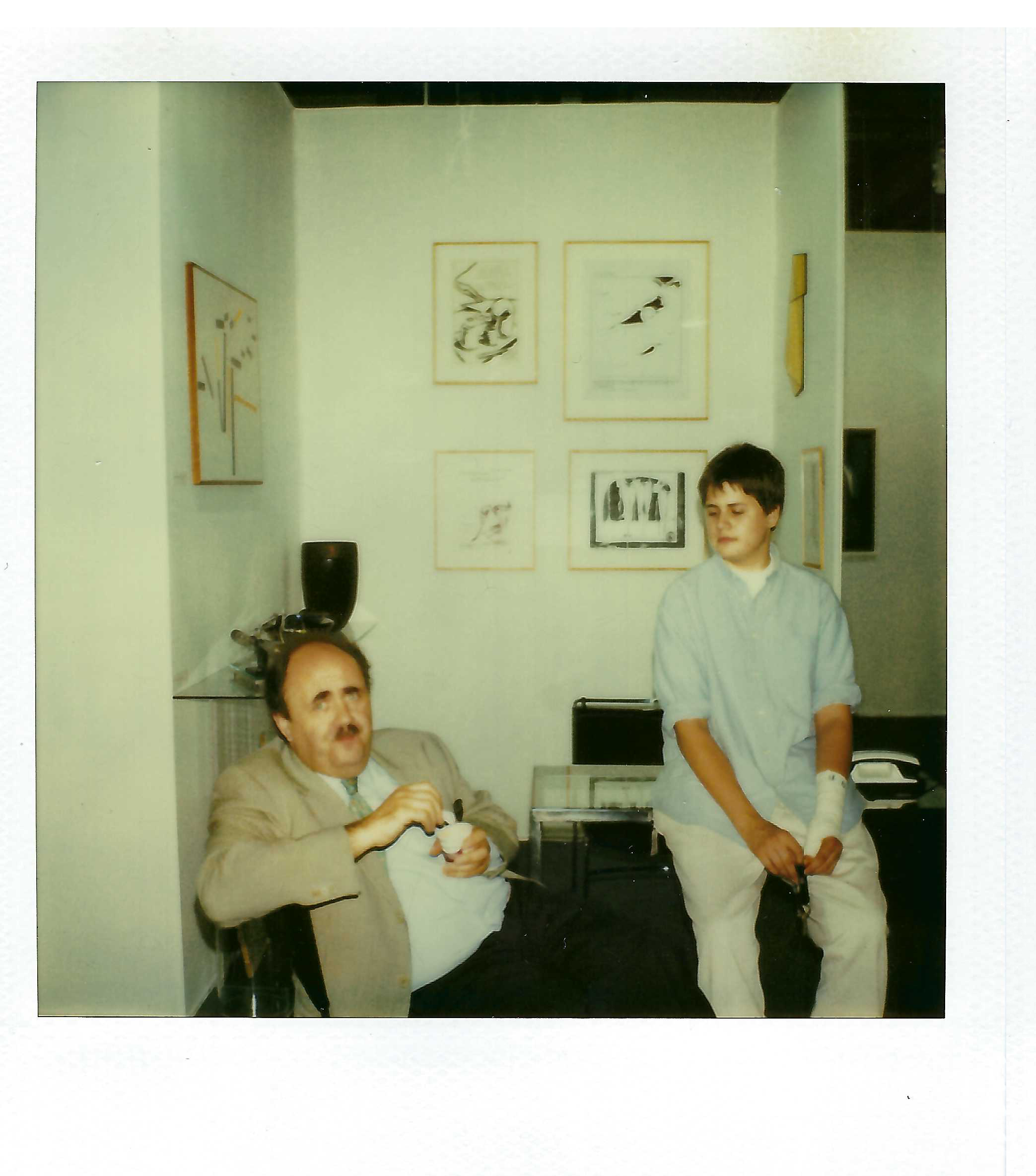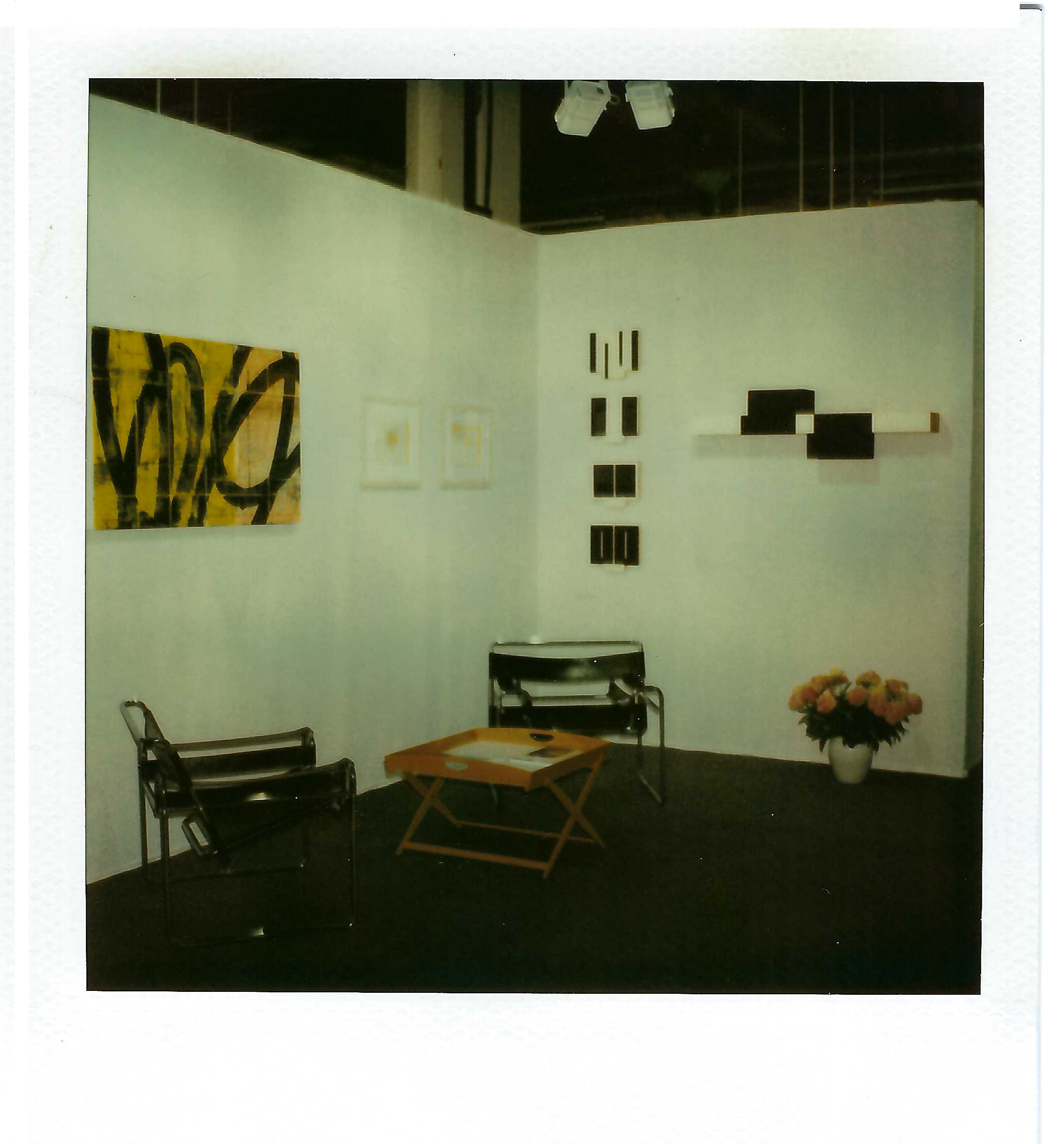 1978 / 1979
1978 was the first year that Miklos and Margareta had their own booth, and how they applied to get into the fair was via this charming and very short letter, which is nothing compared to the pages of application documents that galleries have to submit today. Highlights from this year included a significant work by Ozenfant from the puristic period (See left page of the Basel catalogue from 1978).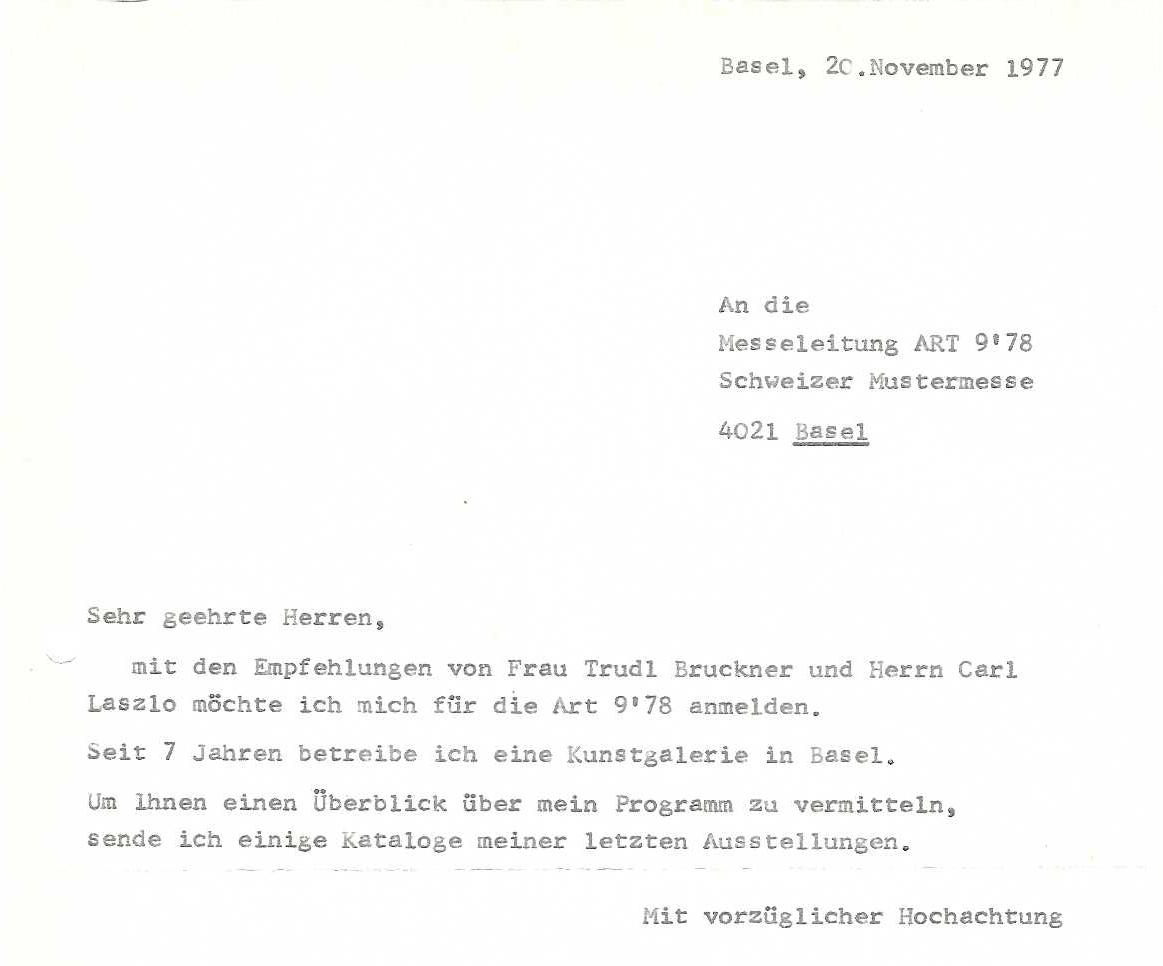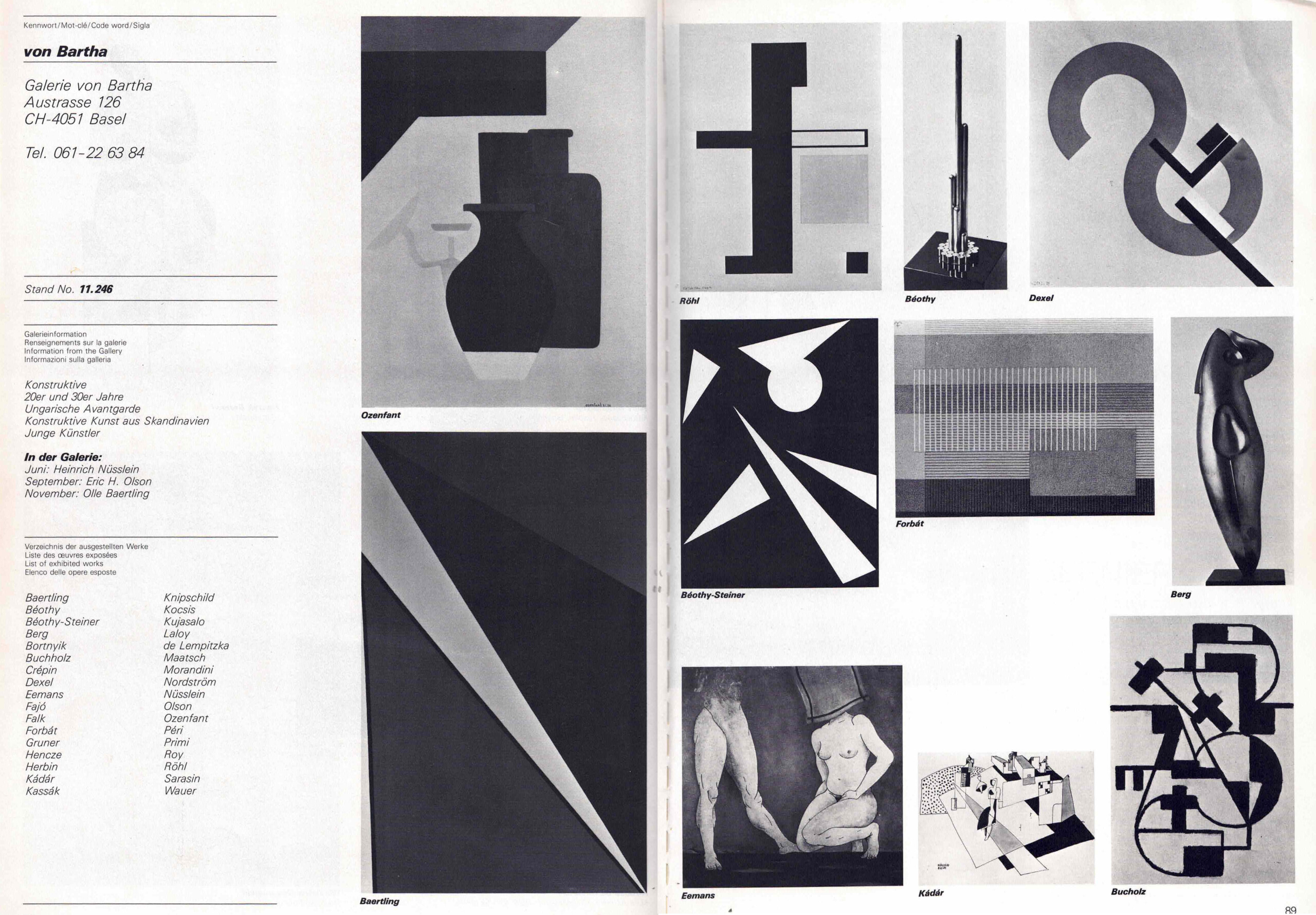 This was followed in 1979 by a visit from Brion Gysin and William Burroughs who you can see sitting at the table in the photo in 1979. Shortly after the fair, the opening of their dreamachine exhibition took place at the gallery.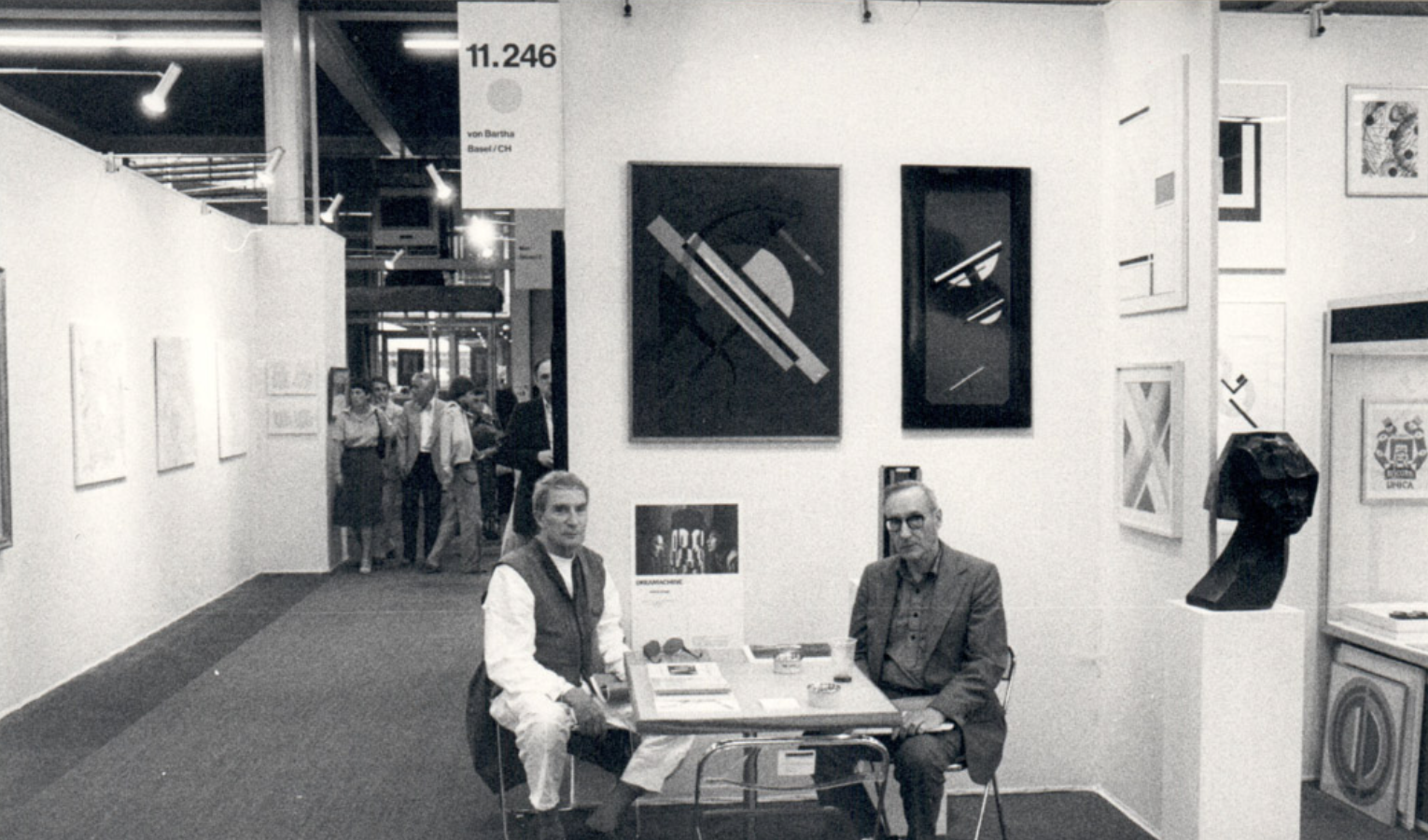 1983
In 1983's booth was included a very rare work by Anton Prinner, which is now part of the collection at Museum Grenoble. Only around 30 works from this period are known to exist. Anton Prinner, a pioneer of the Hungarian Avantgarde Movement, was part of the epic exhibition, "Ungarische Avantgarde", on show at von Bartha in 1976.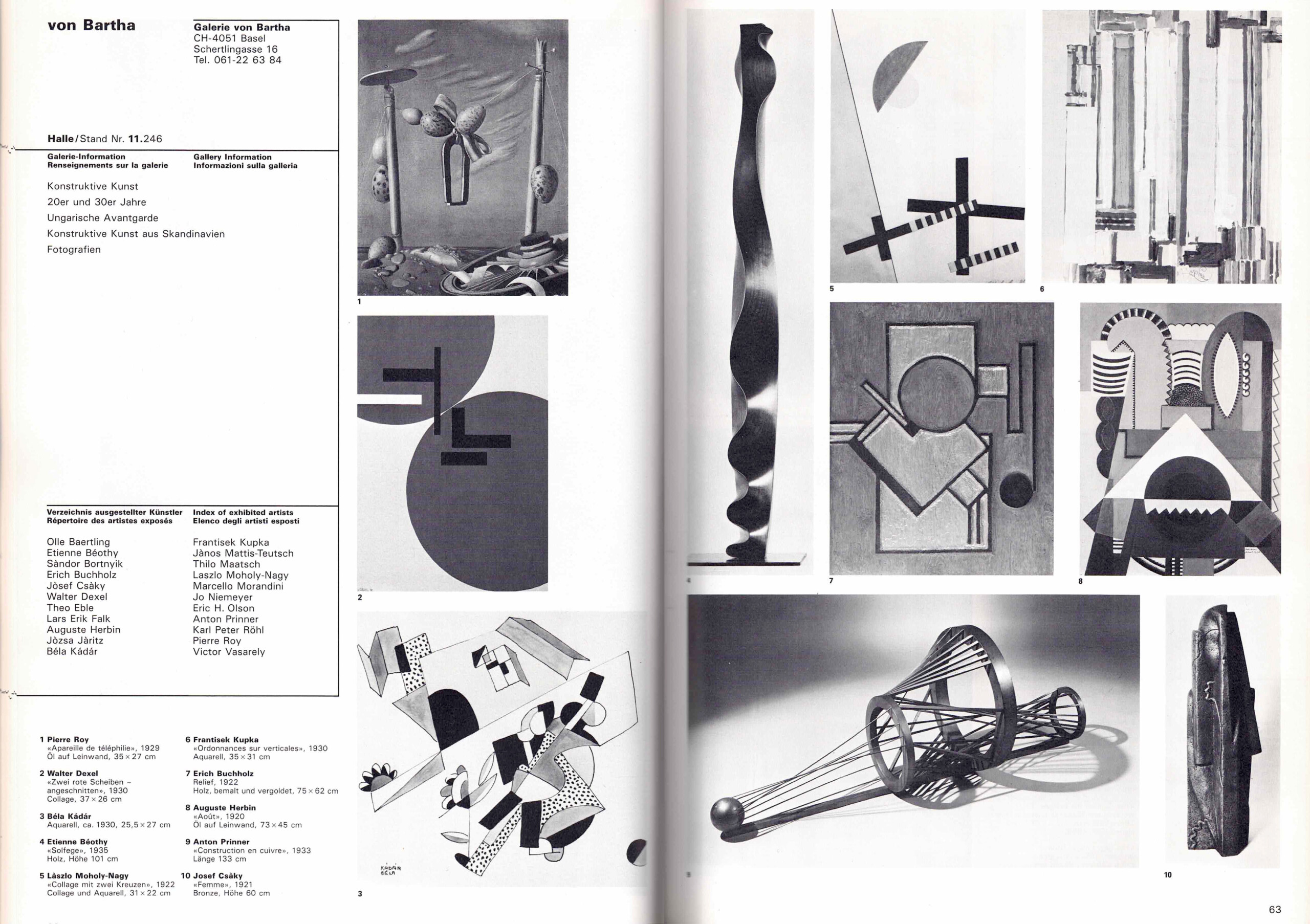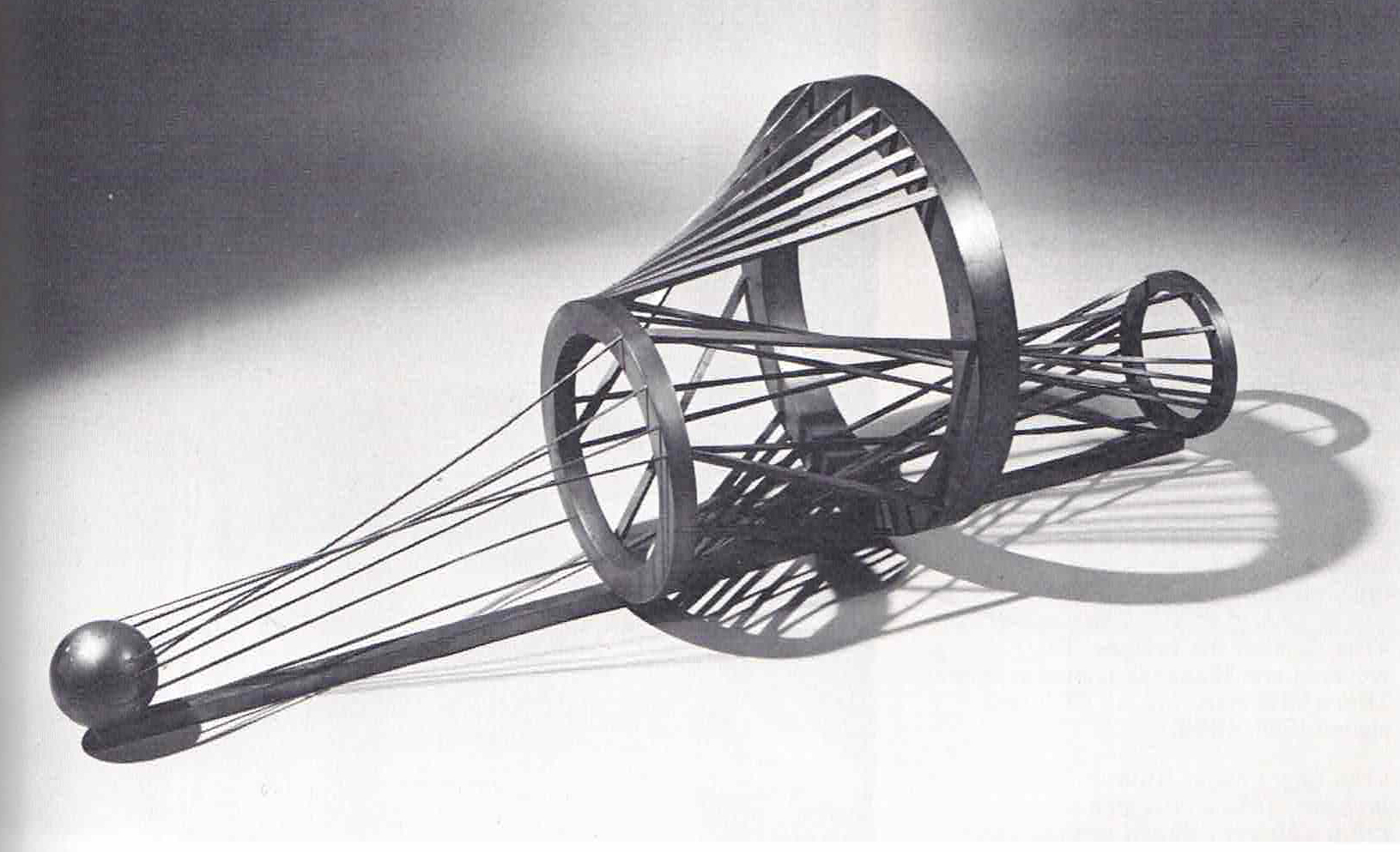 1990
This was the year when Miklos and Margareta von Bartha brought Arte Concreto / Arte Madí to international attention for the first time – collecting works directly from the artists in Argentina, and transporting them to Art Basel. Today, many of the works from the booth, and two from the catalogue (N°1+6), are in the Collection Patricia Phelps de Cisneros, and were recently given to the MoMA, NY.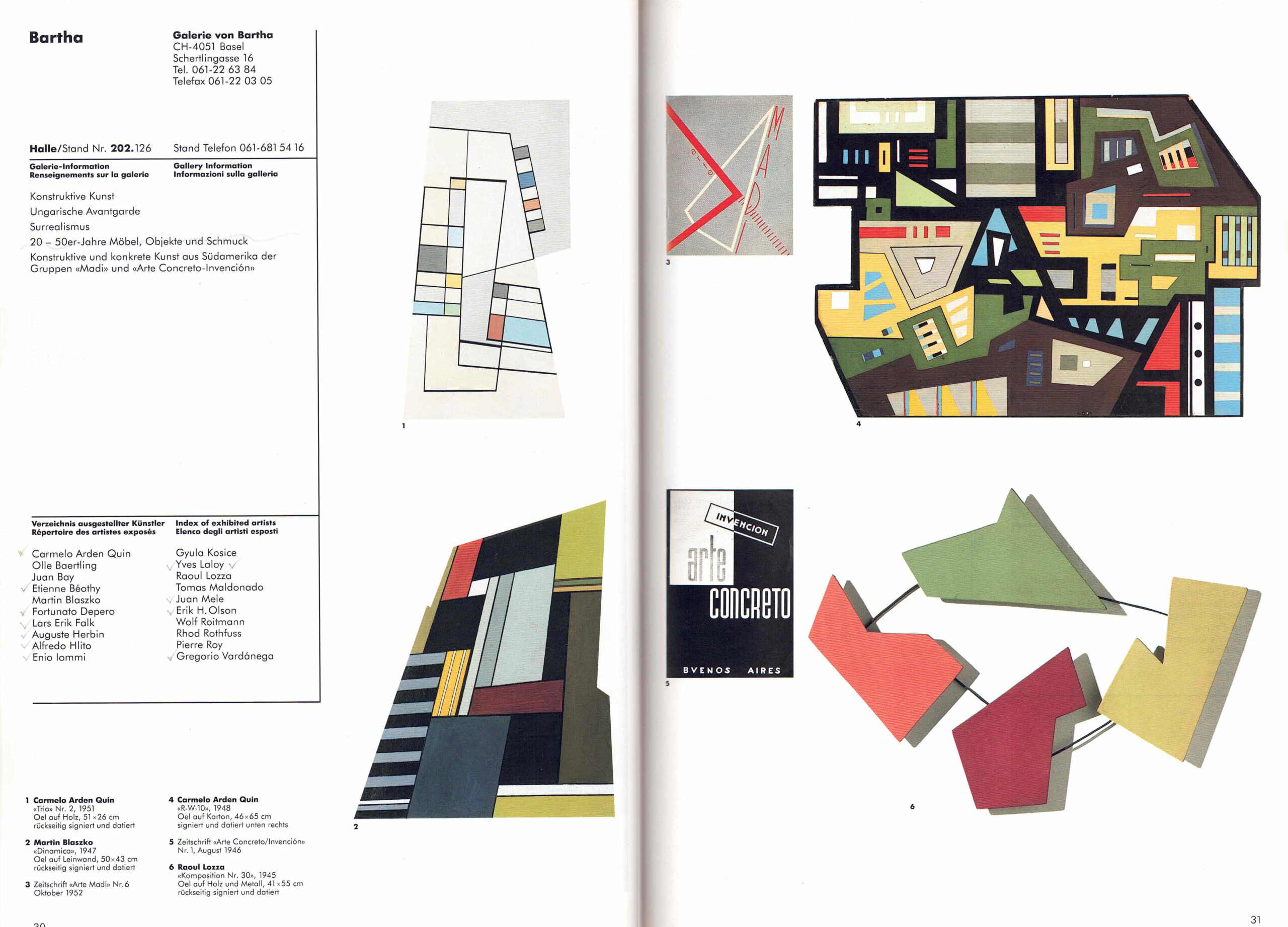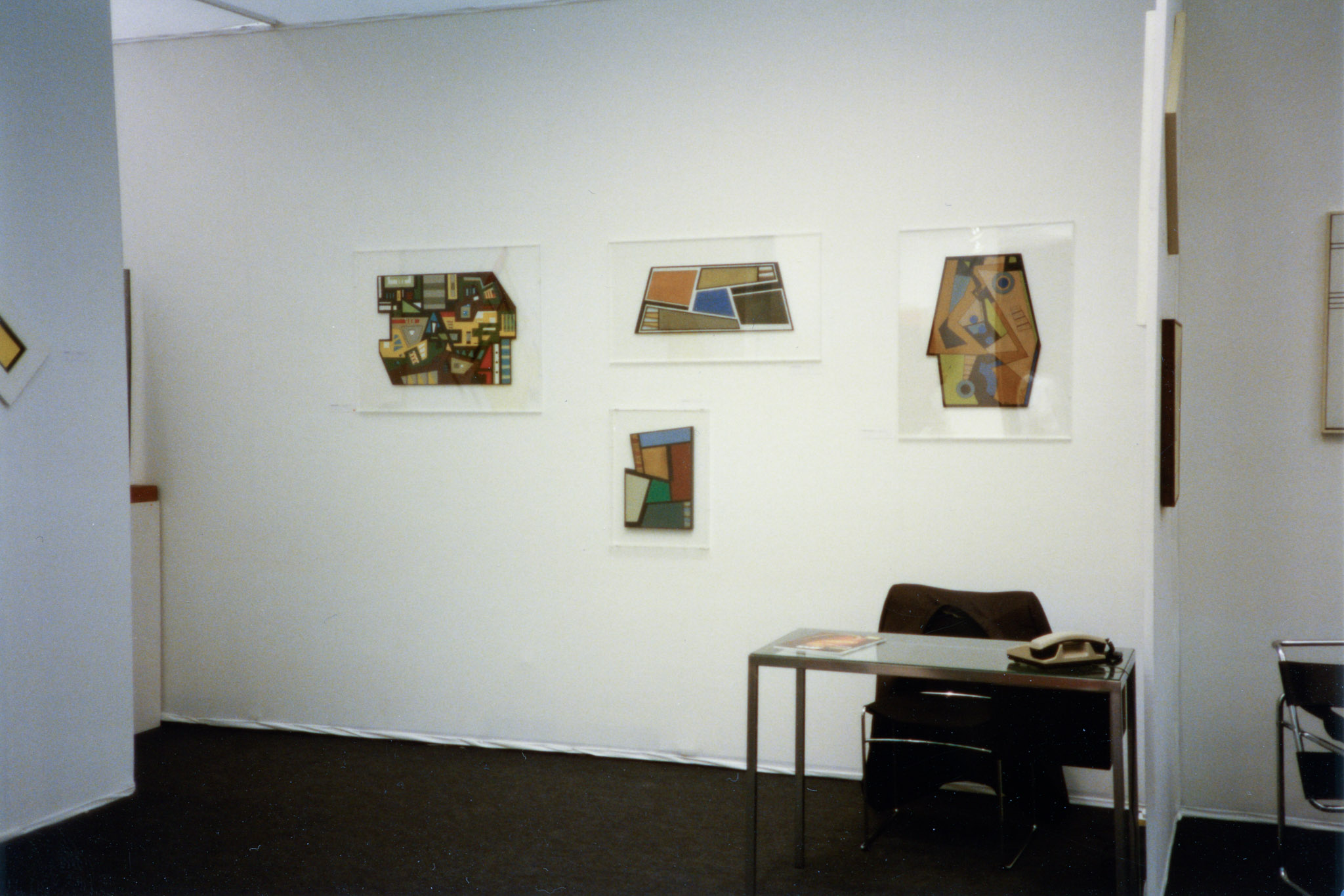 1999
The booth presented two works by Robert Mangold and photoseries by Olafur Eliasson. Also shown were sculptures by our longstanding artist Barry Flanagan, who recently had a retrospective at our Basel space.
2006
François Morellet's Néon éclariage avec 3 rythmes surposés on display at Art Basel in 2006 was one of the most significant neon works by Morellet ever shown at von Bartha.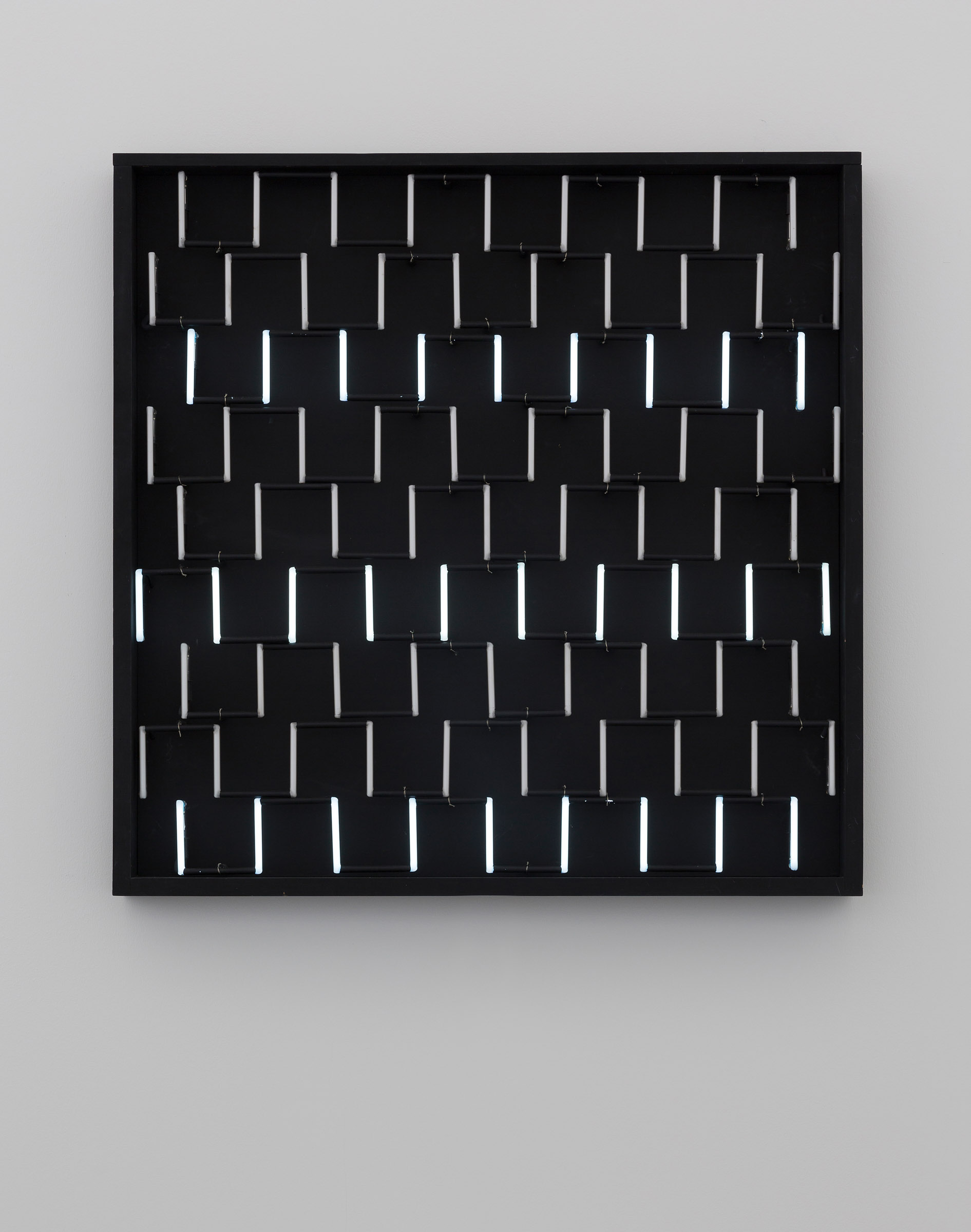 2009
A work that you could experience from the inside by Sarah Oppenheimer was shown at Art Unlimited – creating an optical illusion of different levels that intrigued many visitors. It was Sarah's first large scale installation in Europe.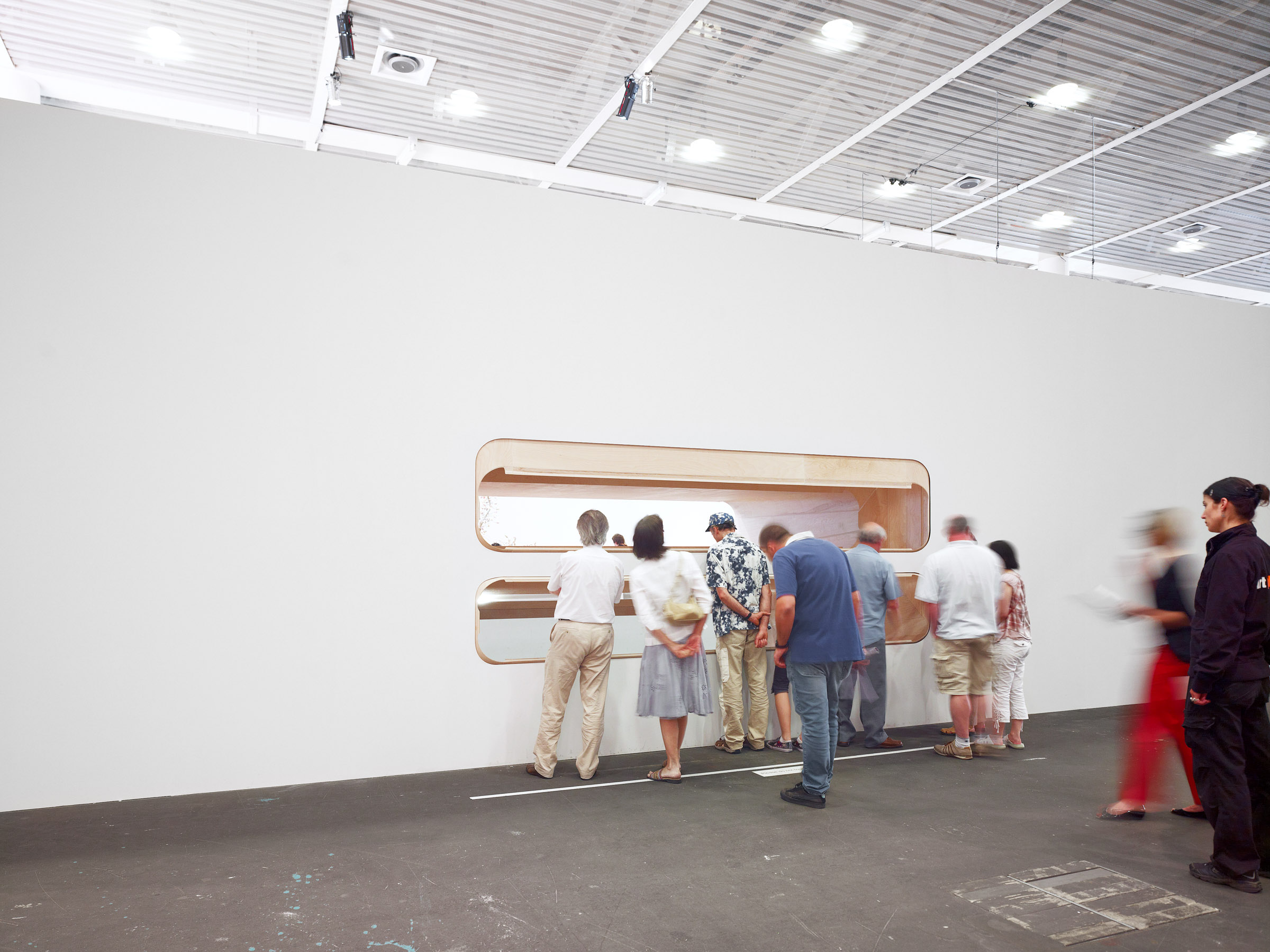 2013
Sophie Taeuber-Arp received great attention in our booth, with 'Untitled' – a triptych from 1933. The work, which is now in a private collection, was recently exhibited in Basel as a part of the retrospective "Sophie Taeuber – Arp: Living Abstraction" at the Kunstmuseum. The exhibition is presently on display at TATE modern and is then travelling to the MoMA.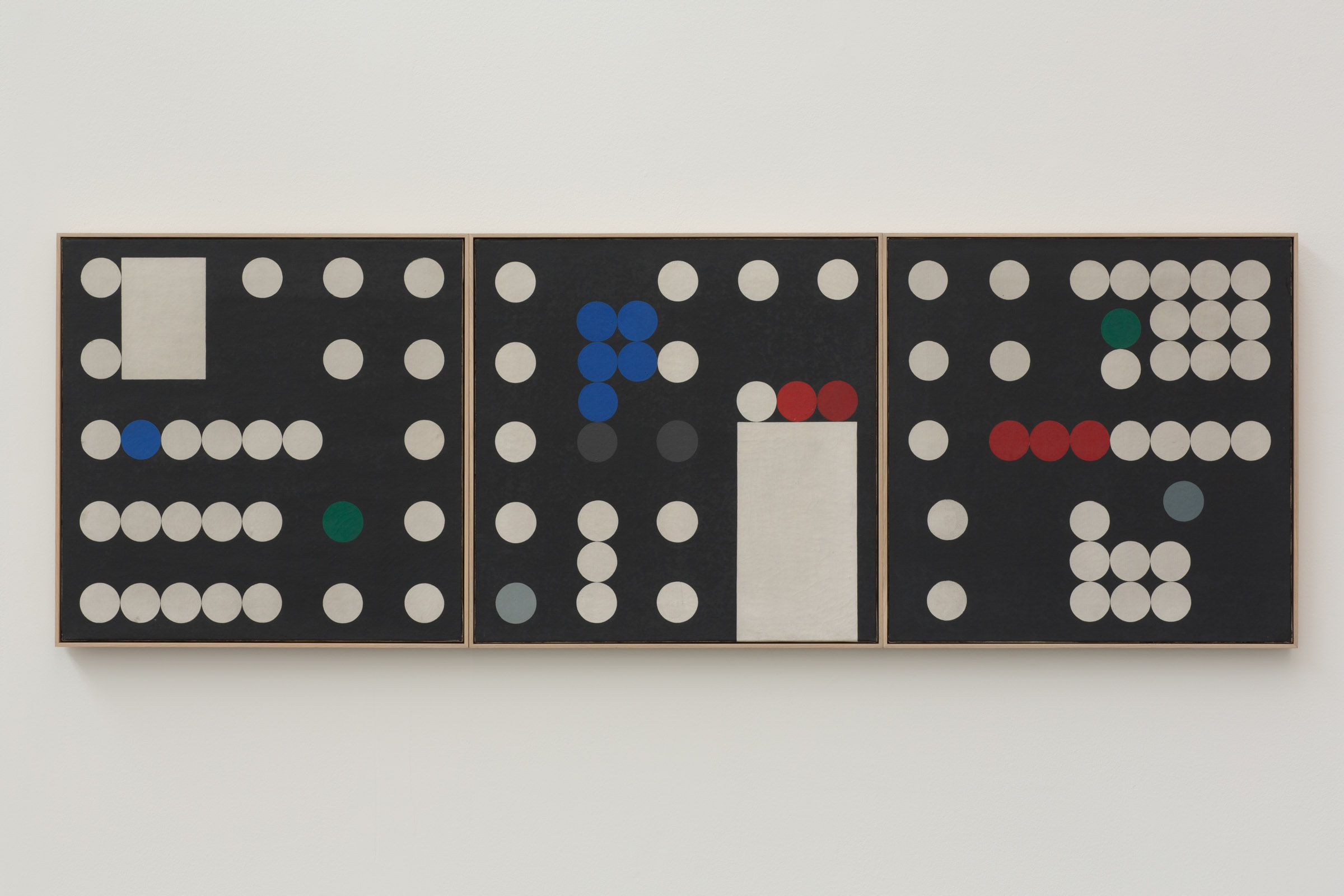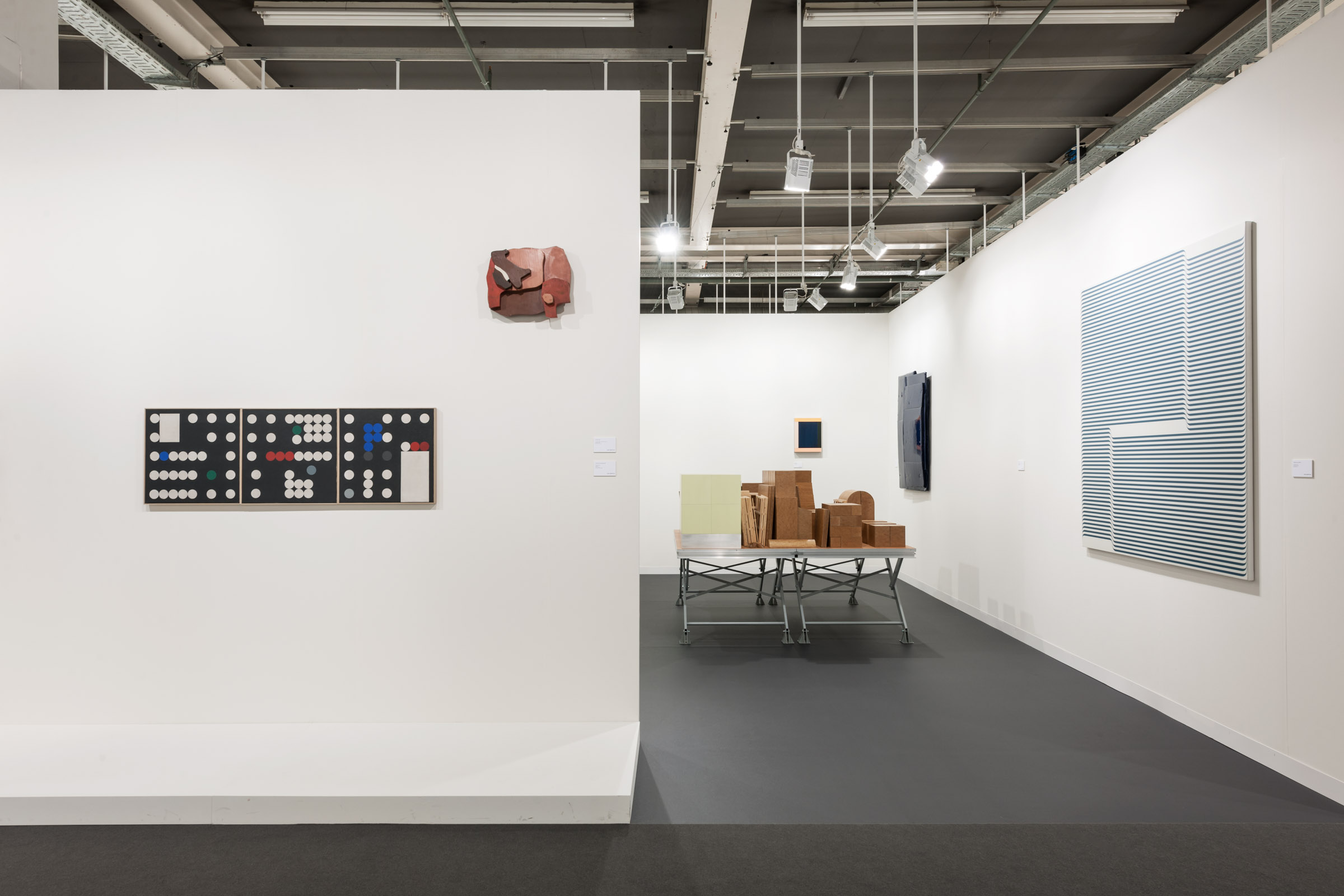 2017
The story behind this exceptional work by SUPERFLEX, titled 'If Value Then Copy', was brought to life at the booth. First conceived as a slogan for the work 'Copyshop', the work questions the idea of rights to immaterial works and ideas. Each iteration of 'If Value Then Copy' consists of three identical paintings; this repetition points to the uniformity of commercial mass production. At the same time, the slogan challenges the very idea of originality, authorship and value. Is any idea truly original? Can one claim ownership of immaterial goods? How do we evolve if not by mimicking and copying what is already surrounding us? It felt particularly apt to highlight this slogan at an art fair, where copying ideas or techniques is visible everywhere, and constitutes the foundation of our art history, but at the same time has become such a negative term in the art world.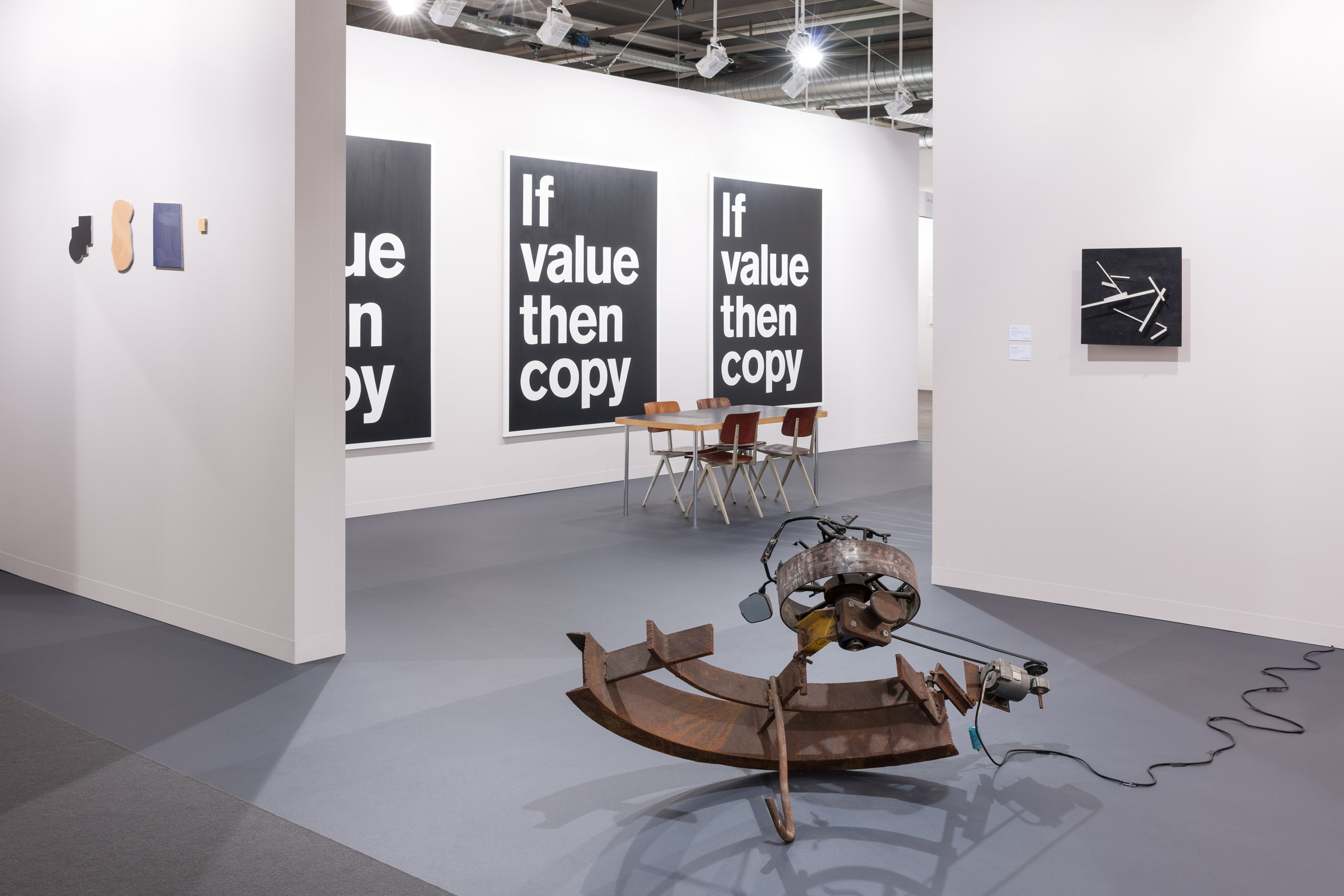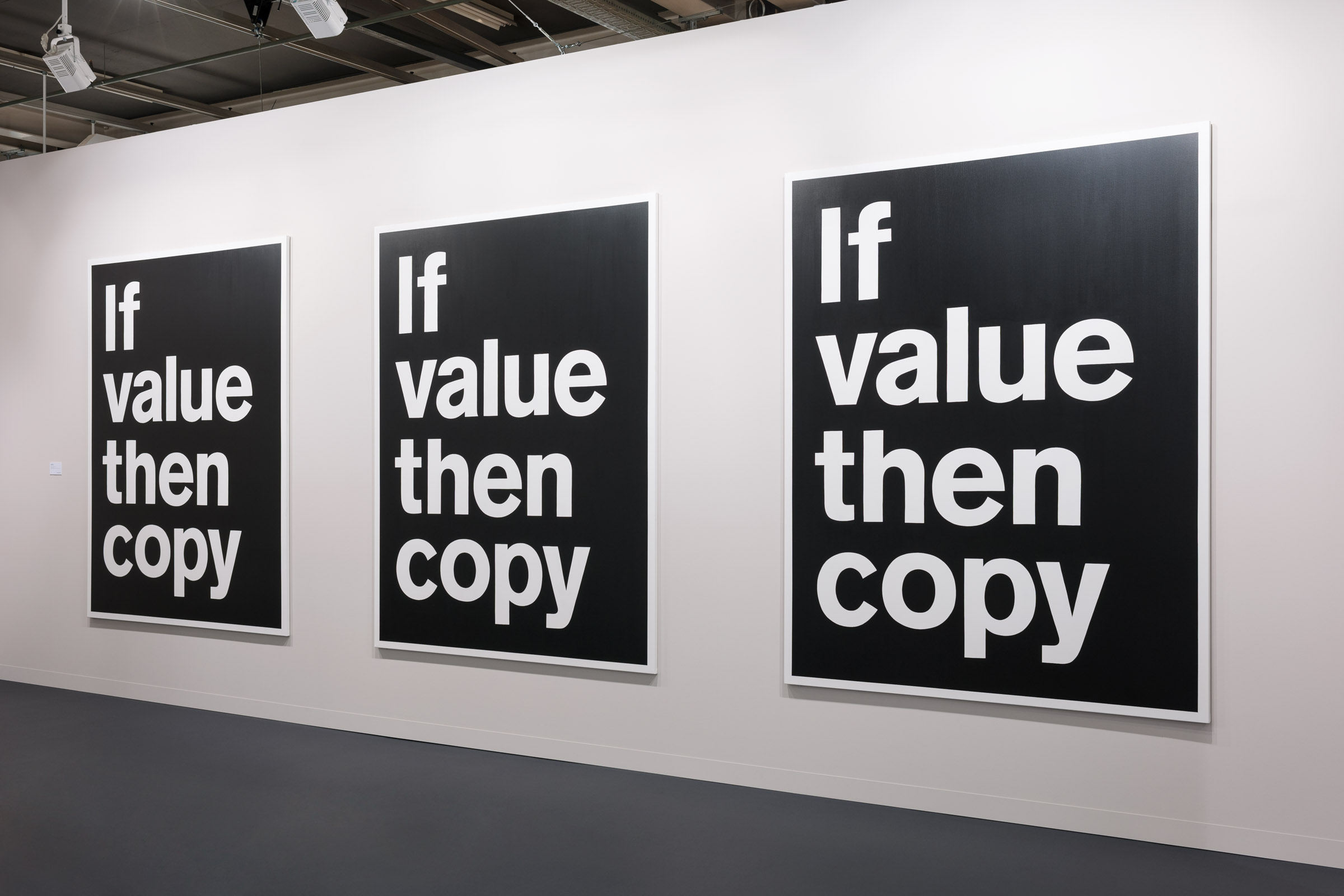 2018
We were very excited when this striking piece by Imi Knobel, titled 'Red Rat' (2008), found its way into the Dutch museum Voorlinden in 2018. Inspired by Piet Mondrian, Knoebel has dedicated a whole genre of his work, including this piece, to the colours red, yellow and blue.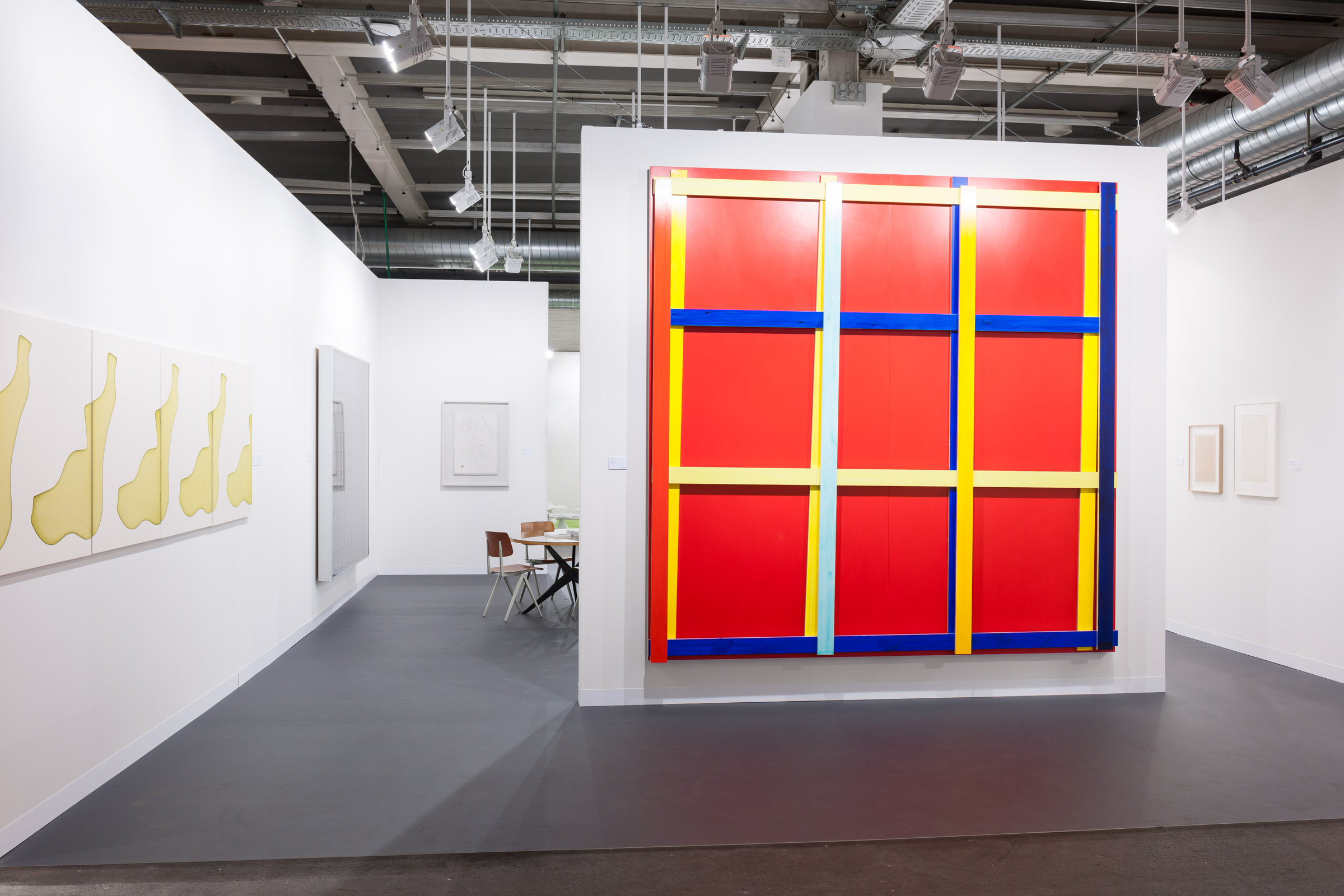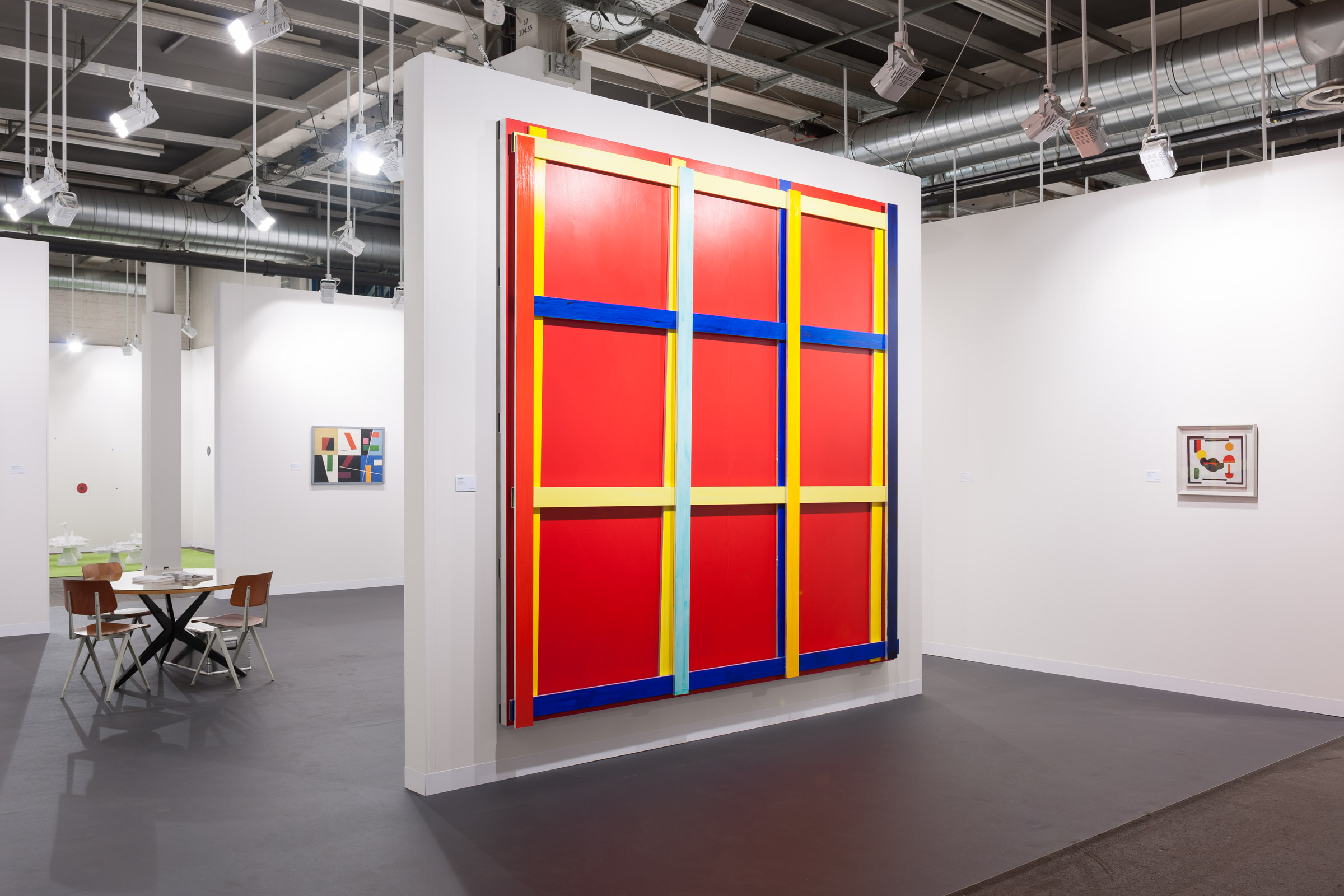 2021
Following a year without Art Basel, the fair is back and we are delighted to be able to show works by Sophie Taeuber-Arp and Hans Arp in dialogue – in particular, Passion de lignes Croix bleu (1941) by Taeuber-Arp, which was was created only two years before her husband Hans Arp's relief 'Constellation d'un désespéré' (1943). This was the first relief Arp created after his wife passed away. As the title indicates, the composition expresses Arp's grief and this is even visible in the change of the formal language with less rounded forms.