An opportunity for escape, respite and connection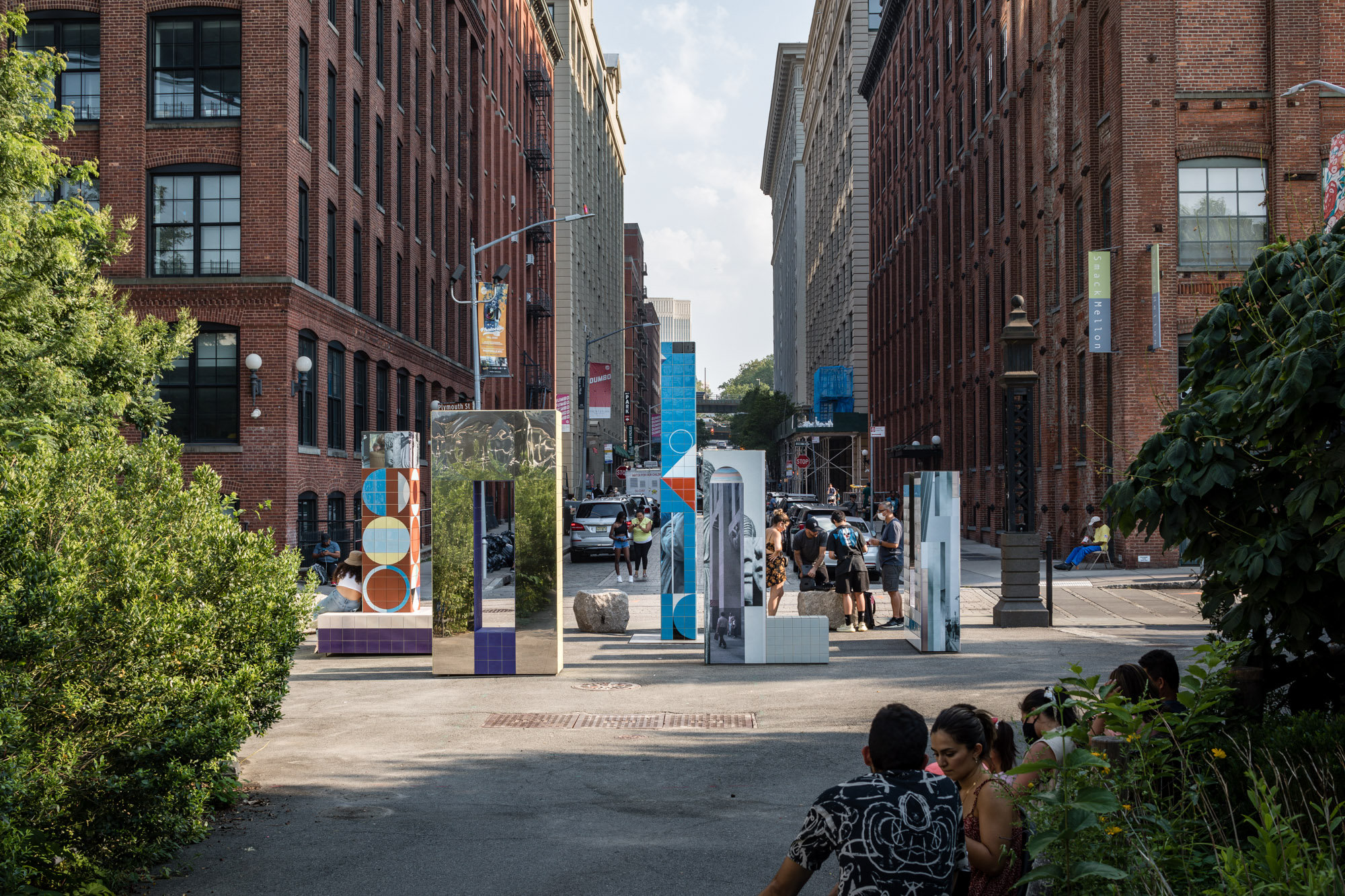 A new work by Claudia Wieser invites the public to become 'actors in their own urban narrative'. Five large-scale sculptures in Brooklyn create a space of contemplation and encounter

Claudia Wieser is known for her affinity with stage design and theatre – an interest demonstrated in her recent design for the Hermès catwalk at Paris fashion week, and in her show Comedies, Histories, and Tragedies at von Bartha. A new work, Rehearsal, is her first ever outdoor public exhibition, and creates a space for people to touch and engage with art, on view in New York from 29 July 2021 to 17 April 2022 at Brooklyn Bridge Park's Main Street Station.
Composed of five large-scale sculptures, Rehearsal is presented by curator Katerina Stathopoulou and the Public Art Fund, which brings dynamic contemporary art to a broad audience in New York City by mounting ambitious free exhibitions of international scope and impact that offer the public powerful experiences with art and the urban environment.
Embedded in the surrounding architecture and natural landscape of Brooklyn Bridge Park, Rehearsal highlights the dynamism of the city and its people. The installation seems to be reminiscent of both a meeting place and a theatrical set that harkens back to ancient Roman forums — public spaces where people could assemble, interact, and exchange ideas. Inviting park goers into the installation to explore the painted, photographic, and mirrored details of Wieser's works, Rehearsal will offer a moment of pause and reflection, and also allow the public to become actors in their own urban narrative.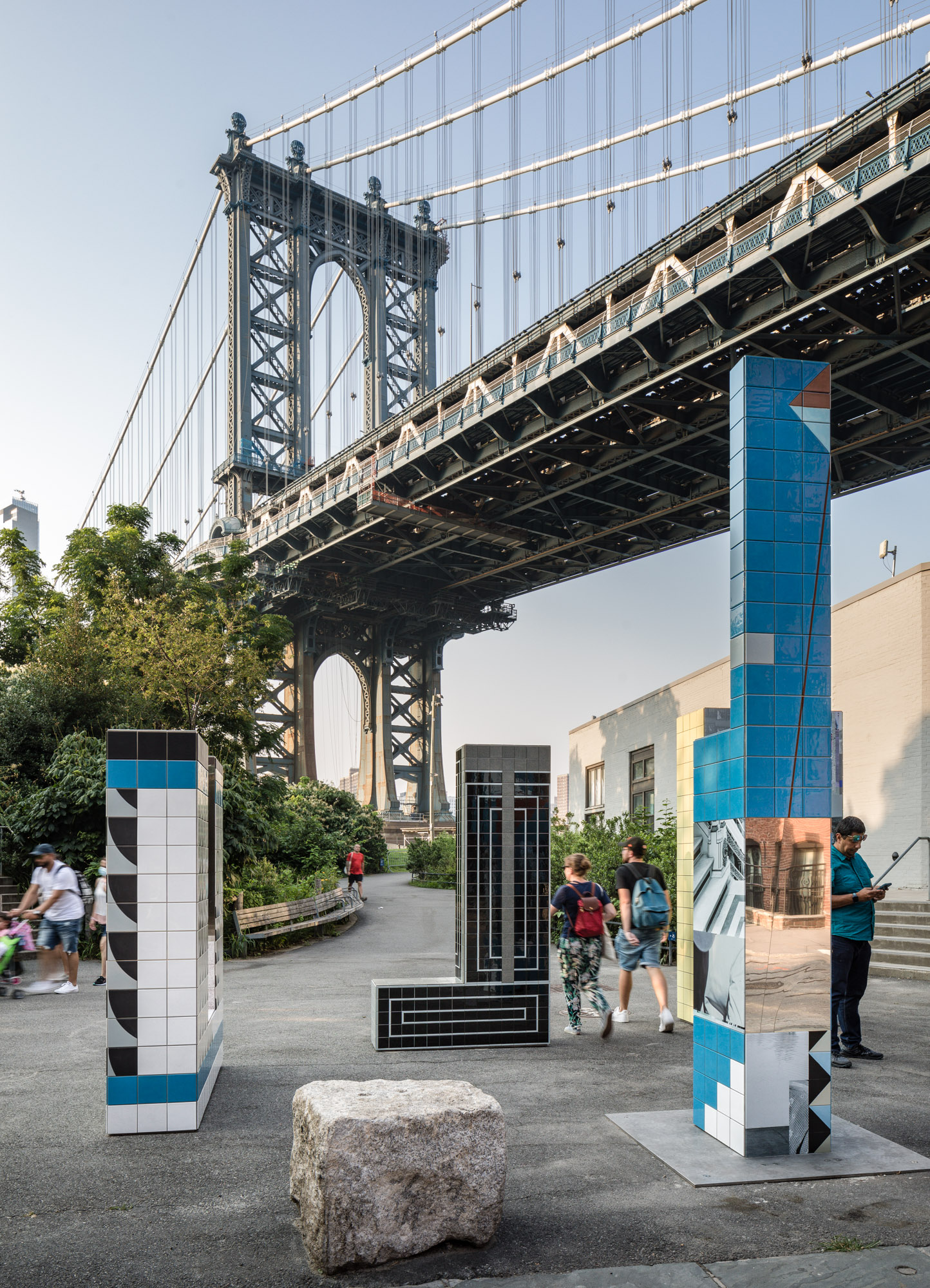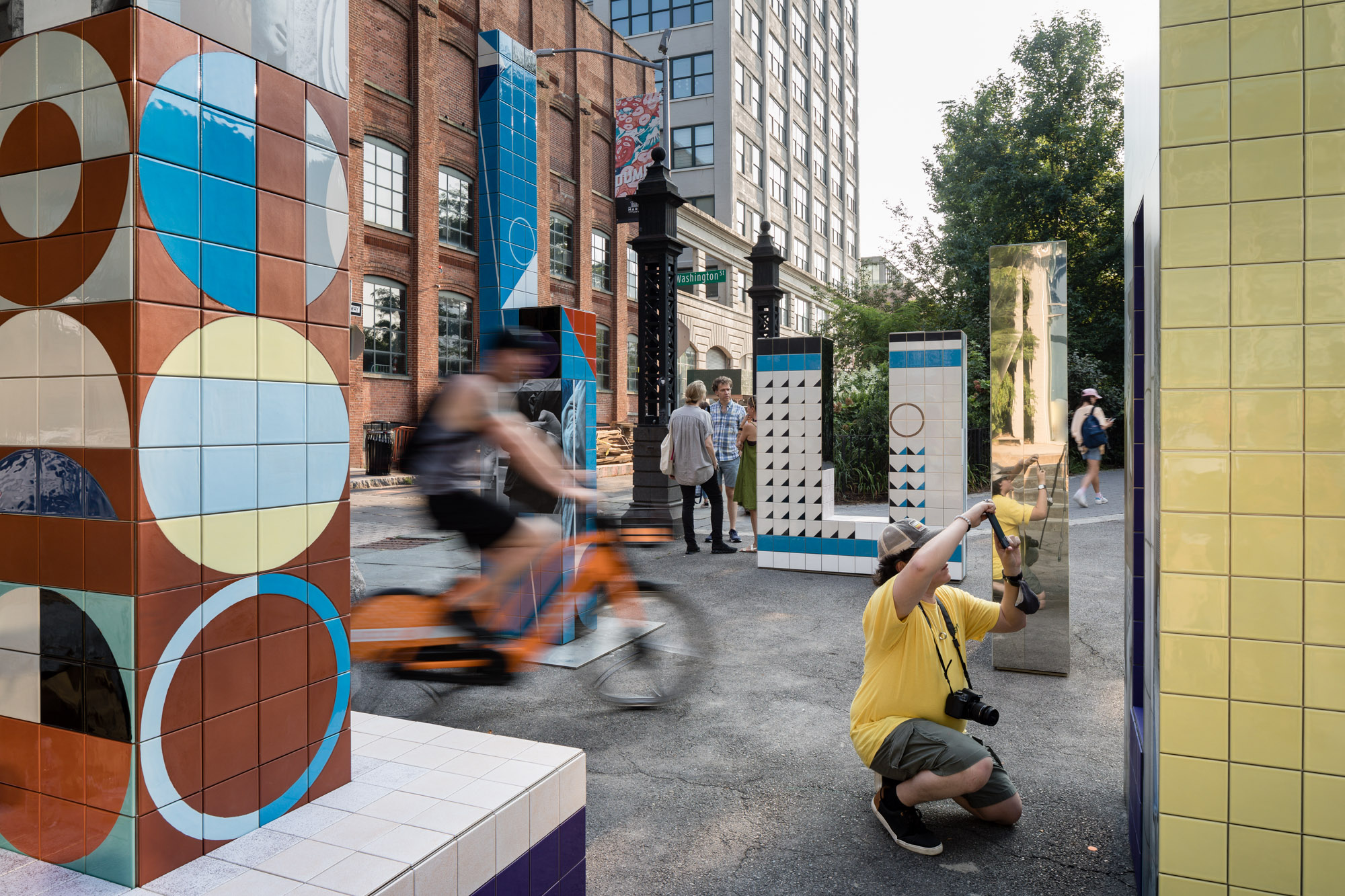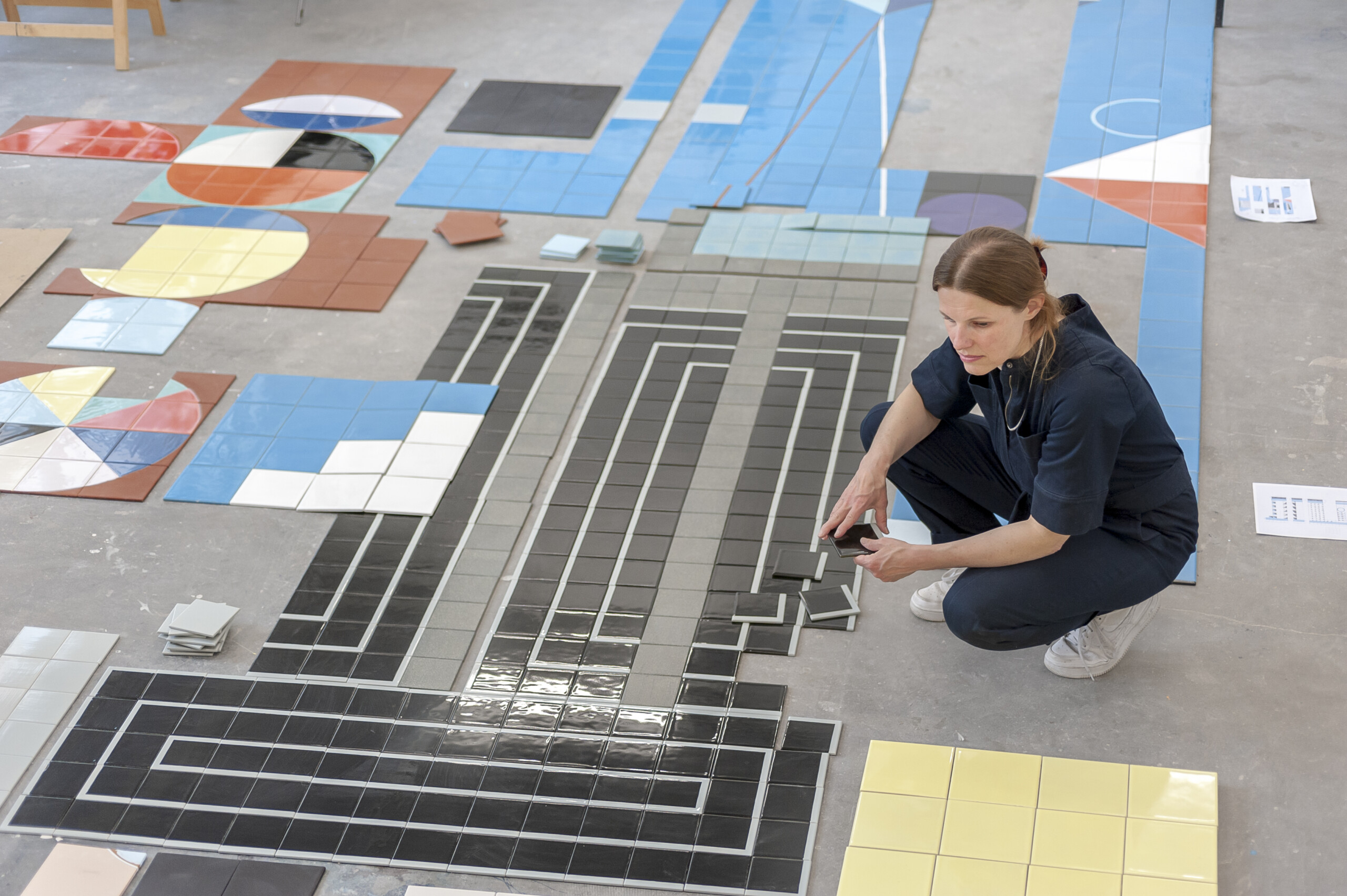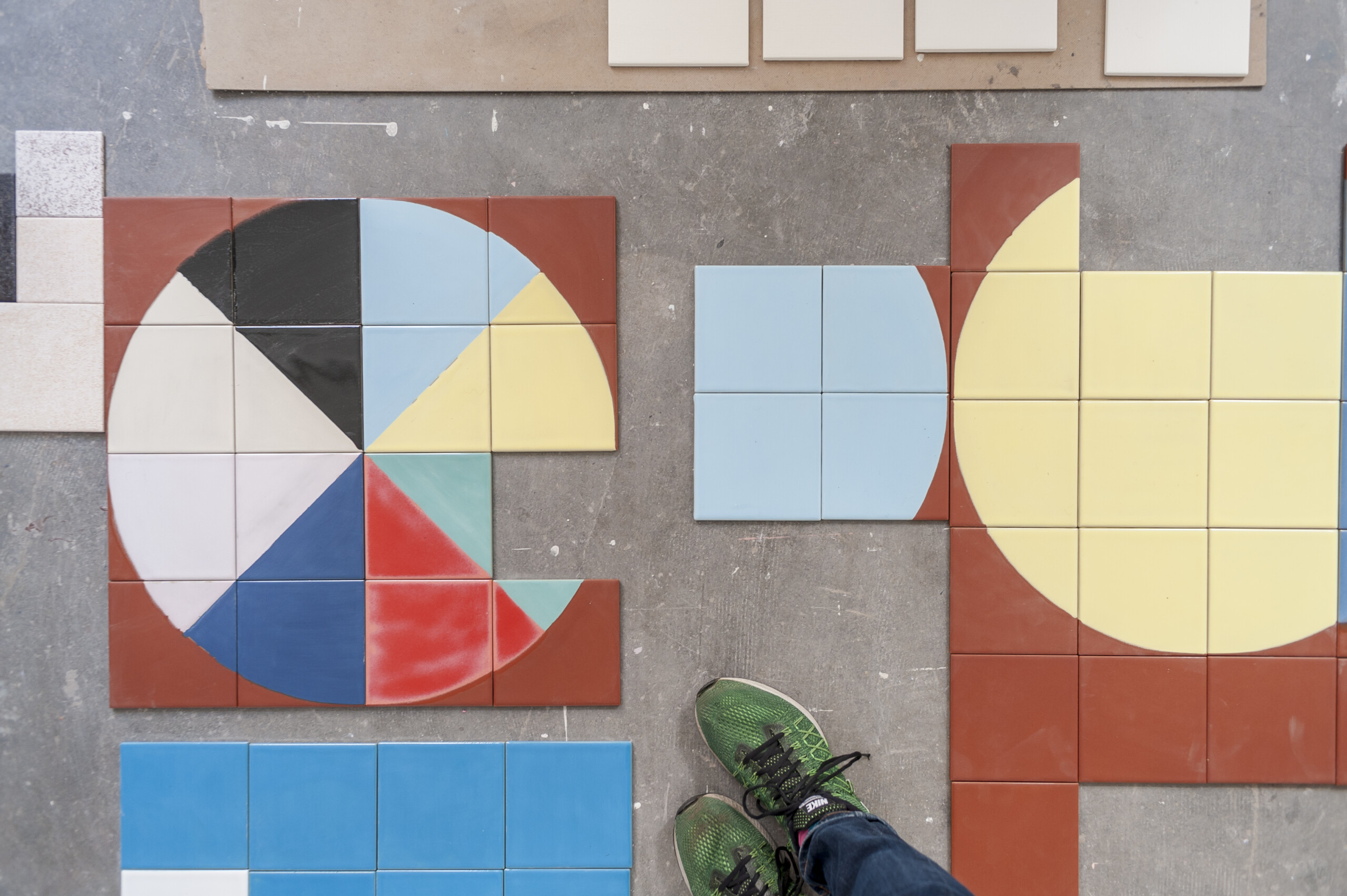 In conceiving her first outdoor work, Wieser was presented with the unique opportunity to link the sculptures to the surrounding built and natural environments. The structures range in height from two to four meters and are encased in a balance of more than 1500 warm and cool-toned clay tiles that were hand-painted by the artist in her Berlin studio. They define the shape of each sculpture and echo the patterns of the neighboring historic red brick buildings and nearby Belgian-block paving stones. Wieser treats each tile as a surface for a painting, showing the marks of her workmanship. Interspersed throughout the sculptures are images that add different layers of perspective: contemporary photographs of New York City taken by Wieser during past trips, and others captured by tourists in the 1980s and 90s, along with reproductions of ancient sculptures that allude once again to Roman forums. Highly polished stainless steel reflects the movement of visitors as they pass through the place. In choosing the title, Wieser underscores the performative nature of the work, drawing attention to the interplay between visitor and artwork to suggest something that is still in process and ever-evolving.
Wieser is known for her Modernist-inspired geometric constructions that reference Bauhaus architecture and design, spirituality, alchemy, and furniture design, with a nod to 20th century abstract and expressionist artists such as Hilma af Klint, Wassily Kandinsky, and Paul Klee. Trained as a blacksmith, her work has evolved to encompass craft and functionality — an ethos at the forefront of her Public Art Fund commission. The sculptures take into consideration site specificity and were conceived with the public in mind, to provide an opportunity for escape, respite, and connection as we re-emerge into our shared world.
Error. No content found for Slider