Postcards from Home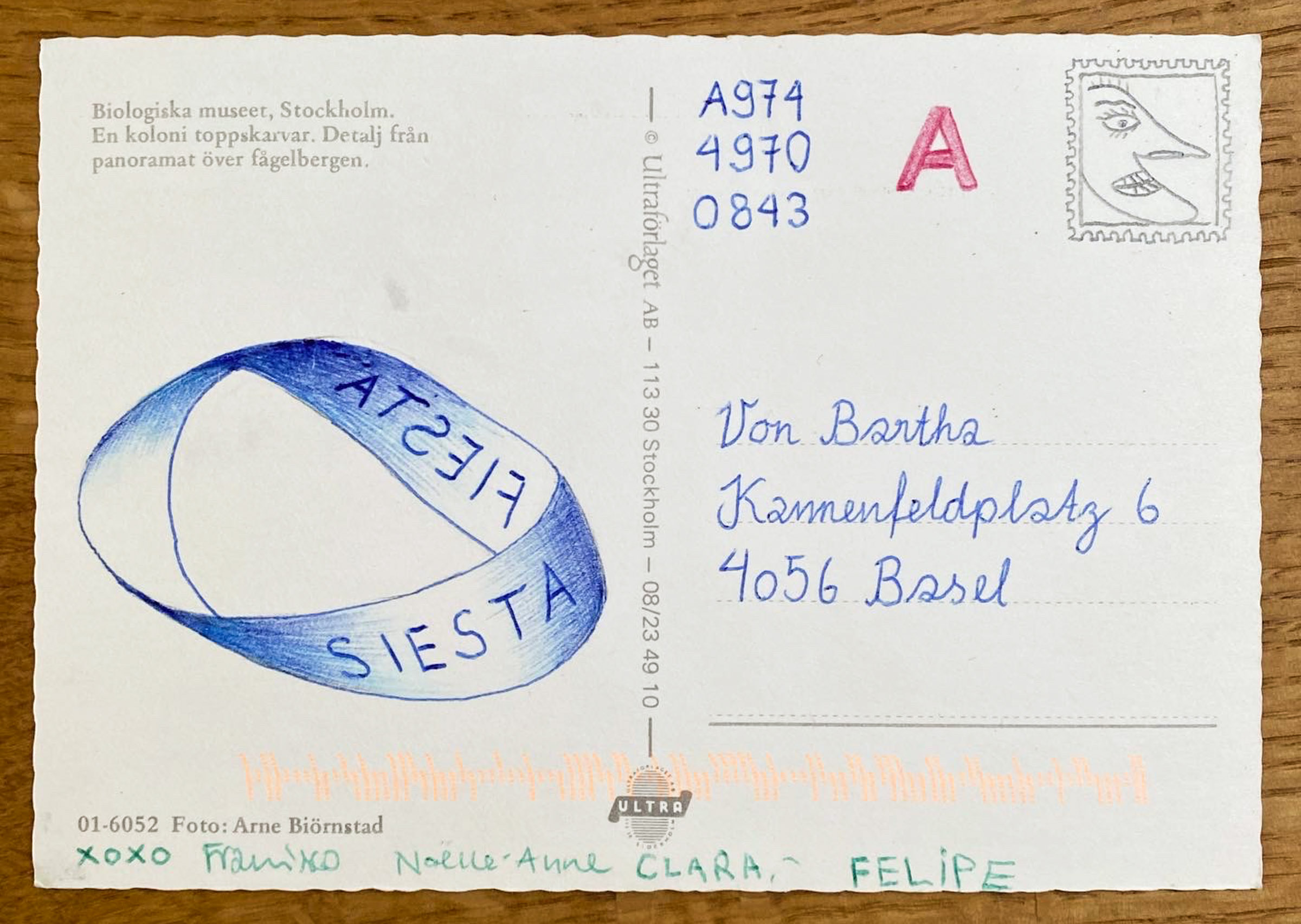 Can't travel, but missing the world? Ask for a postcard - that's what we did with our artists. Their responses covered topics from drawing, to using online shopping as self-reward and the Beatles
With most people across Europe stuck at home during lockdown – working, relaxing or even trying to enjoy  holidays – we thought of a special project, Postcards from Home.
Enough with emails and online posts telling us about all the other places in the world! To feed our wanderlust – and because we enjoy a simple handwritten letter so much – we asked our artists to send postcards from wherever they are in the world. We wanted them to tell us all the trivial things that people would report from their holidays, anything that happened during their day, something they saw – or even share a little drawing, whatever they felt up to… We collected our favorite cards below to share with you – providing an uplifting reminder that there's a world out there waiting for us.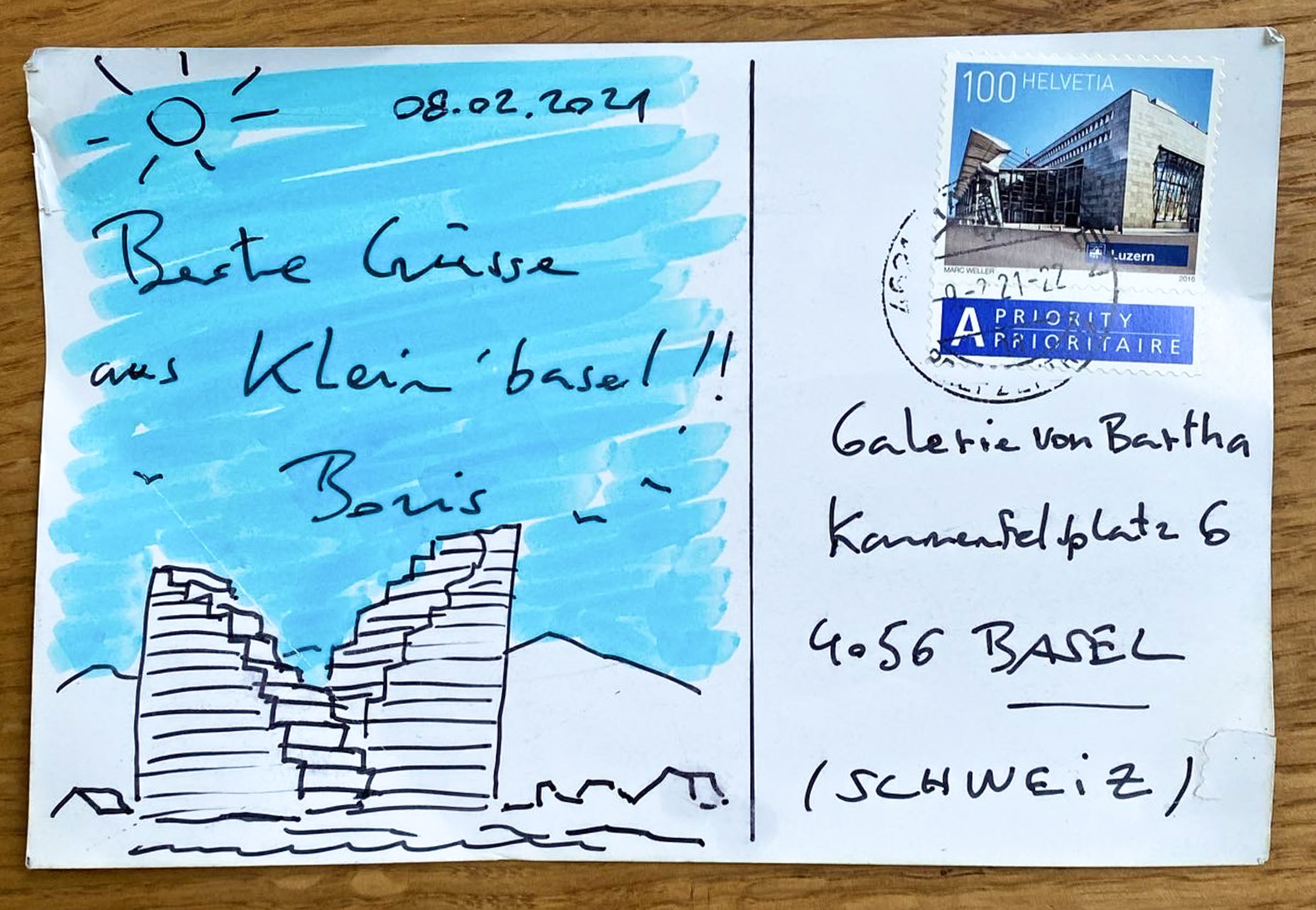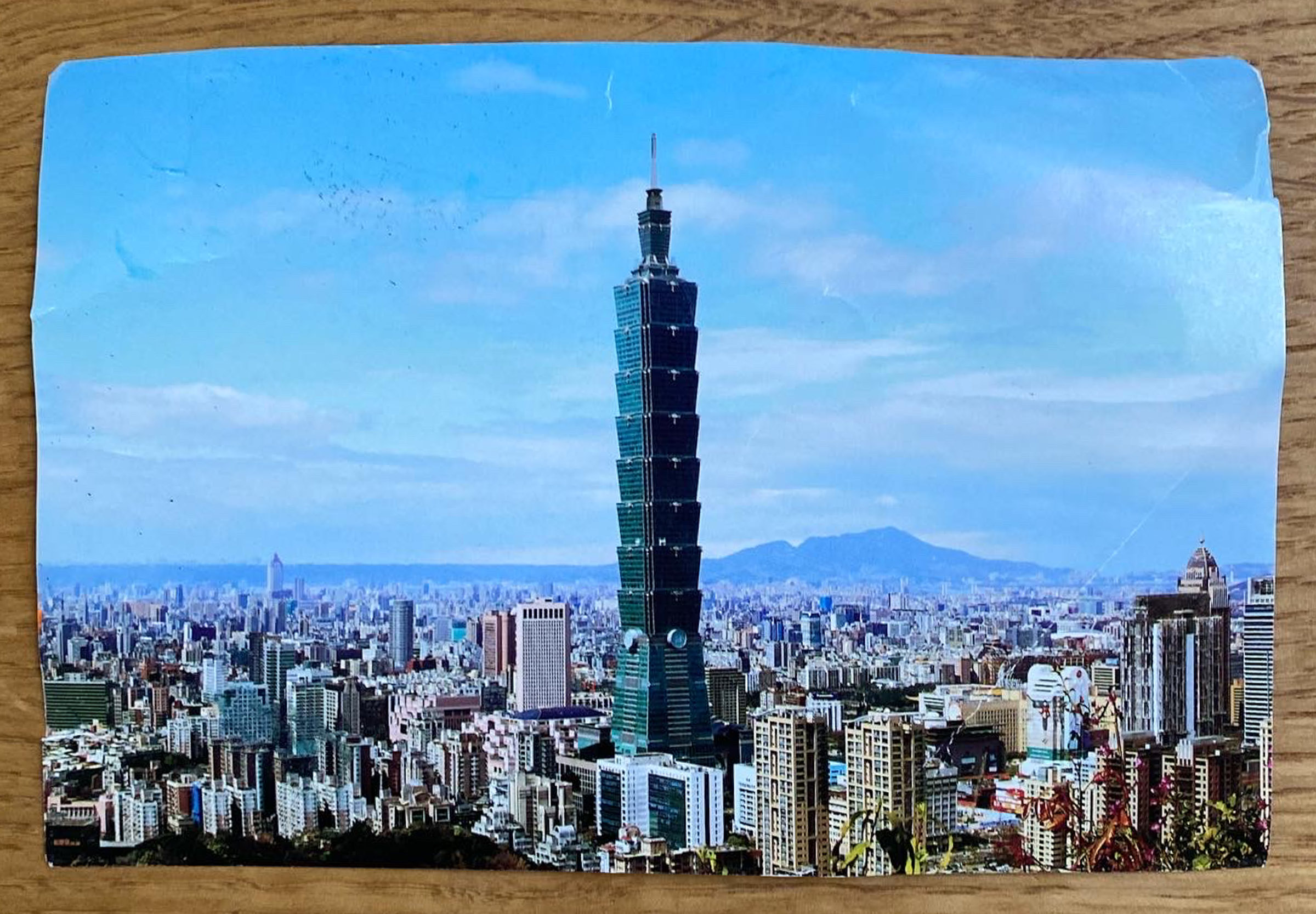 Boris Rebetez
The first cards we received were naturally the ones from close-by. As was this great little greeting from Kleinbasel – the smaller part of Basel, which is separated from Grossbasel (you would have never guessed: the bigger part of Basel!) through the river Rhine. Boris also made us a drawing of the two new Roche towers, which are supposedly the tallest buildings in Switzerland. It comes as no surprise that Boris chose a card with a peculiar skyscraper in a large city, as architecture and social spaces are an important theme and inspiration in his work.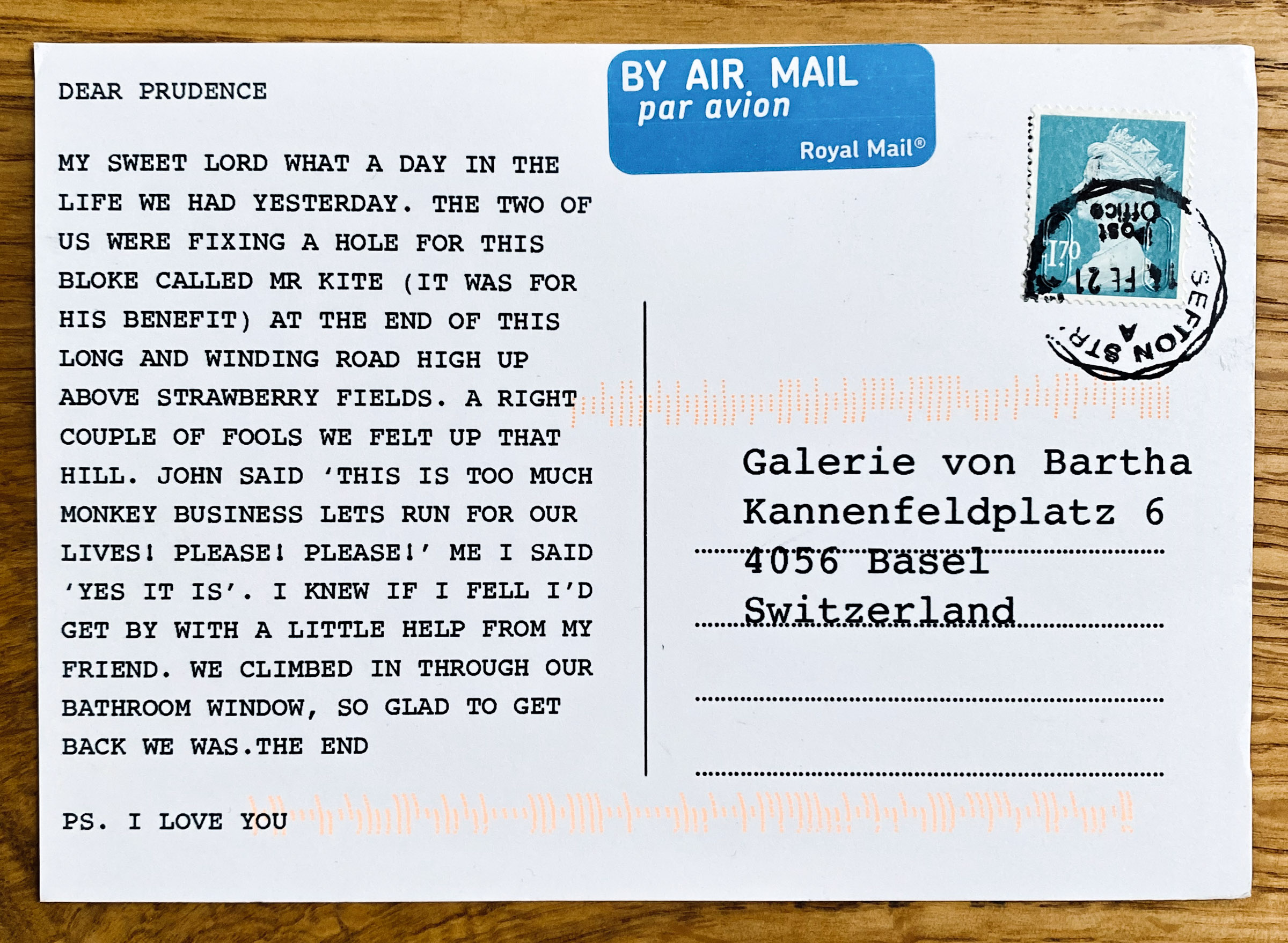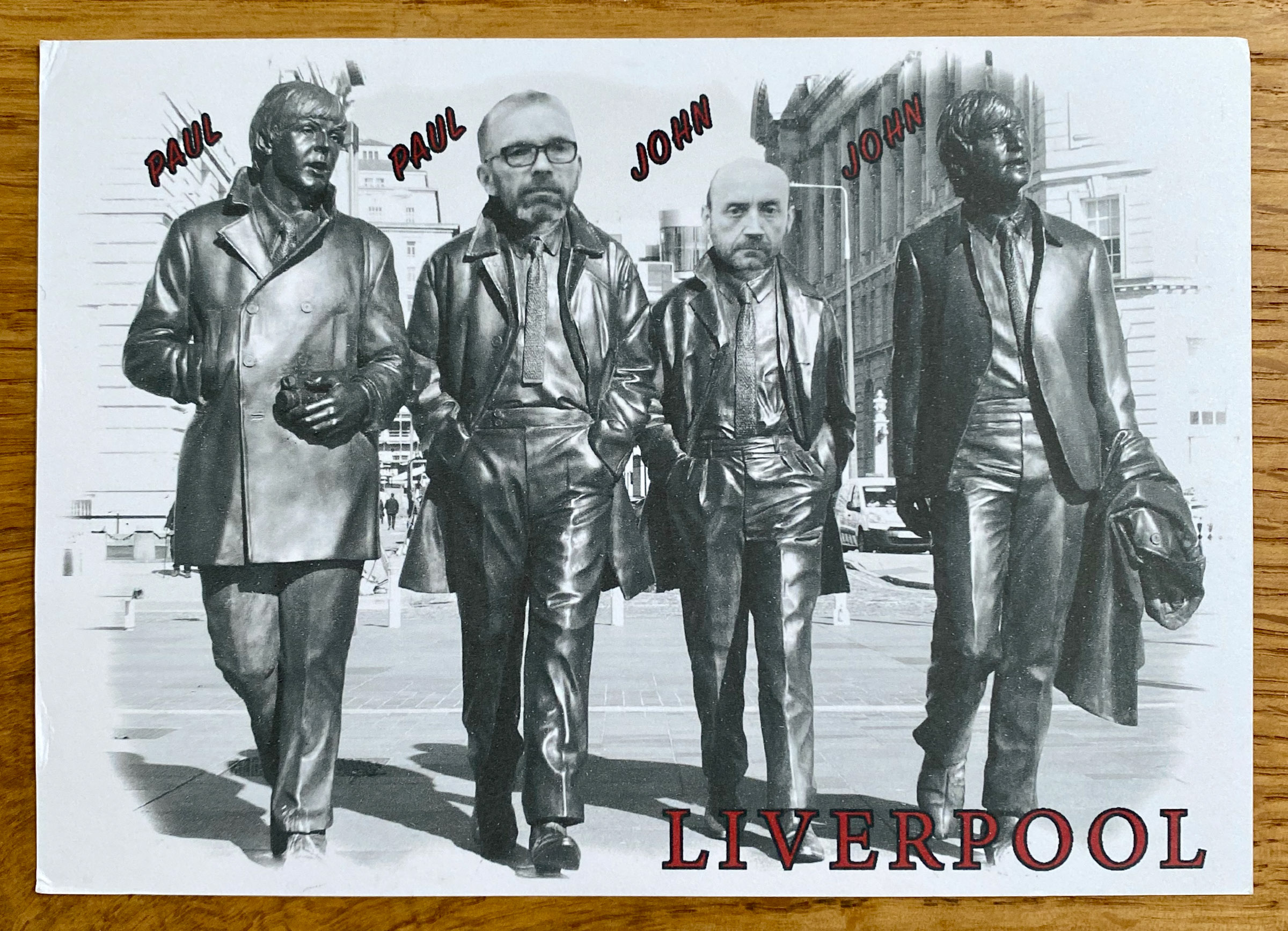 John Wood & Paul Harrison
Retrieving this card from the mailbox was definitely a highlight. John & Paul, disguised as members of the Beatles, walk along the streets of Liverpool, cast in bronze, with the other two infamous John and Pauls from the band. It continues with the Beatles in the text, which has been assembled, poetically, from different lyrics into a story which, in its own strange way, makes sense. The card is a small artwork in itself by the artist duo, whose recent exhibition in S-chanf was all about art made of words. Let's just say: All you need is love.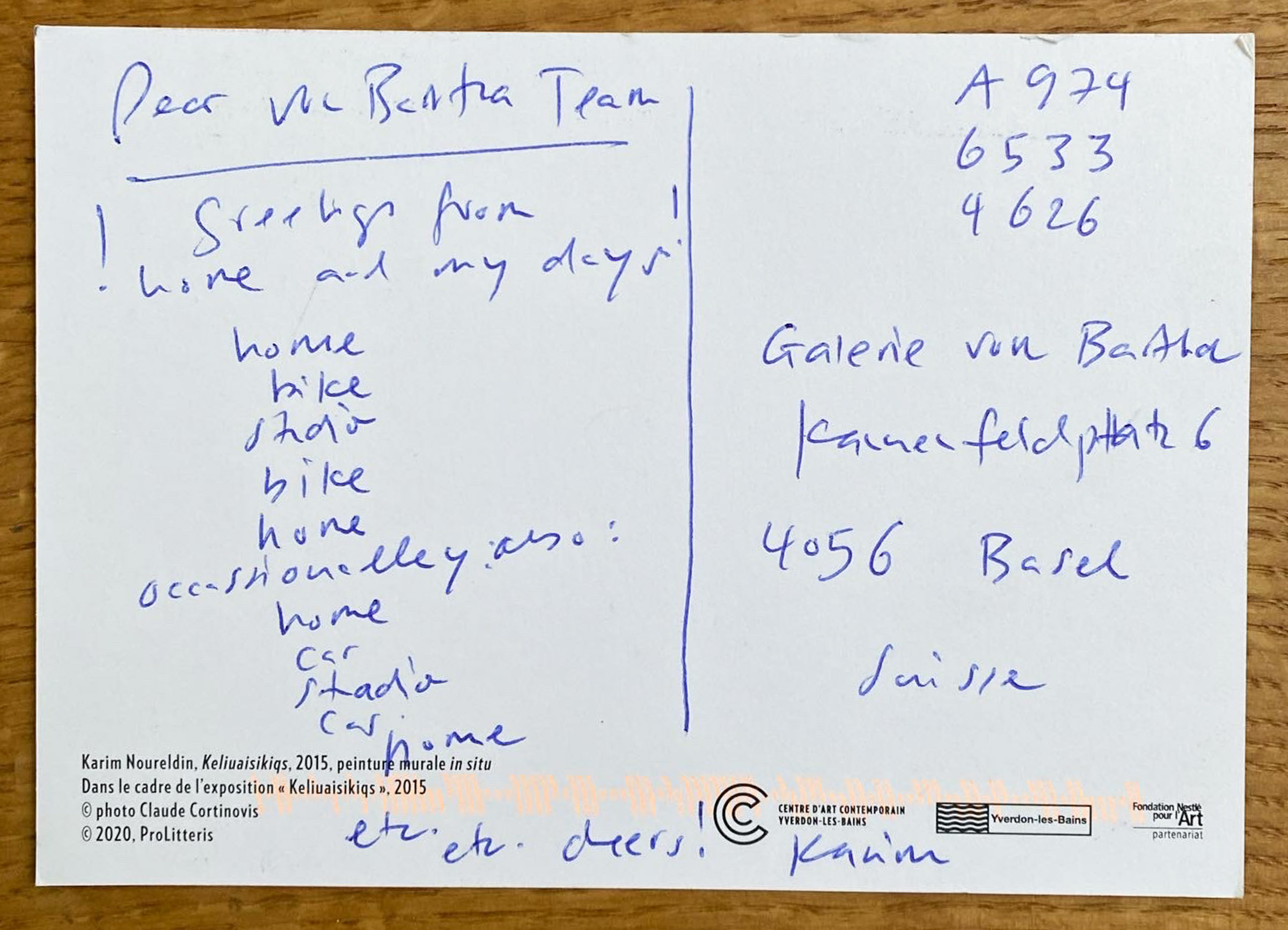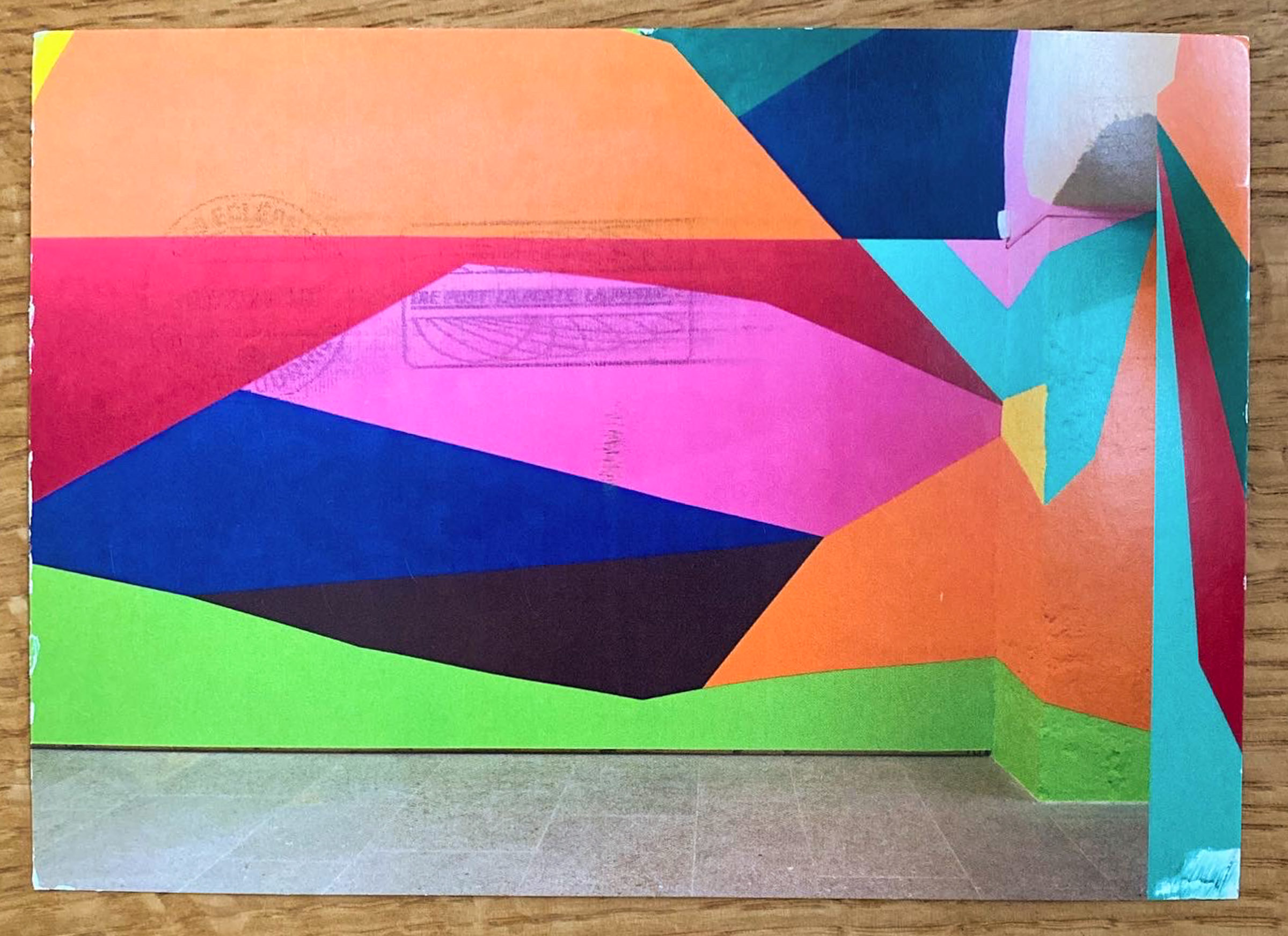 Karim Noureldin
The day that artist Karim Noureldin describes on his postcard could also be as a classical corona-routine! On the front you can find a mural which the artist installed at the Centre d'art contemporain Yverdon-les-bains in 2015 – one which reminds us of the fantastic door to the gallery garage, which currently features an installion bythe artist, painted with vibrant colors.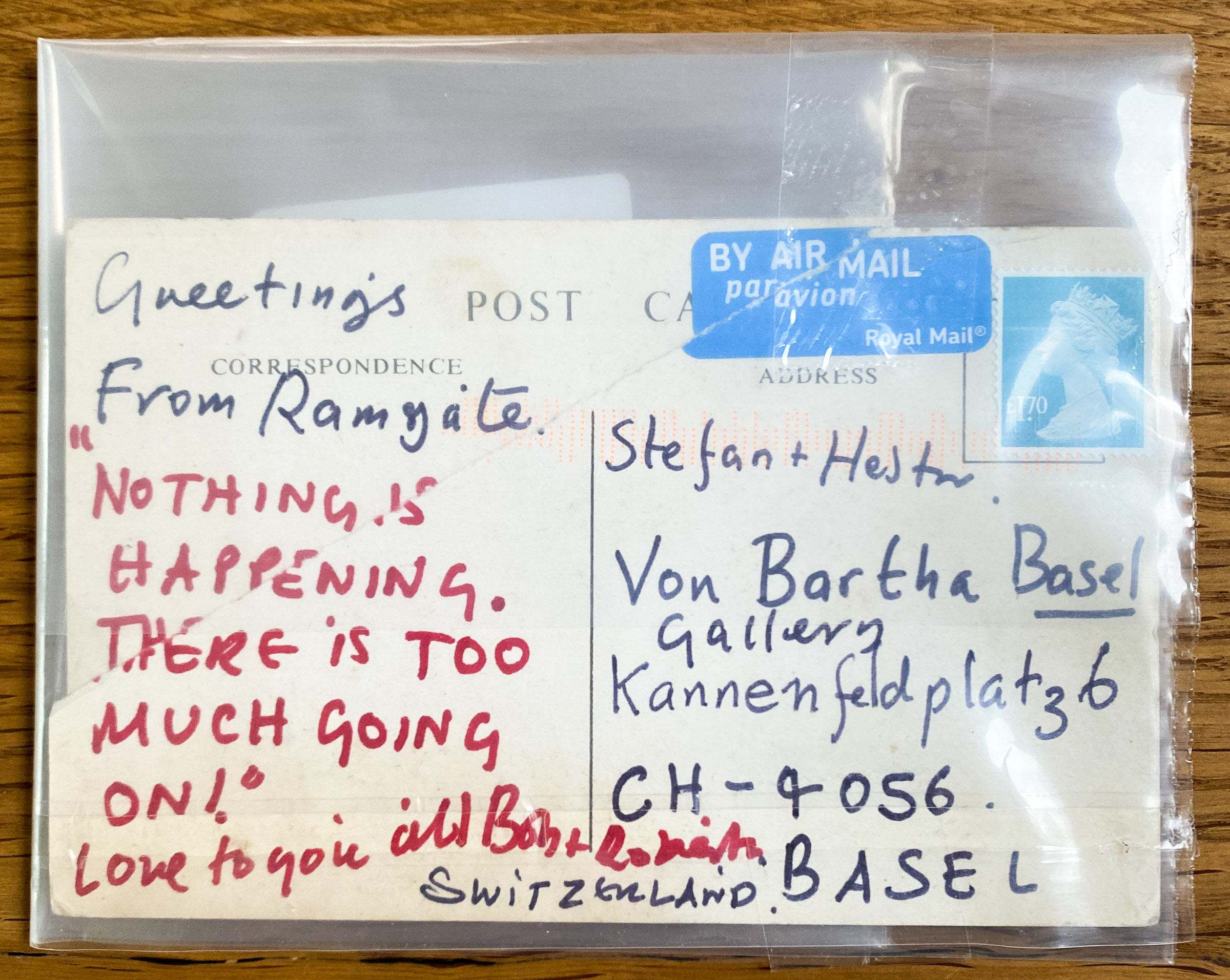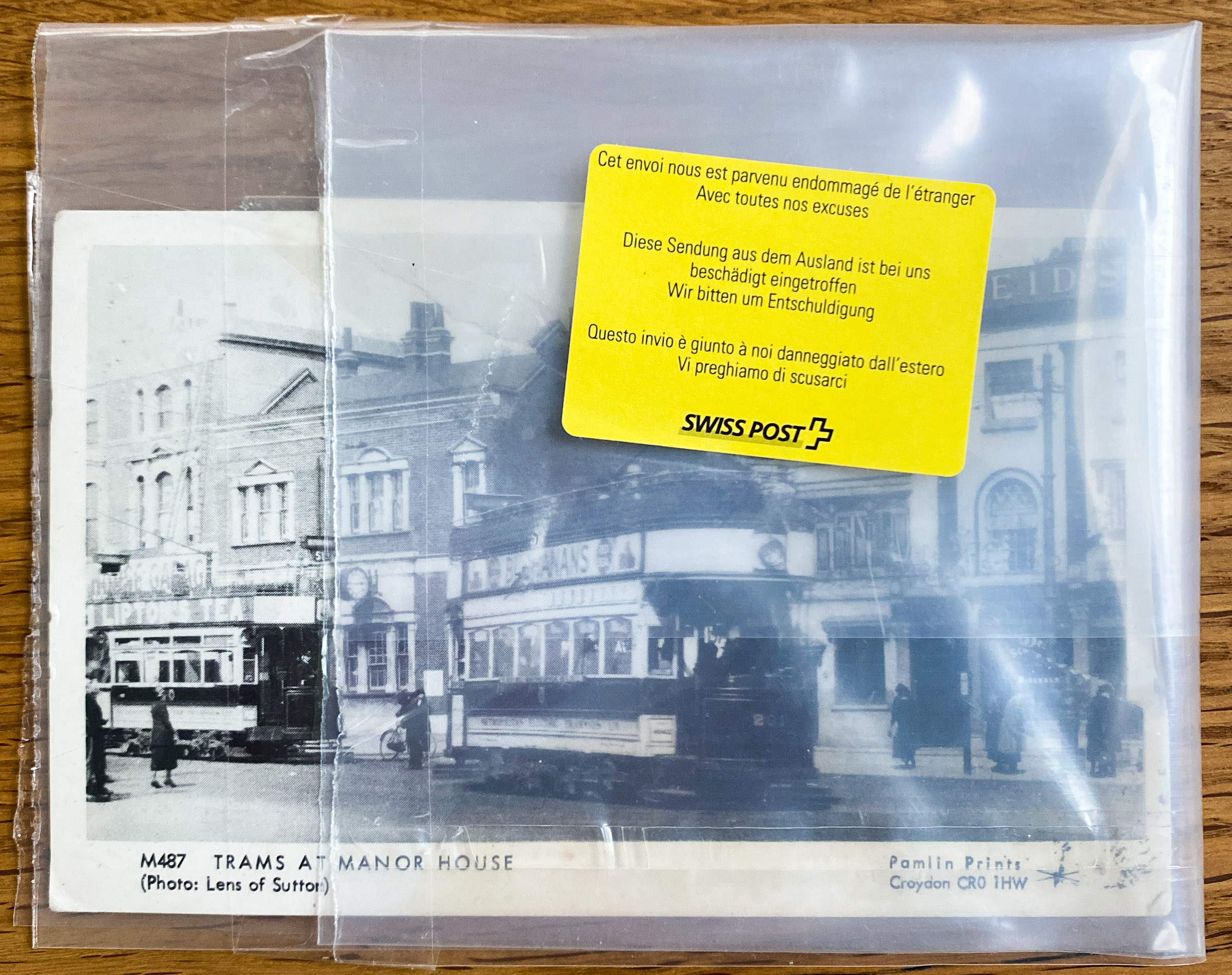 Bob & Roberta Smith
This lockdown greeting comes from Ramsgate, UK, where our artist Bob & Roberta Smith lives with his family. Please note how the Swiss Post repacked the postcard and apologized for the damage, and also claimed that the foreign country was to blame (so Swiss). But, as the card looks like it's been around for a few decades, the tear was probably due to old age. The picture on the front page could be a photo of a manor in 1940s London? 'Nothing is happening, There is too much going on!' states Bob – the best Corona slogan so far!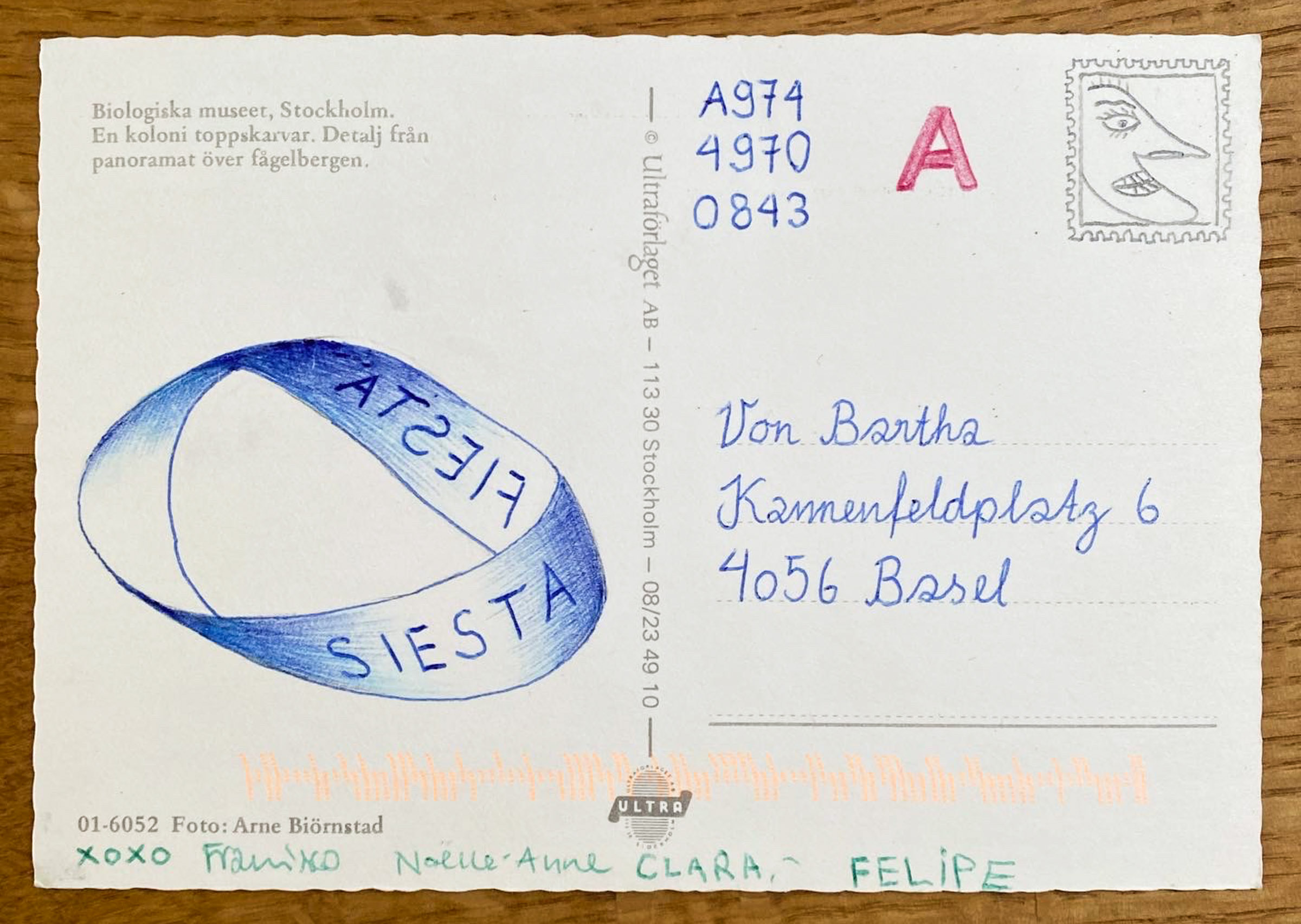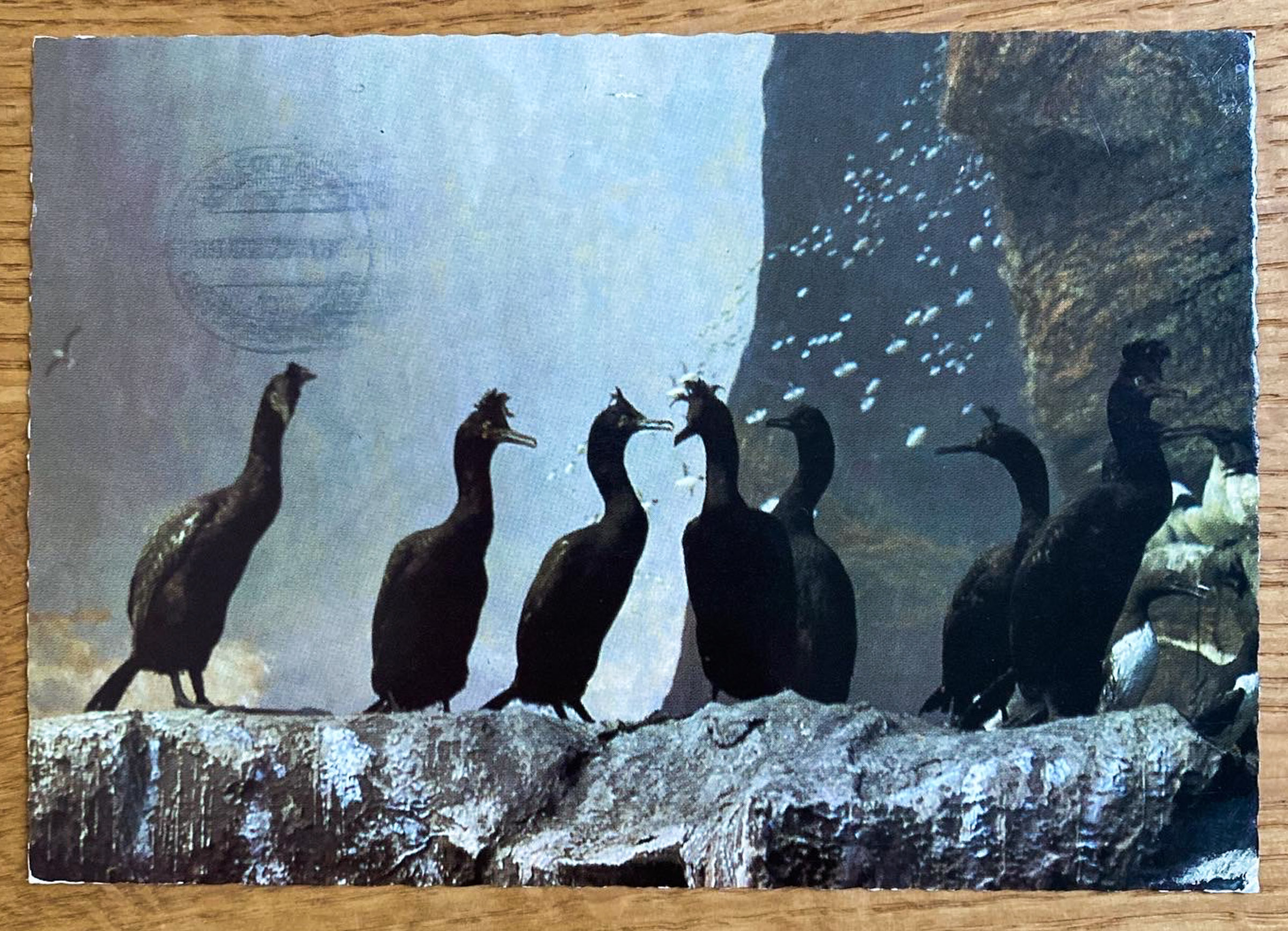 Francisco Sierra
Remarkably, with only a drawing of a stamp, this card has made it to the gallery! We received this card from Francisco from Cotterd in Switzerland. The detailed drawn loop, a so-called Moebius, is a medium the artist has used before in his paintings. There, they are sometimes found smoking or creased into tiny pieces. We might read the words 'Fiesta Siesta' in our locked down situation as one big siesta party (hopefully ending soon), or we might read this as a word play on the artist's name. Either way we love the drawing and the team sends love back to all the family members who signed the card.
Error. No content found for Slider
Claudia Wieser
All the way from Berlin came these two jewels from artist Claudia Wieser. As Claudia is a cat and animal lover, we think these two cards are utterly fitting. We are also reminded to work more on our handwriting when we look at these exemplary lines! In case you don't understand German, Claudia told us about her days in Berlin – how, for example, she submitted an on-site art competition and what a relief that was, and her intention to treat herself by spending some money on online shopping. As we've been doing the same during lockdown, we think this is only fair.