Claudia Wieser Is Winning Hearts in Paris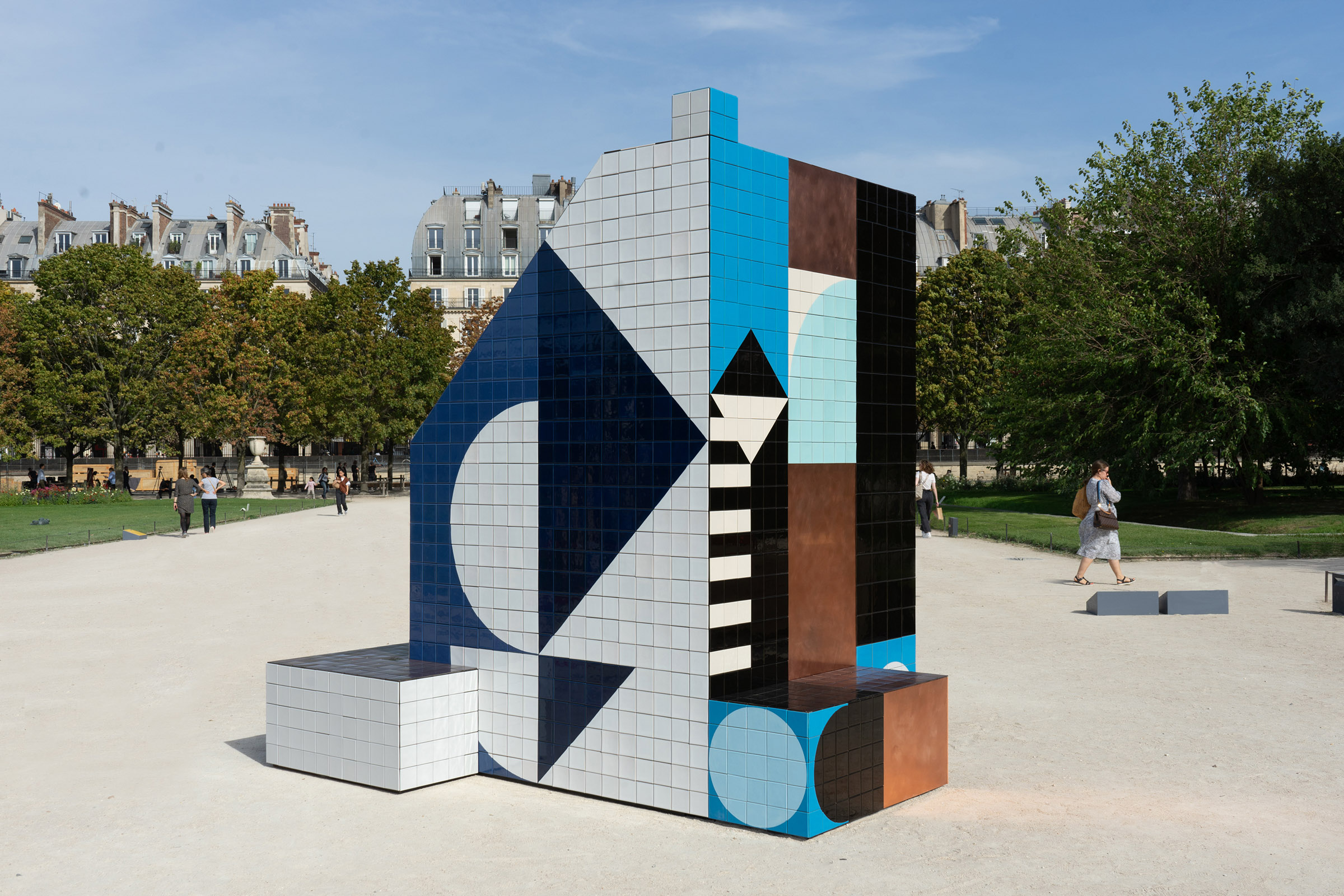 Each day, Claudia Wieser's newest landmark sculpture with more than 2000 hand-glazed tiles attracts the attention of thousands of tourists and Parisians strolling through the Tuileries Garden—the former district of tile factories that occupied the area in the Middle Ages—between Museé du Louvre and Place de la Concorde.
"I always liked the idea of presenting an artwork confronting people who are not necessarily here to see an artwork (…) but come to spend free time in the park," Wieser explains in the below interview, recorded shortly after the installation.
The sculpture's minimal and geometric form and its blank and polished materiality present an intriguing juxtaposition against the opulent backdrop of the garden and surrounding Palais. It quotes architectural elements, such as the chimneys of the nearby housings, the shape of the famous Louvre Pyramid, the museum's side wings, and the stone plinths with antique sculptures centered around the octagonal fountains in the park.
Wieser's title for the work, But round my chair the children run, is a line from Oscar Wilde's 1885 poem, Le Jardin des Tuileries, and again an onomatopoeic tribute to the interaction of the sculpture and its surroundings. Wieser explained: "As my work invites you to sit on it, the title is a poetic reference to the park, its history, and my sculpture."
The monolith's surface comprises hundreds of hand-glazed tiles in Signal Red, French Blue, Champagne, Gloria, or Antique, imposing a colorful mosaic of geometrical shapes or an abstract painting. Each side addresses the visitors' imagination: forms become silhouettes, and figures become patterns: "For me, the use of color is always very intuitive. (…) It is important to create a contrast between bright and dark, warm and cold, mat and glossy. (…)  It's like being a painter."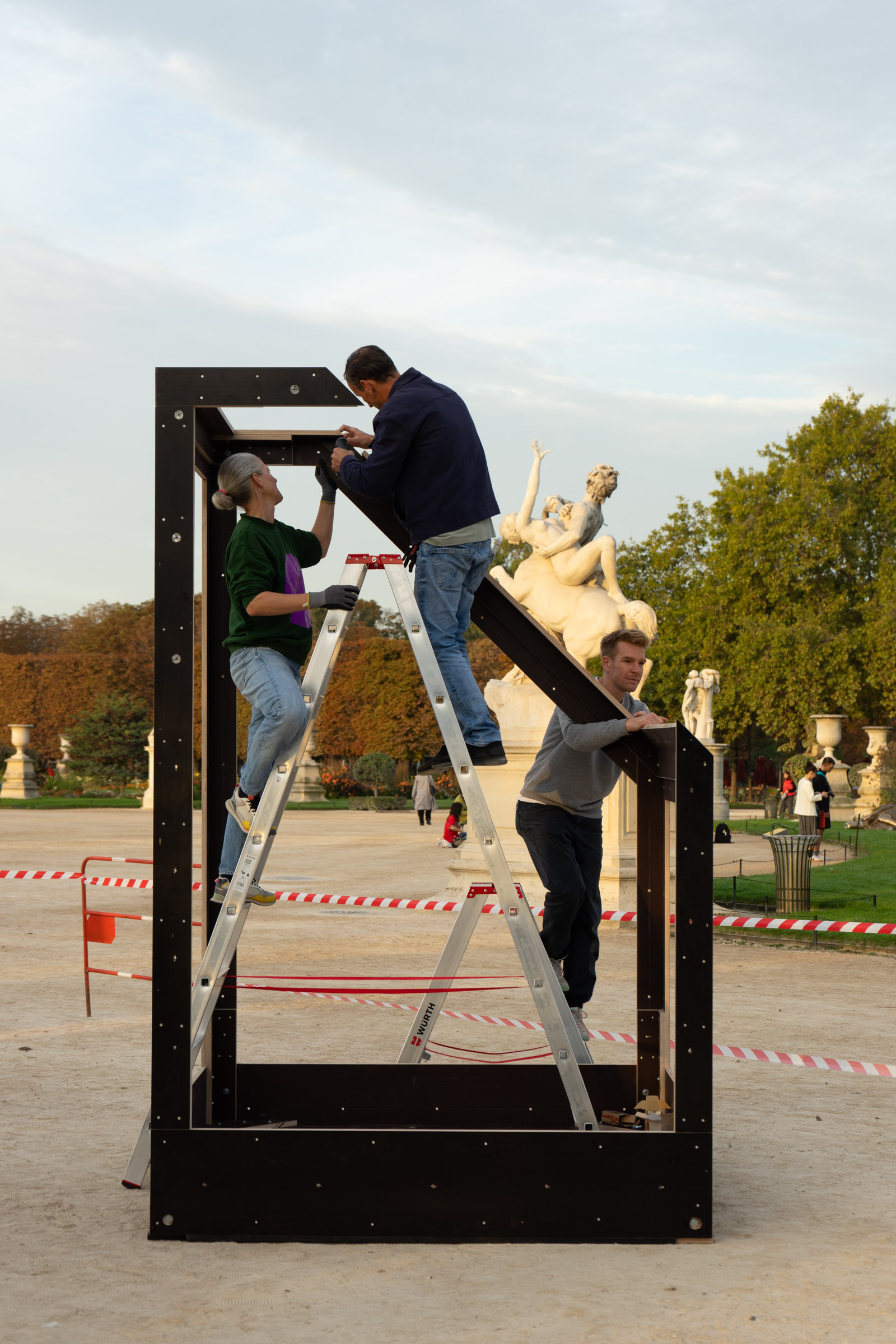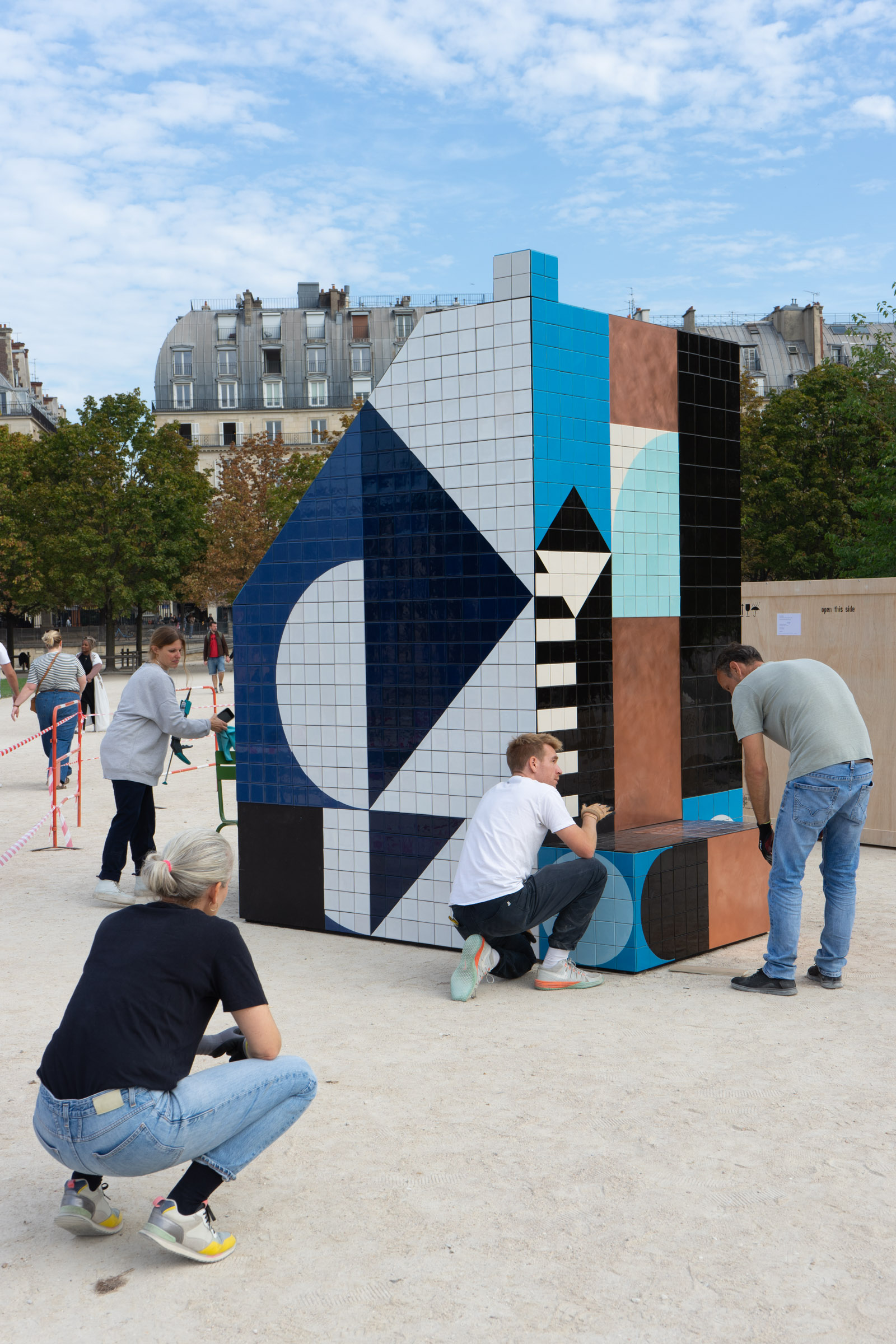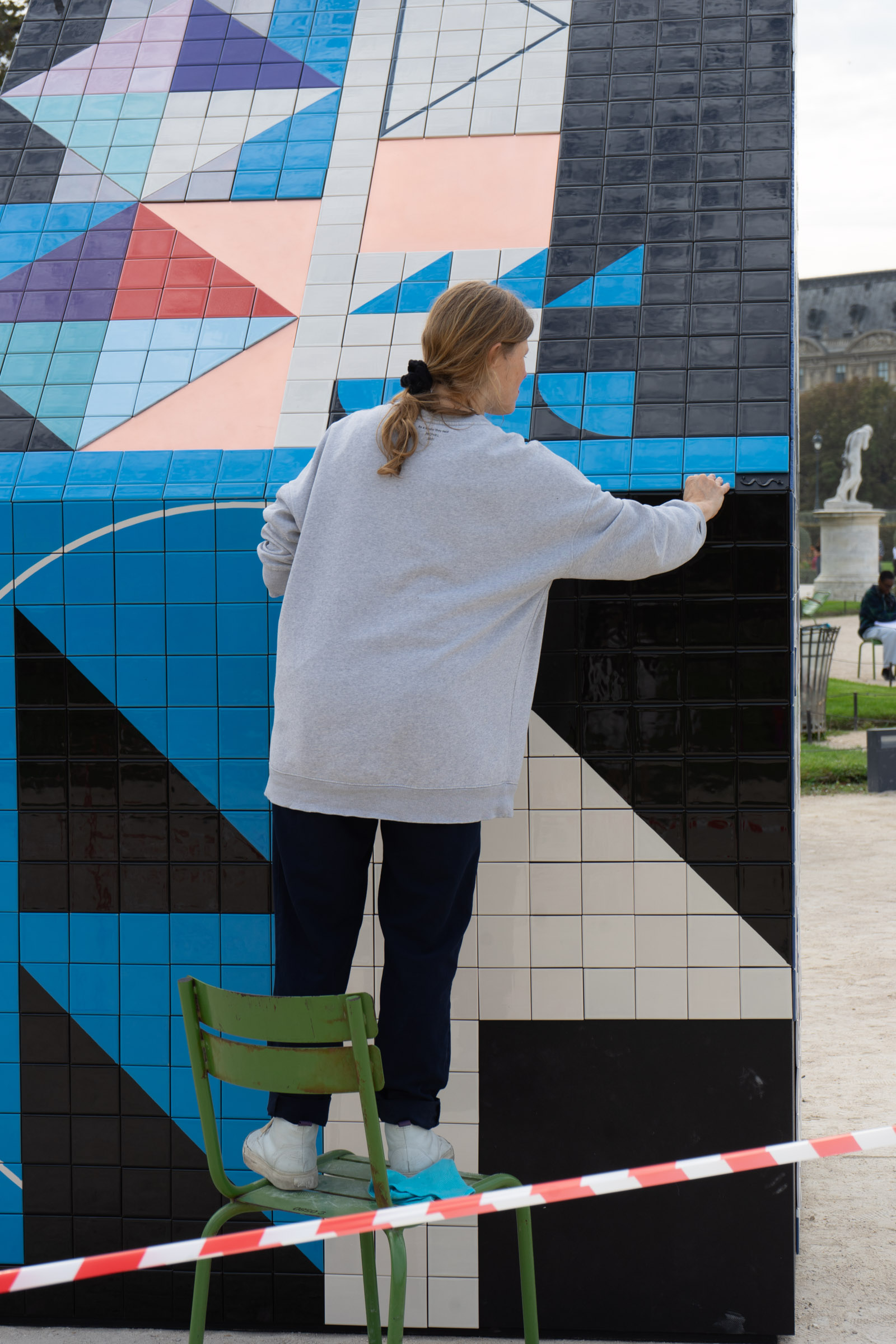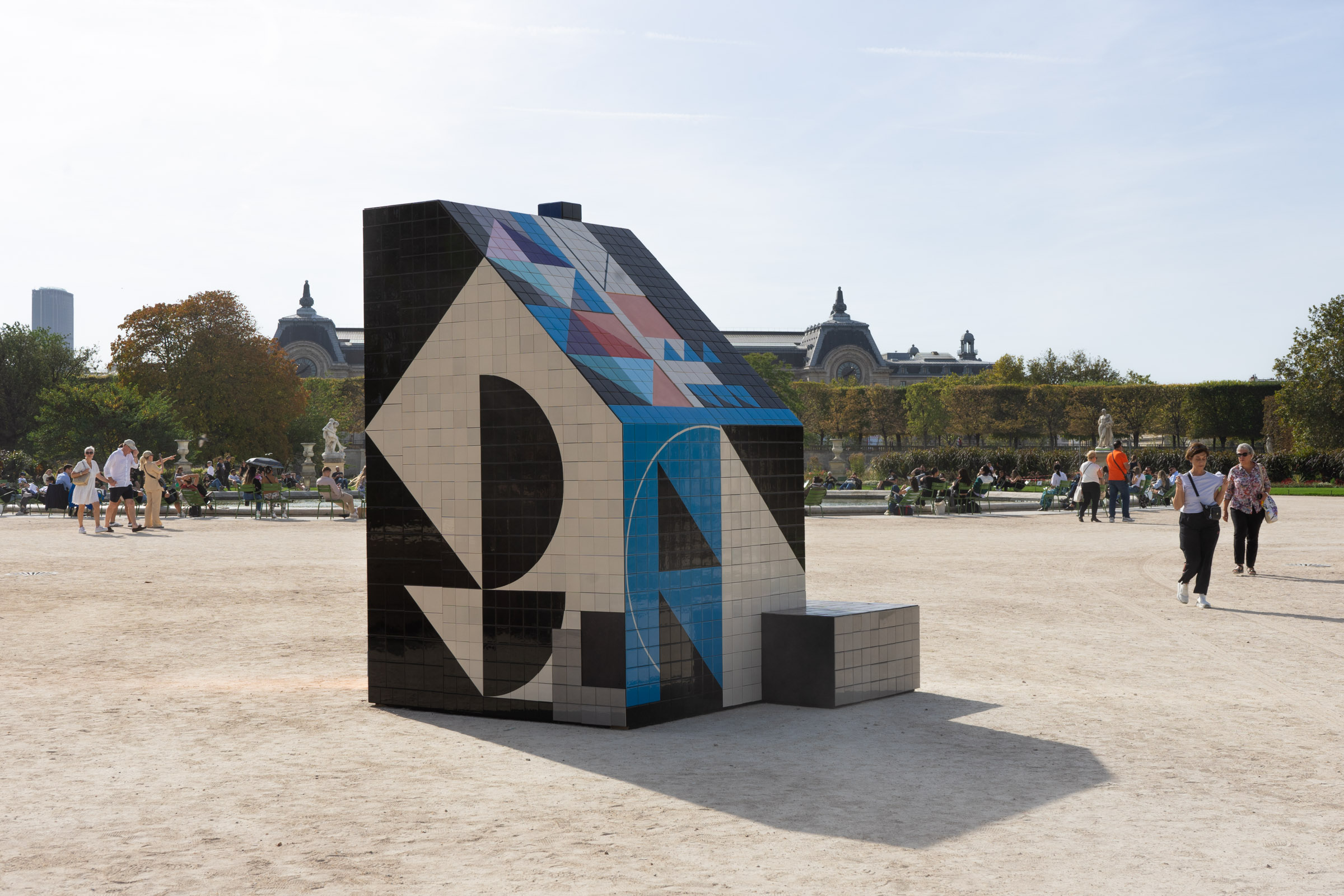 A few hundred meters down the river Seine, on Avenue Marceau, sits the Museé Yves Saint Laurent Paris, currently presenting some forty models by Yves Saint Laurent (1936–2008), both haute couture and ready-to-wear garments, accessories, and sketches with a focus on formes, as the exhibition title YVES SAINT LAURENT – FORMES suggests. Director Elsa Janssen invited Wieser to echo the legendary designs and create works that enter into a dialog with the textile pieces and graphic art from the museum's collections, offering an immersive experience.
Error. No content found for Slider
With both projects, Berlin-based Wieser, who spent several months in Paris in her thirties, clearly leaves a mark in the city of love. If you don't want to miss out and see her monumental work in the park, the exhibition La Cinquième Saison by Paris+ par Art Basel at Jardin des Tuileries, curated by Annabelle Ténèze, is on view until October 22, 2023. Her Museé Yves Saint Laurent Paris presentation runs until January 14, 2024.