8 Facts about Terry Haggerty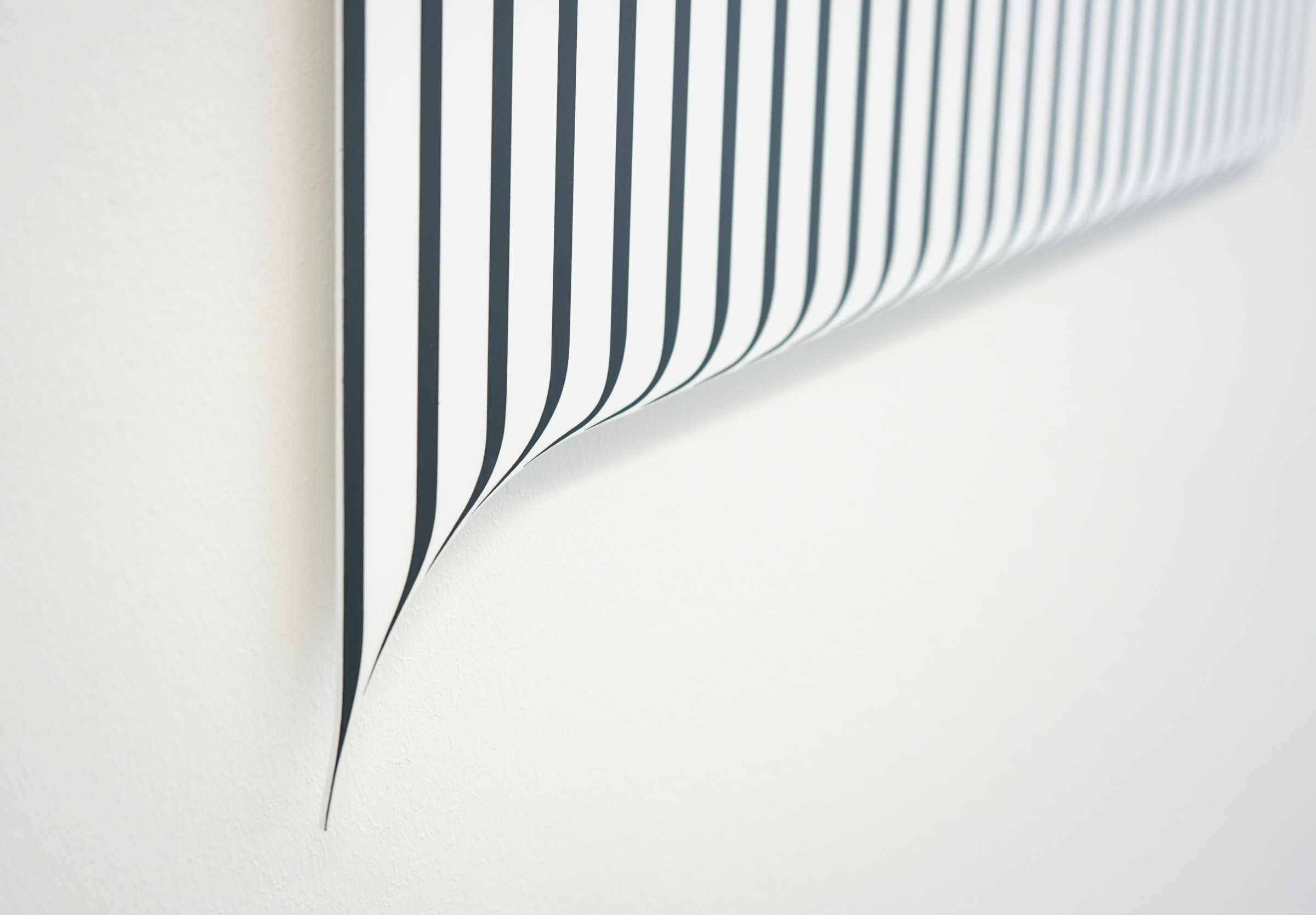 On the creative process of artist Terry Haggerty, how his refined works are created and his never-ending flow of new inspiration
Grown up in England, Terry has lived across the globe ever since
Born and raised in the UK, he never lost his Bri-ish accent when he moved to New York in his early 30's. After living in Berlin for almost a decade, Haggerty now works and lives on the coast of Italy. Just as every surrounding has an influence on us, so did the sea on Terry: our current exhibition, Into the Wind, draws a clear line to the windswept sails that one imagines seeing on the open water.
From canvas to wood to aluminum
Haggerty's first kinetic works were made on canvas, which after some years shifted to medium-density fibre (MDF), as shaped canvases played a more important role and this particular material enabled a much wider range of possible forms to be produced. Today he works mainly with aluminum to create even thinner and seemingly floating objects.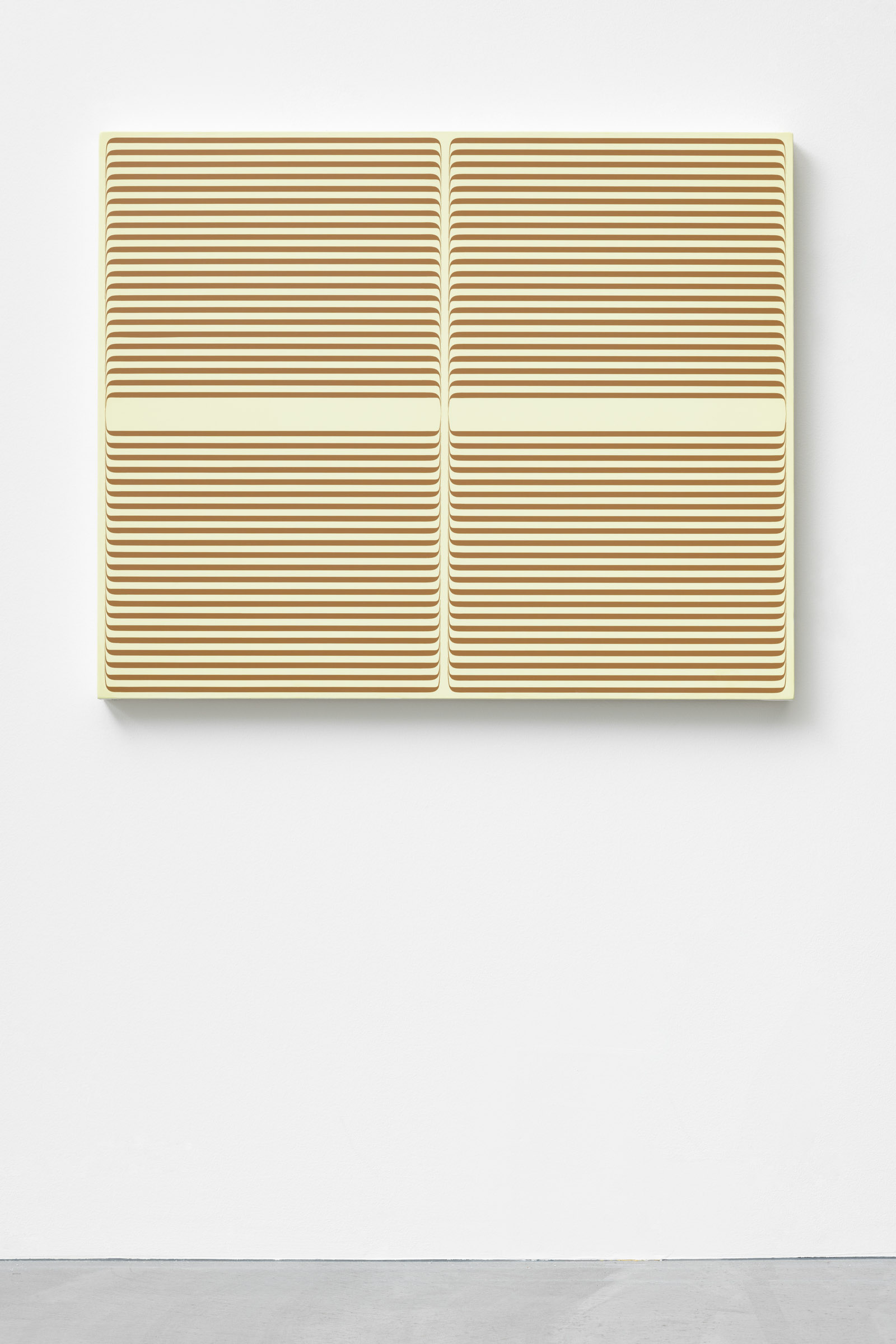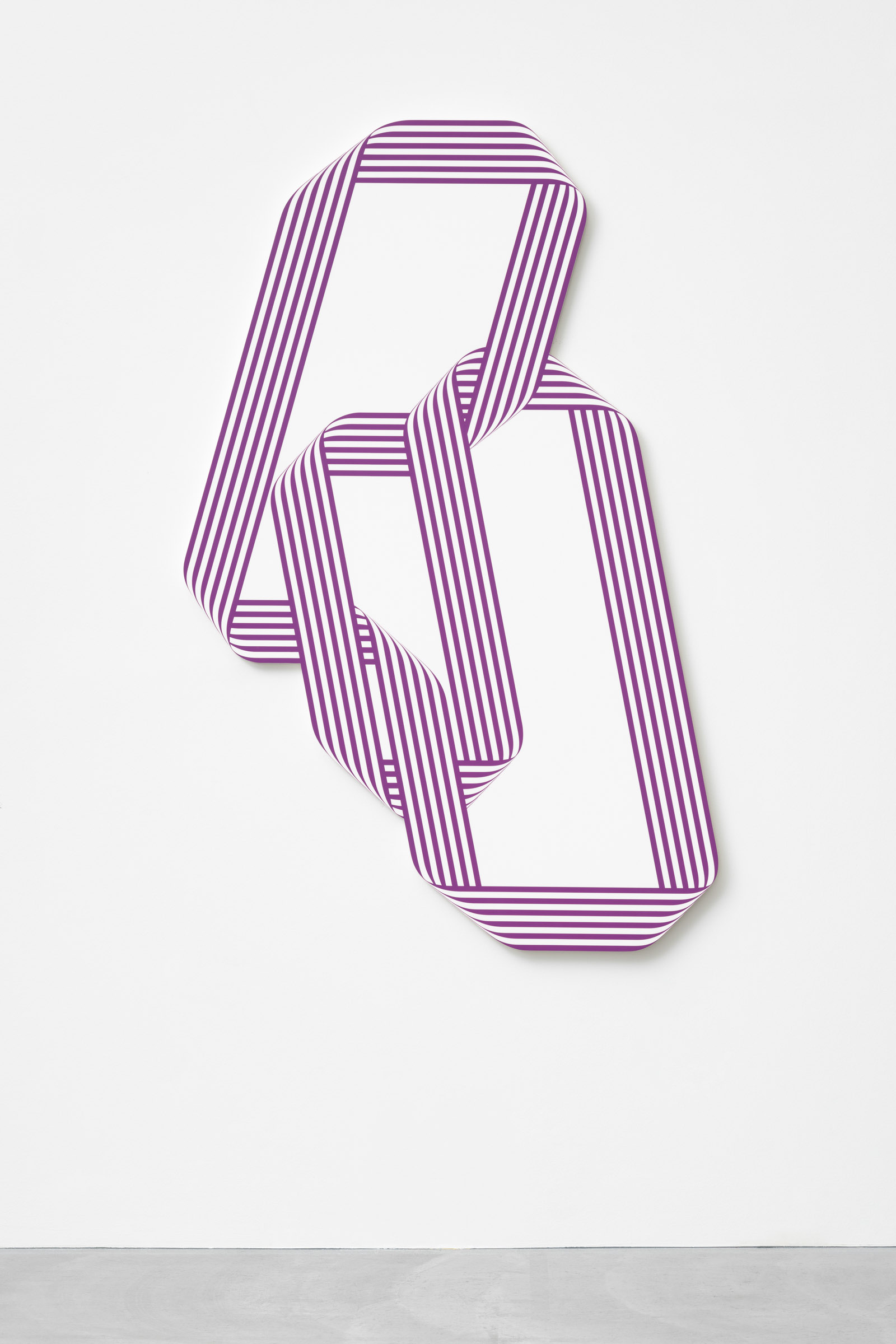 Layers and layers of varnish are applied to his paintings
After finishing a painting, by working with positive and negative stances of his designs which are applied to the surface using stencils, he "buries" all painterly marks under multiple layers of varnish.
To create an immaculate surface for his works, Terry adds up to 8 layers of varnish onto his paintings. The earlier works were made on canvas, but because of many layers of gesso and then varnish the actual canvas texture disappeared and was only visible on the edges of each work, showing the stark contrast between the base material and the varnished surface.
"The precise manner in which the artist has executed all of his work bares few marks of the maker. Rather than showcasing the laborious and detailed processes that underlie these works, it is as if these objects were made by machines." [1]
"Mostly I'm working on the computer for the ideas"
Haggerty starts his works mostly with drawings and fast sketches, but to prepare the paintings, he always works with a computer and finalizes the designs on a screen. "It's a slow process in a way, even though computers are quite fast nowadays, I tend to sit on ideas for a while until I feel ready to take it further." [2]
His drawings consist of heavy, yet dancing shapes that fill the paper
"An intensifying of physical presence shapes the dark monolithic forms in his drawings – framed by fine, colorfully shimmering contour lines, which formulate an outer marker and steer perception as a result of their shades of color: darker contours allow the framed areas to come to the foreground more intensely while the brightening of individual edges and curves suggests lightness." [3]
Error. No content found for Slider
"Wall Drawings" are an important aspect of Terry Haggerty's oeuvre
The first wall drawing he did was in 2001 for a gallery exhibition in New York. During that time Terry was focusing on works on air vents and air-conditioning units. As a natural progression he engaged more and more with the space around him.
Over the years he has completed several large-scale, site-specific wall drawings, one of the most prominent of which is the work 'Two Minds' at the AT&T Stadium Art Collection in Arlington, Texas (see image below).
A never-ending story of lines
Even though one might think that the concept of linear composition has its limits, Terry always manages to open a new chapter and create new translations of this element. He has been working with this for over 20 years now. (The best example being our exhibition "Into the Wind" at von Bartha, Basel – where Terry included a whole different level of movement and lightness into his work, that plays with our perception on yet another level.)
From leaving the square canvas, to freer solutions on wood, to moving from lines to contoured planes, or going beyond 2-dimensionality and working his way into the space, the artist has always explored different visual combinations that oscillate between the linear structure of the surface and the illusory perception of three-dimensionality.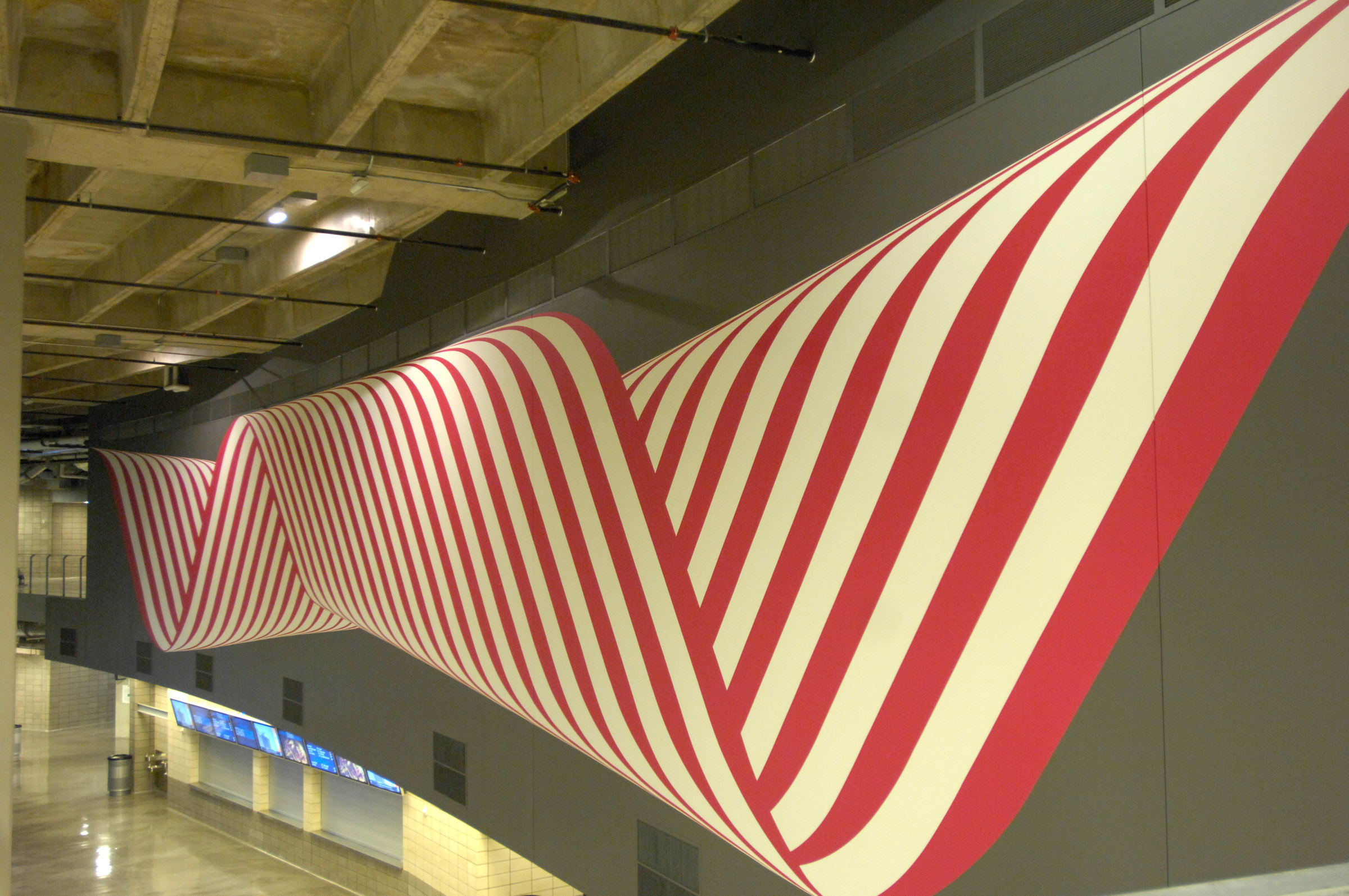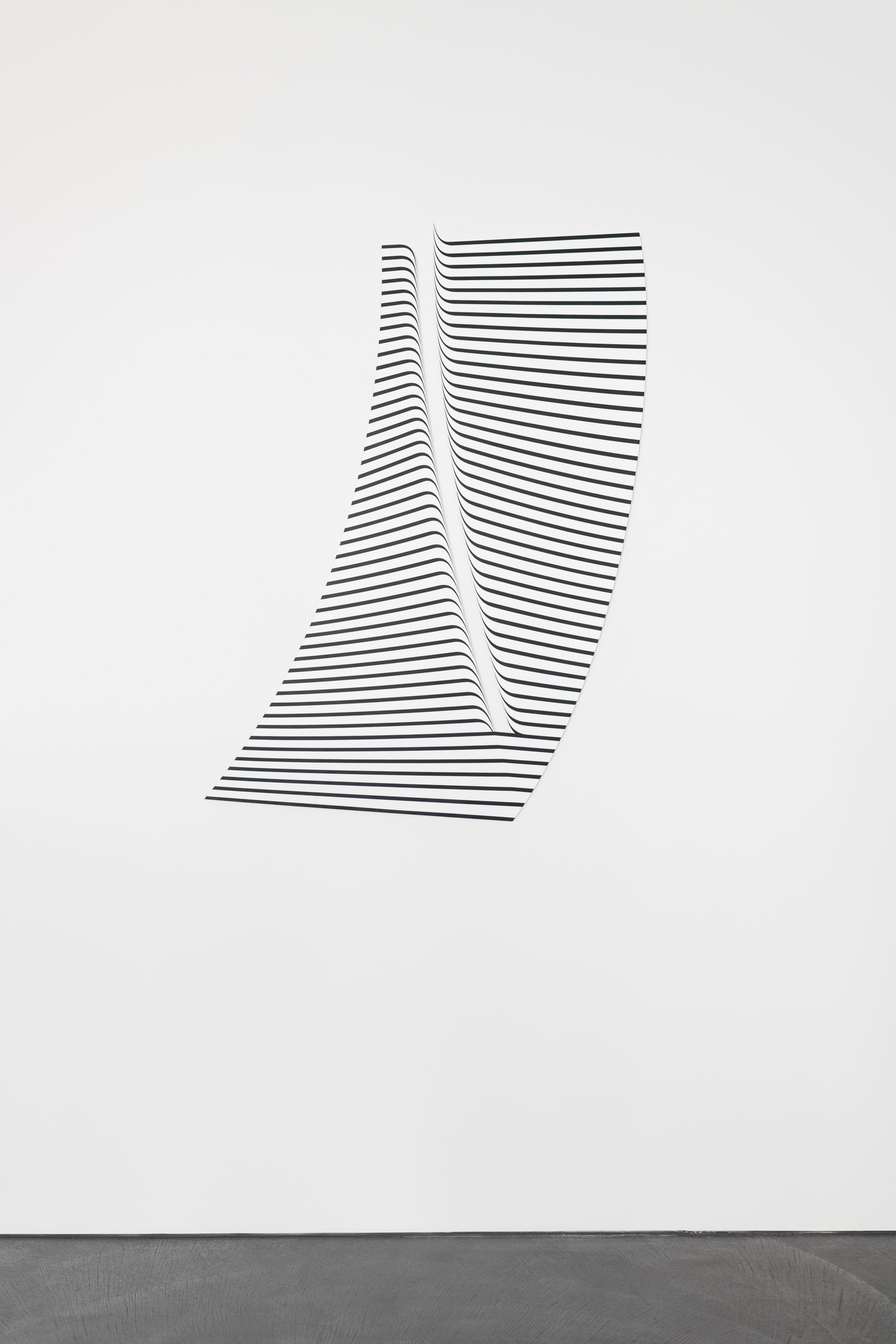 In his works, Haggerty moves on the fine line between illusion and abstraction
"Terry Haggerty's bedazzling paintings and sculptures play with our perception, in a manner often misperceived as simply optical. But rather than relying on well trodden paths his pieces are far more ambiguous and occupy a space that teeters on the edge between illusion and abstraction.
The artist denies us the ability to read each work in a single instance. But rather your eye is drawn into an exploration of line and form, the picture of the work is formed in our mind. (…) Their pure and geometric appearance hides a series of complex compositional structures that result in works, which are in the best sense of the word obsessive." [4]
'Playing with Perception' bv Niklas von Bartha for the von Bartha Report
Interview with Südwest Galerie: Art This Week | At The Modern-FOCUS: Terry Haggerty
'Transcend' by Ursula Ströbele in: Terry Haggerty: Transcend, Hatje Cantz
'Playing with Perception' bv Niklas von Bartha for the von Bartha Report