Don't be afraid of Jean-Paul Sartre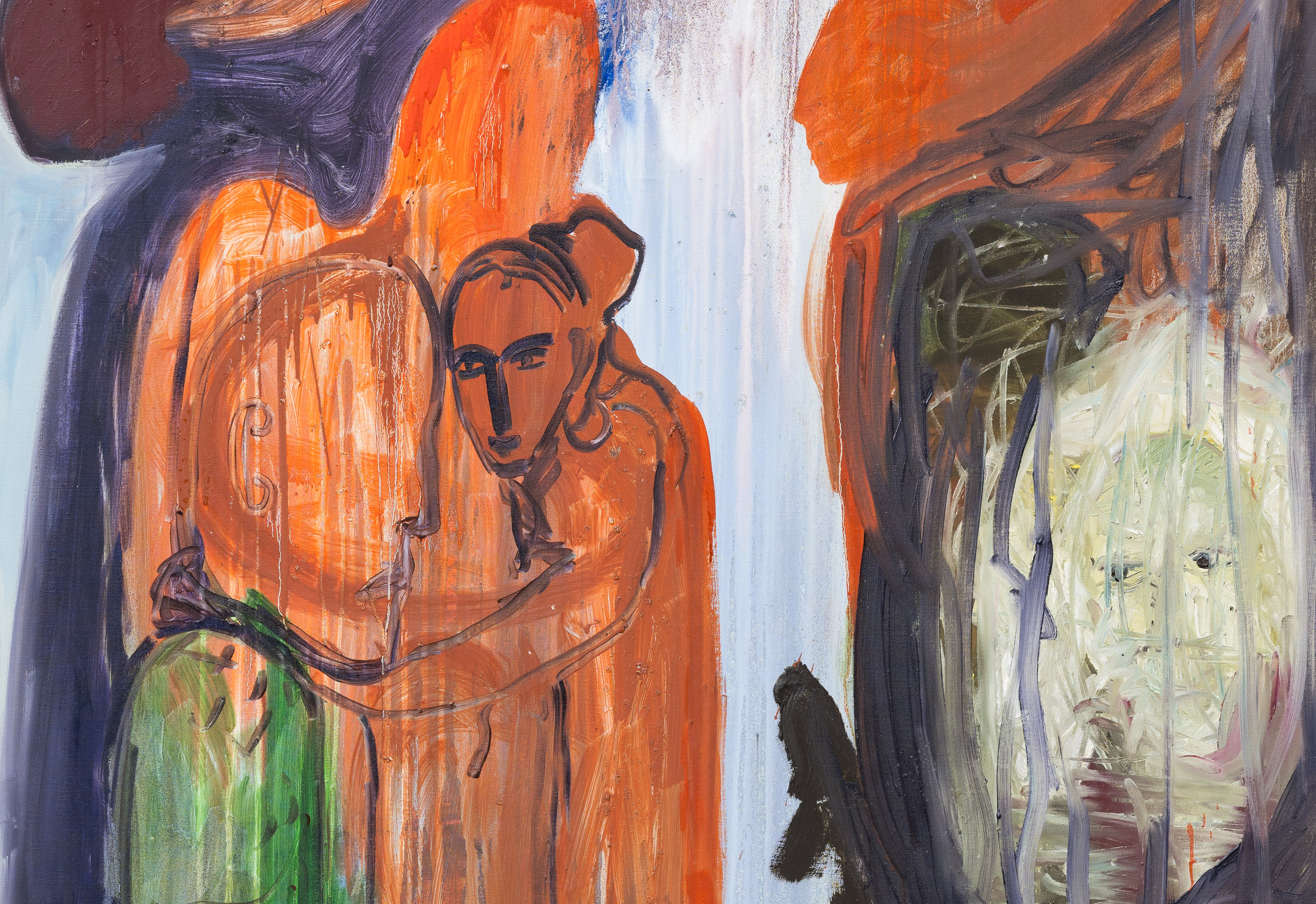 A five-minute read on Ursula Reuter Christansen's five part series 'La Chambre'
"Je te tuerai avant," 'I will kill you first,' Eve says to her sleeping husband and herself. It is meant as an assurance to save the beloved man from losing his dignity in case he completely loses his mind. It is the last sentence of Jean-Paul Sartre's short novel La Chambre, from 1939.
Impressed by reading La Chambre, artist Ursula Reuter Christiansen created five large paintings in 1998 with the same title, currently on view until November 4, 2023, in her solo exhibition Auf Messers Schneide at von Bartha in Basel. 
How close can you get to your partner without giving yourself up?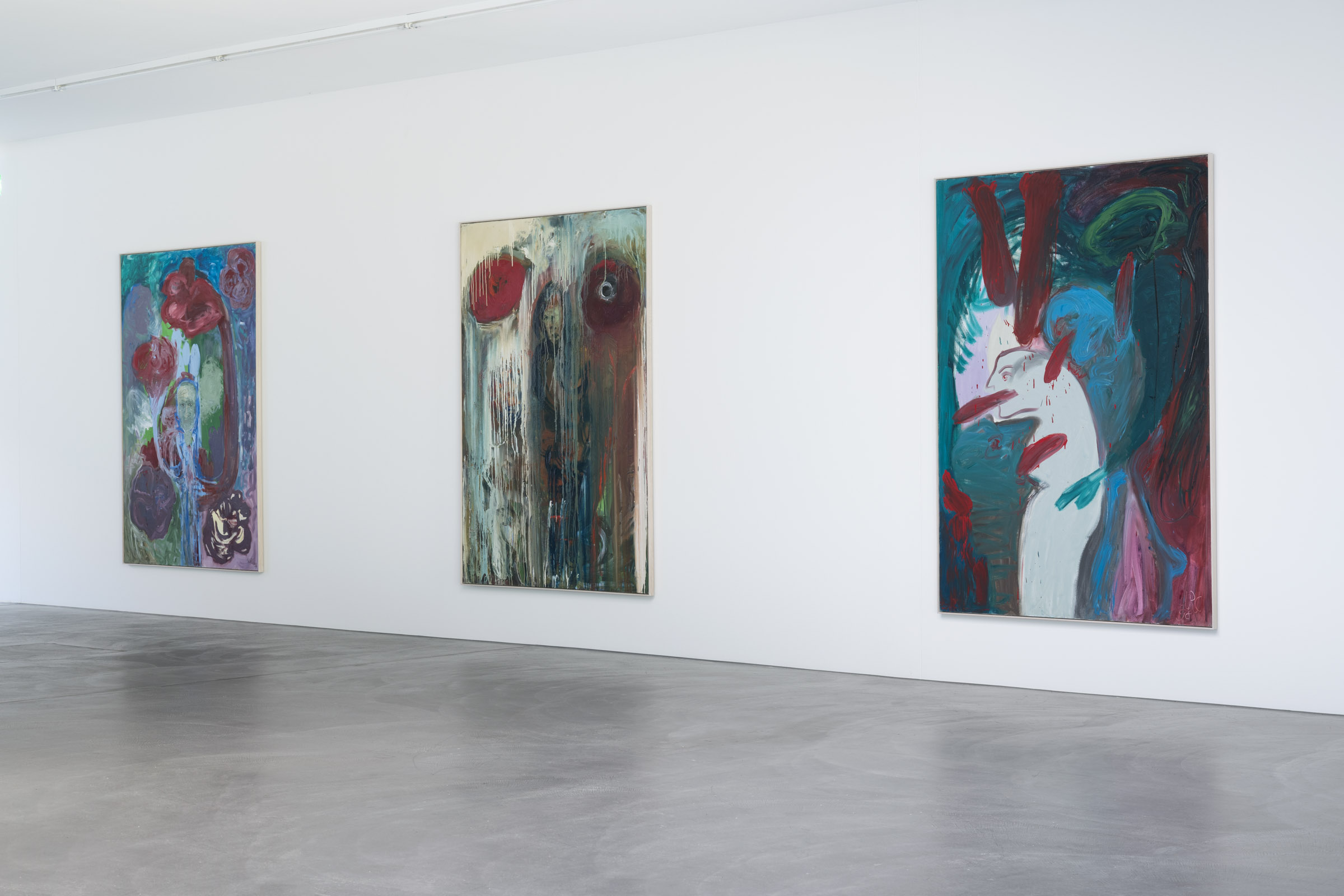 How close can you get to your partner without giving yourself up?
This question suggests itself when looking at the works by the German-Danish artist who emphasizes that the relationship between the sexes to each other is one of her life's themes. Dark colors, blurred beings, and expressionless faces are seen. We recognize a couple who, despite their closeness, do not seem to find each other. It is a disconcerting and tense scene, reinforced by the powerful gesture of painting. The four sides of the painting give a view into a room as if on a stage. The room resembles a prison and is the scene of delusion and suffering.
In the short novel, Sartre unfolds the complex web of a famous actress' intense love for her husband, who suffers from a delusional disorder. She is ready to leave her world in favor of his to not lose his symbiosis. He lives increasingly enclosed in the room and his world, oppressed by delusions. The more she tries to be close to him, the less she succeeds. An irresolvable situation with a fatal dynamic. Beyond illustrating literary inspiration's extreme and pointed position, the paintings show us the limits of love, communication, and exchange. Do they tell us about the dilemma between the need for individual development and the desire for a common identity as a couple? Does the 'healthy middle' exist? Is that what we want? Isn't there also a longing for an extreme and intense experience?
Error. No content found for Slider
Each of the five parts reflects through its painterly style in a unique way the variety of turbulent emotional states in which the protagonists find themselves. The different color expressions and painterly levels visible through angry and extensive brushstrokes, traces of paint spread with fingers over paintings, and melting colors that run down the canvas enter into a dialogue with loving gestures and figurative elements. This forms an emotionally explosive meta-level that develops a magnetic attraction.  
The visitor finds a different, opposite dynamic in the ensemble of bed and painting, titled Reconvalescens / Convalescense, 2021. A large, bright-colored painting the artist created after the pandemic. The struggle of life and death has been decided; the patient could leave the bed, flowers blossom, and the mythical tree of life, Yggdrasil, pulsates again in the dawn of a vast open horizon.
Both subjects point to archaic life situations to which man is exposed. Ursula Reuter Christiansen sharpens them to the knife's edge.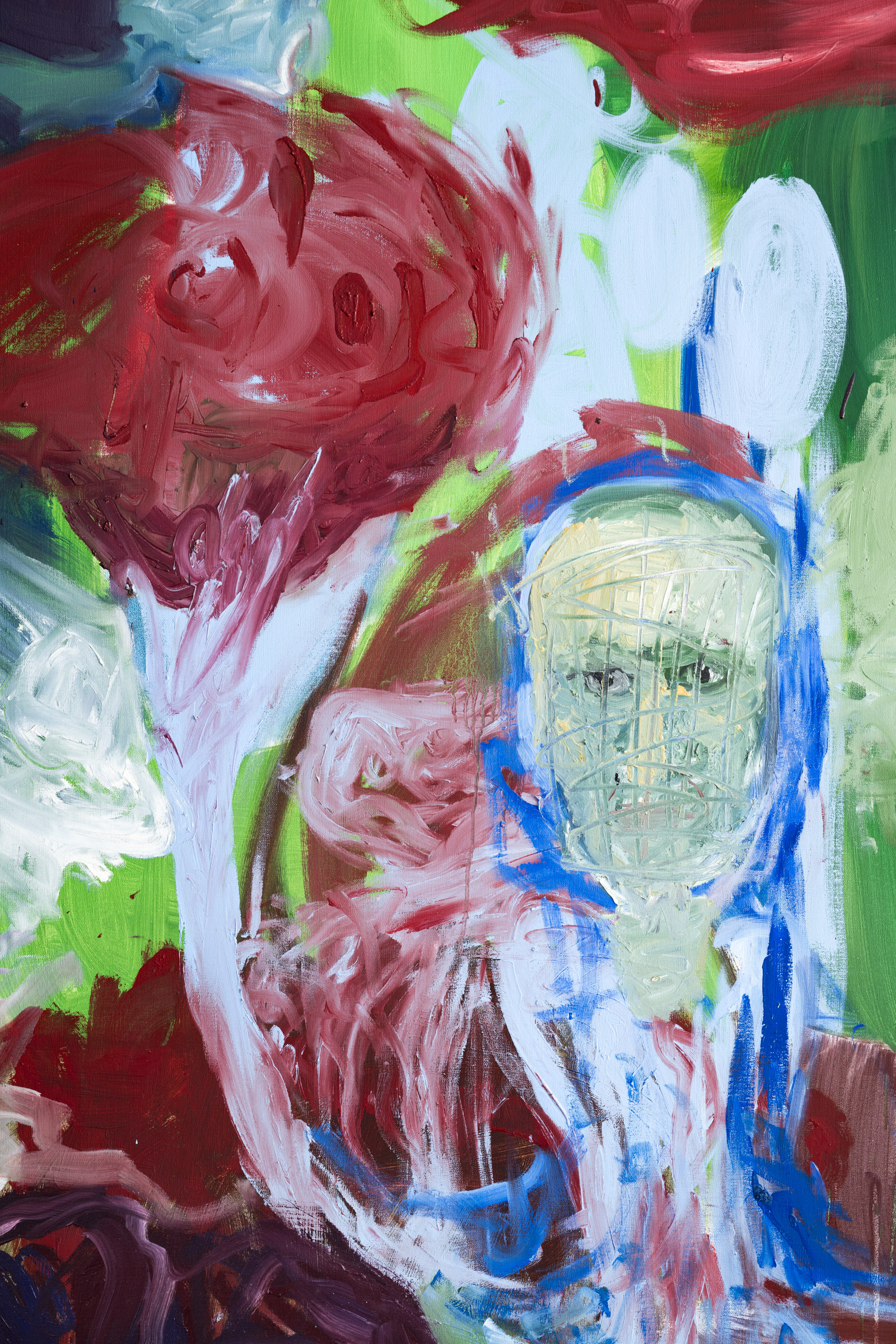 The exhibition Auf Messers Schneide with these and more works by Ursula Reuter Christiansen is on display until November 4, 2023. Tuesdays to Fridays from 2 to 6 pm, Saturdays from 11 am to 4 pm.